Get PolitiFact in your inbox.
Federal agents directly incited people on Jan. 6, 2021, and "intentionally entrapped" American citizens.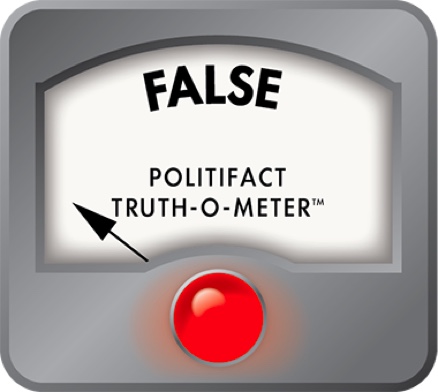 Tucker Carlson's conspiracy theory about FBI and Jan. 6 continues to be wrong
If Your Time is short
There is no credible evidence of this conspiracy theory, and Carlson's piece doesn't present any. The film points to unverified, anecdotal accounts and circumstantial speculation.
A debunked conspiracy theory that claims federal agents incited the Jan. 6 Capitol riot is making a new appearance in Fox News host Tucker Carlson's new three-part documentary series, "Patriot Purge."
The controversial series that started airing Nov. 1 attempts to frame the insurrection as a false flag arranged by the federal government to ensnare American citizens who supported former President Donald Trump. The video is available on Fox News' subscription-based streaming service "Fox Nation," but it's not being aired on the Fox News channel.
"Most Americans probably assume the chaos on Jan. 6 was the result of intelligence failures or of simple government incompetence. But direct incitement by federal agents? The intentional entrapment of American citizens? No decent person wants to believe that. But increasingly there's evidence it is true," Carlson claimed at the close of the first segment.
Carlson is wrong. There is no credible evidence behind this theory, and Carlson's piece doesn't present any. PolitiFact reached out to Fox News but did not hear back. The FBI declined to comment.
The film's claims
The first time we saw this claim from Carlson, he based it on reporting by Revolver News, a right-leaning website. In a June 14 article, headlined, "Unindicted Co-Conspirators in 1/6 Cases Raise Disturbing Questions of Federal Foreknowledge," Revolver speculated that because there were unindicted, unnamed co-conspirators included in some of the Capitol rioters' federal charging documents, it was reasonable to assume that those people are FBI informants or agents.
Carlson returned to Revolver as a source for his documentary series, interviewing Darren Beattie, who runs Revolver News and is a former Trump White House speechwriter who was fired in 2018 after he appeared on a panel with a white nationalist. In the video, Beattie made conspiratorial claims connecting the foiled October 2020 plot to kidnap Michigan Gov. Gretchen Whitmer to the notion that the FBI orchestrated the insurrection, because informants and undercover FBI operatives were involved.
Beattie referenced Steven D'Antuono, the former director of the Detroit FBI field office, who was promoted to help lead the FBI's Washington, D.C., office after his team successfully thwarted the Whitmer kidnapping. D'Antuono is now working on the Capitol riot cases. The film suggested this is suspicious, and Beattie reiterated his website's reporting that D'Antuono was "quietly" promoted. The suggestion ignores that the FBI issued a press release about the news and local media wrote stories about it.
The comparison between Jan. 6 and the Whitmer plot is fraught. The plan in Michigan was never carried out, as is the case with most schemes that involve undercover agents and result in criminal charges. 
Carlson cites reporting from journalist Trevor Aaronson on FBI stings that were used to to entrap Muslims after 9/11 to support his theory that the same was done to Trump supporters at the Capitol. But back in June, when Carlson first used Aaronson's research in one of his segments, Aaronson responded in an article and said the Fox News host distorted his reporting.
"While it is true that the FBI has since 9/11 set up hundreds of Muslims in counterterrorism stings, providing weapons and sometimes the ideas for plots, I have seen zero evidence to suggest that Jan. 6 was part of a plot engineered by the FBI," Aaronson told PolitiFact in an email. "What's more, the scale of the Capitol riot, involving hundreds of people from all over the country, makes the suggestion that this was some FBI plot absolutely ludicrous." 
Carlson also claimed that a former DEA agent, Mark Ibrahim, was "strongly encouraged" to go inside the Capitol building by an unnamed FBI informant friend who had invited him to the rally. Carlson presents no evidence for this, and court documents show the friend denied urging Ibrahim to go inside. The friend told investigators Ibrahim had concocted the story and went to the rally to promote himself after submitting an intent to resign from the DEA. The witness also told federal agents they were not at the Capitol in any formal capacity for the FBI. 
Meanwhile, Ibrahim wasn't indicted for "simply being near the Capitol," as Carlson asserted in the series. Court documents show Ibrahim faces charges for bringing a firearm onto restricted grounds and for making false statements to federal agents.
Others who appeared in the series claimed that so-called "professional agitators" were there that day to tip things into chaos and were seen changing clothes. They pointed to the involvement of John Sullivan, who has been charged in the riot and is one of the only defendants who has been identified as supporting left-wing causes at times. But there is no evidence that Sullivan is connected to antifa, the FBI or the federal government or that he single-handedly caused the riot.
While there may have been individuals who were trying to quell passions, it's clear from court filings in hundreds of cases that the people who were instigating violence were largely Trump supporters.
In the video, Carlson used other people, some of whom are charged in the riot, to bolster his argument. One person claimed that the Capitol police were simply letting everyone in the building in order to intentionally entrap them. But the film didn't acknowledge that law enforcement were vastly outnumbered. One officer died the following day, and four more have died since by suicide.
Carlson's assertions don't hold up to scrutiny
Jesse Norris, a criminal justice professor at the State University of New York at Fredonia who researches entrapment incidents in terrorism prosecutions, told us that in order to show that those charged in Jan. 6 were directly incited or entrapped, Carlson would need to have evidence that undercover police or informants — who were working at the behest of law enforcement at the time — were involved in the planning of violence at the Capitol, or the instigation of violence while the protests were underway. 
He would also need to show, Norris added, that the perpetrators were not already predisposed to commit the same crimes without the informants' influence.
"From a common-sense point of view, they were entrapped if the informants got them to do something they wouldn't have realistically done on their own," Norris said. 
"The legal definition is narrower," he added. "Under federal law, someone is only entrapped if 1) the informant induced someone to commit a crime, and the inducement is more than just providing an opportunity and also includes some kind of pressure, and 2) the defendant was not already predisposed in some way to commit the same kinds of crimes before meeting the informant."
Factors used by courts and juries to decide whether a defendant was predisposed include such things as their criminal history, whether they were initially reluctant but were convinced by persistent inducement attempts, whether the idea for the crime originated with the informant, and the types of inducements used to persuade the defendant to commit the crime.
Ira Robbins, a law and justice professor at American University who has studied and written about unindicted co-conspirators, said Carlson's statements don't hold up to scrutiny. 
"Where is the hard evidence going to the elements of entrapment?" Robbins said. "Did government agents originate the plan? Were they dealing with innocent individuals who didn't plan or were not involved in criminal activity? Without evidence going directly to these elements, Carlson's assertions are mere hyperbole and rhetoric. What plays well on TV doesn't usually play well in a court of law."
Meanwhile, even Fox News journalists have issued reports that dispute the conspiracy theory that the FBI helped instigate the riot.
Days before Carlson's film was released, a Fox News' segment about the congressional investigation into the insurrection aired on "Special Report With Bret Baier." The segment included an interview with former CIA officer Marc Polymeropoulos, who dismissed the suggestion that Jan. 6 was a false flag.
"One of the things with false flag operations as well, is sometimes it's used by conspiracy theorists to actually hide the truth," he said. "Pretty far-fetched — in no way was Jan. 6 a false flag operation."
Our ruling
Carlson claims that federal agents directly incited people on Jan. 6 and "intentionally entrapped" American citizens.
There is no evidence that the FBI, or any other government agency, orchestrated or incited the Jan. 6 riot. 
We rate this statement False.
RELATED: Tucker Carlson film falsely claims Jan. 6 is 'pretext to strip millions' of 'constitutional rights'
FoxNation, Patriot Purge Part 1, Nov. 1, 2021
FoxNation, Patriot Purge Part 2, Nov. 2, 2021
PolitiFact, Why the new false flag conspiracy theory that FBI orchestrated Capitol attack is wrong, June 18, 2021
PolitiFact, Carlson's Jan. 6 documentary doesn't tell full story about former DEA agent, Nov. 2, 2021
PolitiFact, Tucker Carlson film falsely claims Jan. 6 is 'pretext to strip millions' of 'constitutional rights', Nov. 2, 2021
PolitiFact, Ask PolitiFact: Did Capitol Police let mob of Trump supporters in?, Jan. 7, 2021
PolitiFact, No proof man who filmed Capitol riot led it, or was antifa, July 30, 2021
PolitiFact, 'Everything we trained for': How the far-right Oath Keepers militia planned for violence on Jan. 6, Sept. 23, 2021
The Intercept, Tucker Carlson Distorted My Reporting in His Latest Jan. 6 Conspiracy Theory, June 22, 2021
The Independent, Tucker Carlson's 'Patriot Purge' special pushes baseless conspiracy that FBI 'incited' Capitol riot, Nov. 1, 2021​​
TV Eyes, Fox News Special Report With Bret Baier clip, Oct. 29, 2021
Los Angeles Times, Fox Nation streams Tucker Carlson doc pushing conspiracy theory that government agents spurred insurrection, Nov. 1, 2021
Email interview, Jesse Norris, criminal justice professor at the State University of New York at Fredonia, Nov. 3, 2021
Email interview, Trevor Aaronson investigative journalist, Nov. 3, 2021
Email interview, Ira Robbins law and justice professor at American University, Nov. 3, 2021
Browse the Truth-O-Meter
More by Samantha Putterman
Support independent fact-checking.
Become a member!
In a world of wild talk and fake news, help us stand up for the facts.