Stand up for the facts!
Our only agenda is to publish the truth so you can be an informed participant in democracy.
We need your help.
I would like to contribute
Videos show that Ukraine President Volodymyr Zelenskyy uses cocaine.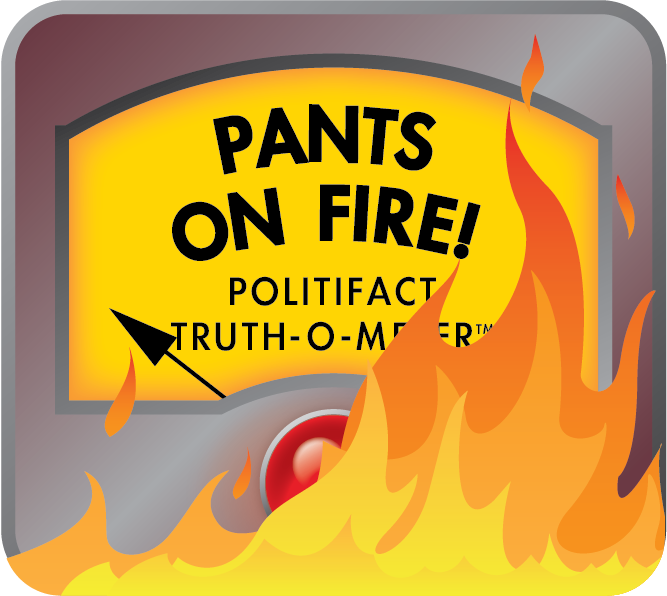 Viral videos falsely claiming Ukraine's Zelenskyy uses cocaine are altered
If Your Time is short
Two viral videos purported to show that Ukraine President Volodymyr Zelenskyy uses cocaine. One video appeared to show cocaine on Zelenskyy's desk as he spoke, while the other appeared to show him saying that he uses the drug routinely.

The first video was doctored; in the original, there is no white substance on Zelenskyy's desk. The second video was deceptively edited; in the original, he denied using drugs.
Two different manipulated videos targeting Ukrainian President Volodymyr Zelenskyy online were deceptively edited to make it look like he is an avid cocaine user.
The first video digitally added a white, powdered substance on Zelenskyy's desk during a video call with billionaire Elon Musk. The second video spliced together clips from an interview Zelenskyy gave in 2019 to give the false impression that he was endorsing taking cocaine.
Versions of both videos ricocheted across social media, spreading in different languages on platforms such as Twitter, Facebook, TikTok and Telegram. 
The posts were flagged as part of Facebook's efforts to combat false news and misinformation on its News Feed. (Read more about our partnership with Facebook.)
Zelenskyy didn't have cocaine on his desk
The video purporting to show cocaine on Zelenskyy's desk first took off among pro-Russian Telegram channels, according to reports. It also cropped up on Facebook and other platforms.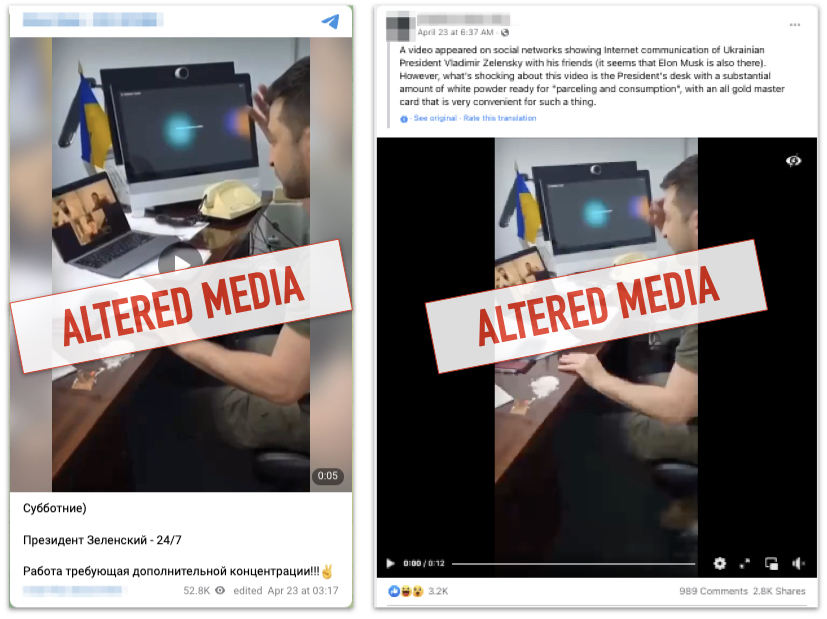 But the viral video was altered. The video took an authentic, 13-second clip that Zelenskyy posted to Instagram on March 5 and added a white substance — along with a credit card laid beside it. 
The original video, which was also published online by news organizations such as the Guardian and the BBC, does not show the white substance or credit card on Zelenskyy's desk. It shows Zelenskyy inviting Musk, whose aerospace company SpaceX delivered internet service equipment to Ukraine, to visit the country after the war with Russia. 
Pro-Russian accounts are currently sharing a video (left) that has a big ol' pile of cocaine digitally added to smear Zelensky. The original video (right), sans cocaine, can be found here https://t.co/cChEsa7Sbj pic.twitter.com/JAfGsiEIDj

— Eliot Higgins (@EliotHiggins) April 23, 2022
Zelenskyy didn't call cocaine use 'awesome'
The second deceptively edited video, which was falsely billed as showing Zelenskyy signaling his approval for cocaine, circulated separately across many of the same platforms.
"Video emerges of Ukraine's President Zelensky allegedly praising cocaine," said one English-language tweet sharing the video on April 19.
The video stitched together clips from a January 2019 interview Zelenskyy gave to Ukrayinska Pravda, an online news outlet in Ukraine. 
The English subtitles attached to the viral video falsely claim that Zelenskyy, asked if he uses cocaine, responded: "Awesome! Awesome! Energy man number one. Seriously! This is energy for the whole day. At 7 a.m. I got up … And I do snort drugs. This is the mode. I live in it."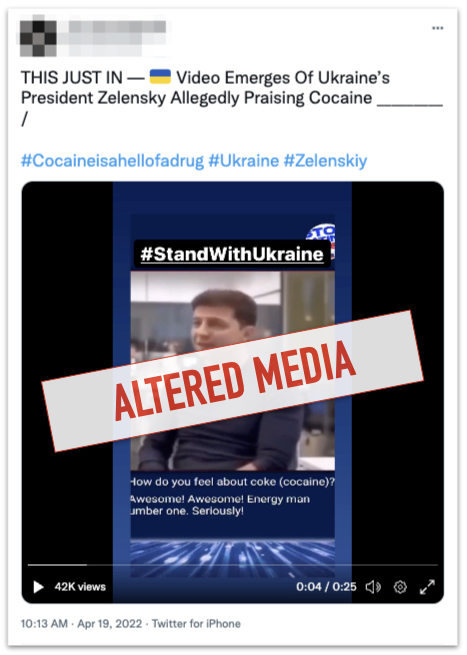 But in the original interview, after Zelenskyy was asked about an apparent rumor that he used cocaine, he denied doing so. According to English translations of his answers, Zelenskyy said he does not use drugs and later quipped that he is addicted to coffee. 
The Associated Press offered one translation of Zelenskyy's responses: "Great! Great! No, I'm sitting on something white, but it is a chair. It's not cocaine. I don't use drugs." Later, he said, "I breathe coffee, because I am very addicted to coffee. I really like coffee, it's true."
In another part of the interview, Zelenskyy walked through his morning routine, describing his 7 a.m. wake-up to take his dog outside and exercise.
The altered video rearranged the words of Zelenskyy's denial to leave viewers with the distorted impression that Zelenskyy admitted to regularly using cocaine. 
In 2019, Ukrayinska Pravda wrote a follow-up report saying that Zelenskyy had denied using drugs. 
Our ruling
Two videos claimed to show Zelenskyy either using or admitting to using cocaine.
The first video purports to show a white powder on Zelenskyy's desk as he placed a video call to Musk. But the video was doctored to include the substance, which is not in the original.
The second video appears to show Zelenskyy talking about using cocaine regularly, but the video was deceptively edited to reorder Zelenskyy's words. In reality, Zelenskyy denied using drugs.
We rate these videos Pants on Fire!
Various Facebook posts, accessed April 26, 2022
Various Twitter posts, accessed April 26, 2022
Various Telegram posts, accessed April 26, 2022
CrowdTangle, accessed April 26, 2022
The Associated Press, "Video of Zelenskyy talking about cocaine is deceptively edited," April 26, 2022
The Atlantic Council, "Russian War Report: Geolocating fires in Bryansk," April 26, 2022
The Associated Press, "Zelenskyy video was edited to add white powder," April 24, 2022
Rolling Stone, "Pro-Russia Social Media Accounts Spread Obviously Fake Zelensky Cocaine Video," April 23, 2022
Eliot Higgins on Twitter, April 23, 2022
Shayan Sardarizadeh on Twitter, April 23, 2022
AFP Fact Check, "Zelensky affirme qu'il consomme de la cocaïne ? Attention, c'est un montage," April 19, 2022
BBC News, "Ukraine war: President Zelensky invites Elon Musk to visit," March 6, 2022
Volodymyr Zelenskyy on Instagram, March 5, 2022
The Guardian, "Zelenskiy invites Elon Musk to Ukraine after war following Starlink commitment – video," March 5, 2022
Українська правда, "У соцмережах спотворили інтерв'ю Зеленського для УП," April 8, 2019
Українська правда on YouTube, "Українська правда," Jan. 21, 2019
Українська правда, "Володимир Зеленський: 1 квітня – офігенний день для перемоги клоуна," Jan. 21, 2019
Browse the Truth-O-Meter
More by Bill McCarthy
Support independent fact-checking.
Become a member!
In a world of wild talk and fake news, help us stand up for the facts.