Facebook post claims Urban Outfitters CEO backs Santorum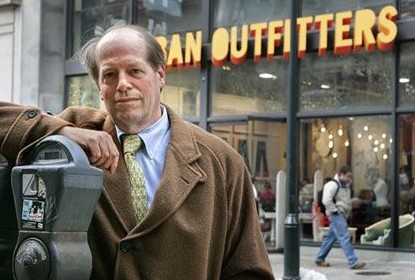 Somewhere between the pictures of cute Corgi puppies or tucked in with requests to play "Hidden Chronicles" and the 14th not-so-clever Happy Birthday wish for a friend, you might have seen a Facebook post about the CEO of Urban Outfitters -- a man named Richard Hayne.

"This is Richard Hayne, president and CEO of Urban Outfitters. He's also a supporter of Rick Santorum and donated over $13,000 to him. He's against gay marriage and abortion," says the post, with an attached photo.

"His company pulled a pro-gay shirt back in '08, they also blatantly ripped off an Etsy designers work, featured a T-shirt for women that said 'eat less' and most recently had a card with a 'tranny' slur on (it).

"He also owns Anthropologie and Free People."

Hayne, 64, is indeed the chairman and CEO of Urban Outfitters Inc., a company that owns Urban Outfitters, Anthropologie and Free People -- popular stores with locations across the country. Hayne is worth $1.1 billion, according to Forbes.

Friends here in Florida who saw the Facebook post asked us to look into the connection between Hayne and Santorum, the former Republican U.S. senator who is running for president.

Hayne is from Philadelphia and attended Lehigh University near Allentown.

Santorum was elected to the U.S. House to represent a western Pennsylvania district in 1990, then was elected to the U.S. Senate in 1994, where he served two terms.

The campaign donations

Hayne has not contributed to Santorum's presidential campaign, according to the Center for Responsive Politics, a nonpartisan group that tabulates campaign contributions.

But Hayne and his wife Margaret have contributed to Santorum and his political action committee in the past.

From 1994-2005 the Haynes contributed $13,900 to Santorum or a PAC he started, Fight-PAC, according to the Center for Responsive Politics.
Margaret Hayne donated $2,400 to Santorum directly and $5,000 to his political committee. Her donations came in 1997 and 1998.
Richard Hayne gave $3,500 to Santorum and $3,000 to Fight-PAC. Hayne's first donation was in October 1994; his last contribution was recorded in May 2005.
The donations ended when Santorum lost his Senate seat in 2006 to Democrat Bob Casey Jr.
The Haynes, over time, also have contributed to former Pennsylvania Sen. Arlen Specter, a Pennsylvania Republican political committee and more recently to Joseph Torsella, a Democrat who briefly ran for the U.S. Senate in Pennsylvania, and Republican Rep. Patrick Meehan of Pennsylvania.

Hayne's political stances

The record on Hayne's personal and political beliefs is less clear. For his part, Hayne has tried to avoid the topic. (Santorum is a known opponent of abortion and gay marriage.)

In a profile in Philadelphia Weekly from 2003, Hayne was asked about his support for Santorum. He at first denied contributing to Santorum, according to the article.

Asked to clarify after being shown proof of his contributions, Hayne said: "I don't want to mislead you. Like many people, I have some affinity for Rick Santorum, and I have problems with some of his positions."

The author of the article, Jonathan Valania, then asked where does Santorum's position on homosexuality (Santorum opposes same-sex marriage and has suggested homosexual sex should be illegal) fit in Hayne's comfort zone?

"I'm not going to comment on it," the magazine quoted Hayne as saying. "I have my own opinion, but I am not going to share it. Our job as a business is not to promote a political agenda. That's not what we do. There are all kinds of political views held by my employees. Some would be horrified to learn that we contributed to Santorum's campaign, and others would be fine with it. We openly discuss and joke about our political differences."

In a 2007 interview with Philadelphia Magazine, Hayne explained the contributions and support of Santorum this way: "I don't like paying taxes -- is that a sin?" he asks.

"I like small government," Hayne said, explaining a libertarian streak.

The company, for the record, has not commented on this latest kerfuffle or a similar uproar started in 2011 by a tweet from pop-star Miley Cyrus. Snopes.com failed to turn up anything additional on Hayne's political positions, though they do a fine job in explaining the rest of the Facebook post if you're looking to read more.

Our ruling

We're focusing here on the Facebook claim that Urban Outfitters CEO Richard Hayne is a supporter of Rick Santorum and donated over $13,000 to him.

What we know is that Hayne was at one time a supporter of Santorum, who donated -- between him and his wife -- more than $13,000 to Santorum and one of his political action committees.

Hayne has not contributed to Santorum's run for president, and we do not know if Hayne is supporting Santorum this time around. That, combined with the fact that the donations are nearly 7-18 years old, is enough for us to rate this claim Half True.