RNC offered wrong poll figure for Obama support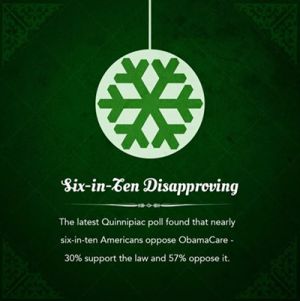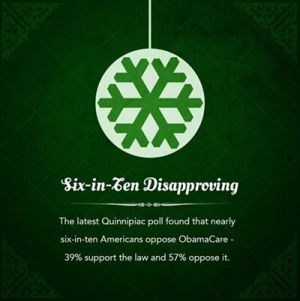 A reader recently asked us to check into a series of Facebook posts by the Republican National Committee themed to the "Twelve Days of Christmas." In the RNC's version, the 12 days refer to aspects of President Barack Obama's health care law that, according to Republicans, are having negative repercussions on the economy and health care system.
One of those posts claimed that "the latest Quinnipiac poll found that nearly six-in-ten Americans oppose ObamaCare -- 30% support the law and 57% oppose it."
It received nearly 4,000 "likes" -- but as it turns out, one of the percentages cited in the post was wrong.
In the latest Quinnipiac poll, released on Dec. 11, 2013, respondents were asked, "Do you support or oppose the health care law passed by Barack Obama and Congress in 2010?"
The poll results showed 57 percent opposition to the law, which was what the RNC had correctly cited. But the actual level of support in the poll was 39 percent -- not the 30 percent listed in the Facebook post. The error cut the amount of support by about one-quarter -- not a trivial amount.
As it turned out, the error was simply a typo; the supporting material cited in the RNC's Facebook post had the correct number -- 39 percent.
When we brought this to the RNC's attention, spokeswoman Kirsten Kukowski wrote back, "Yes, this was a typo and we are fixing it right now." True to her word, the Facebook post was corrected within an hour or so. (We've posted a before-and-after look at right.)
So the 57 percent in opposition was correct, but the actual level of support was 39 percent. Once we notified the RNC of this error, they quickly fixed it. Because one number was wrong in the original post and one was right, we rate the claim Half True.