Carly Fiorina fights back against HP layoff claims, says she doubled size of company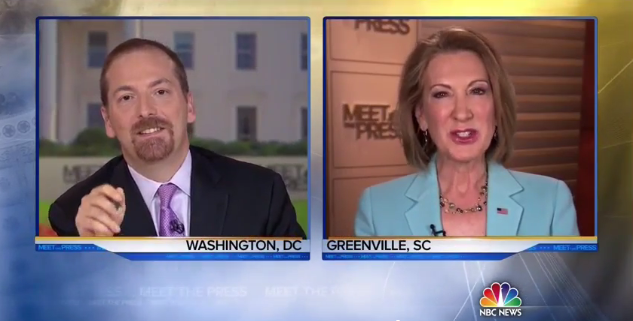 Carly Fiorina is fighting back against critics, including a cyber-squatter, who accuse the Republican presidential candidate of slash-and-burn tactics in her time as CEO of computer company Hewlett-Packard.
The cyber-squatter purchased the website carlyfiorina.org to highlight nearly 30,000 layoffs that occured while Fiorina led the computer giant from 1999-2005. Fiorina later was fired by HP's board.
On Meet the Press Sunday, host Chuck Todd asked Fiorina why she was fired.
Fiorina used the question to list her accomplishments at HP.
"What people fail to comment on is the fact we doubled the size of the company, took the growth rate from 2 percent to 9 percent," she said. "We tripled the rate of innovation to 11 patents a day and went from lagging behind to leading in every product category. We grew jobs here in the U.S. and all over the world. You can't just leave those facts out -- they are as vital to the record as the fact that yes, indeed, I had to make tough calls during tough times. Tough times that many technology companies didn't survive at all."
Given Fiorina's dismissal and other issues at HP, we were interested in that first claim -- that under her leadership, the company doubled in size.
Fiorina's claim is not referring to the number of employees (you can read a good primer on that from our archives here). In this case, staff at Carly for America (Fiorina's political action committee) said she was referring to the revenues created by the company. By this specific measure, HP did double.
In 1999, when Fiorina became CEO, HP's annual revenue was $42.4 billion, according to annual Securities and Exchange Commission filings. With the exception of a slight dip in 2001 (at the end of the dot-com bubble), revenue increased each year -- to $86.7 billion in 2005, the year she left. That's a little bit more than double.
But that doesn't tell the entire tale. There are a few critical caveats.
Where the growth came from
Why such growth? Well, Fiorina spearheaded a major $25 billion acquisition of HP's rival, Compaq, to increase the company's share of the personal computer market. The merger was publicly controversial, in part because it tipped HP's focus toward computers (a tough market) and away from its most successful product, printers.
The merger went through, and the company grew. In 2001, the year before the merger, revenue was $45.7 billion, and the Compaq revenue was about $40 billion. In 2003, after the two companies merged, revenue was $73 billion.
Stephen Morrissette, a business professor at the University of Chicago, noted that the fact that so much of the revenue growth was a result of the merger casts some shade on Fiorina's claim.
"Most executives would likely not use the phrasing 'doubled the size of the company' to describe their performance if the increase was all or mostly due to an acquisition," Morrissette said.
Doubled revenues, but not necessarily stronger
Despite the increased revenue, the HP-Compaq merger led to sluggish stock prices and missed profitability targets. The merger also led to the thousands of firings often cited by Fiorina's critics. The merger was widely seen as a bust at the time, and it contributed to the HP board's decision to fire Fiorina. (HP stock value plunged by nearly half during her tenure and rose again after she was fired.)
HP had $42.4 billion in revenues and $3.1 billion in net earnings in 1999. When Fiorina was ousted in 2005, yes, the company reported $86.7 billion in sales. But that year HP had only $2.4 billion in earnings.
Lastly, the employee head count gets a bit complicated. According to SEC filings, HP had 84,400 employees worldwide in 2001, the year before the merger. In 2001, Compaq had 63,700 full-time employees. That comes to a total of 148,100 workers. In 2005, just after her departure, HP's worldwide workforce reached 150,000. That includes acquiring some other companies, the Los Angeles Times reported.
Some analysts have seen the merger more favorably in recent years, noting that it accomplished Fiorina's goal of increasing HP's share of the personal computer market even though Fiorina's execution failed.
Fiorina "is taking credit for something she launched and got started," Charles House, co-author of The HP Phenomenon, told the San Jose Mercury News in 2011. "But I think you obviously have to give a hell of a lot of credit to (her successor) for making it successful. I'd be loath to say it would be the same with her there."
Our ruling
Fiorina said that while she was CEO of HP, the size of the company "doubled."
That's correct when discussing one specific aspect, revenues, but you could argue that's a bit of a red herring. The revenue growth was largely thanks to a controversial merger with Compaq and not organic. Moreover, the new revenue did not come with proportional increases to either profits or the number of HP jobs.
Fiorina's figures are accurate, but standing alone, they don't tell the whole picture. We rate her claim Mostly True.