Has Donald Trump never 'promoted or encouraged violence,' as Sarah Huckabee Sanders said?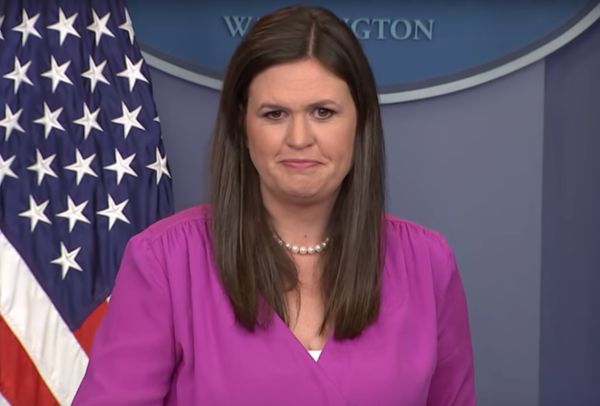 Has President Donald Trump promoted violence? At a White House briefing, White House spokeswoman Sarah Huckabee Sanders answered with a definitive no.
During a June 29, 2017, press briefing, CBS News' Major Garrett asked Huckabee Sanders about some of Trump's recent tweets, including a pair directed at "low I.Q. Crazy Mika" and "Psycho Joe" -- the hosts of MSNBC's Morning Joe. Trump mocked Mika Brzezinski by tweeting that she had been "bleeding badly from a face-lift" during a visit to Mar-a-Lago.
Garrett said that "some have suggested" that Trump's tweets have "misconstrued one of the messages that should have been gathered" after the shooting of House Majority Whip Steve Scalise, R-La., and several others at a congressional baseball practice.
"Do you have any reaction to that sentiment, that conversations like this create an atmosphere that is either dangerous or one we need to avoid?" Garrett asked.
Huckabee Sanders responded, "The president in no way, form or fashion has ever promoted or encouraged violence. If anything, quite the contrary. And he was simply pushing back and defending himself."
We're not considering Trump's tweet of a GIF showing him body-slamming a figure labeled CNN at a professional wrestling match, which Trump sent several days after Huckabee Sanders' comment.
However, the record shows at least one clear case and possibly several others in which Trump has said things that we believe an ordinary listener would understand as encouraging violence. (The White House declined to comment on the record.)
The clearest example
In February 2016, during his campaign for president, Trump told a crowd in Cedar Rapids, Iowa, "So I got a little notice. We have wonderful security guys. It said, 'Mr. Trump, there may be somebody with tomatoes in the audience.' So if you see somebody getting ready to throw a tomato, knock the crap out of them, would you? Seriously. Just knock the hell .... I promise you, I will pay for the legal fees. I promise. I promise."
As a review of the video shows, Trump is not smiling or chuckling as if this was intended as a joke.
Other examples of Trump speaking favorably of violence
On several other occasions, Trump invoked violence without necessarily inciting it. (Hat tips to the Washington Post's Aaron Blake and Mashable for collecting a number of these in one place.)
• August 2015. At a press conference in Michigan, Trump contrasted his interactions with the public with those of Democratic candidate Bernie Sanders, who had recently faced opposition from Black Lives Matter protesters.
"That will never happen with me," said Trump, according to a dispatch by the Washington Post's David Weigel. "I don't know if I'll do the fighting myself, or if other people will. It was a disgrace. I felt badly for him, but it showed that he was weak. You know what? He's getting the biggest crowds, and we're getting the biggest crowds. We're the ones getting the crowds. But that's never going to happen to Trump."
• November 2015. At a rally in Alabama, Trump said about a protester, "Get him the hell out of here, will you, please? Get him out of here. Throw him out!"
The following day, calling into Fox News, Trump responded to a question about allegations that the protester had been "roughed up." The protester, Trump said, had been "so obnoxious and so loud ... maybe he should have been roughed up. Maybe he should have been roughed up. Because it was totally disgusting what he was doing."
• February 2016. At a rally in Las Vegas, Trump again responded to a protester:
"See, he's smiling. See, he's having a good time. Oh, I love the old days, you know? You know what I hate? There's a guy, totally disruptive, throwing punches. We're not allowed to punch back anymore. I love the old days, you know what they used to do to guys like that when they were in a place like this? They'd be carried out in a stretcher, folks. Oh, it's true. … The guards are very gentle with him. He's walking out with big high-fives, smiling, laughing. I'd like to punch him in the face, I'll tell you,"
• March 2016. At one point at a rally in Michigan, Trump reiterated his pledge to pay legal fees for people who remove protesters. "Get him out," Trump said. "Try not to hurt him. If you do, I'll defend you in court, don't worry about it." (Trump later said he had never made the pledge to pay legal fees.)
• March 2016. At an event in Palm Beach, Fla., Trump referred to a past incident with protesters. "We have had a couple that were really violent, and the particular one when I said I'd like to bang him, that was a very  —  he was a guy who was swinging, very loud and then started swinging at the audience and the audience swung back, and I thought it was very, very appropriate. He was swinging, he was hitting people, and the audience hit back, and that's what we need a little bit more of."
• March 2016. At a rally in North Carolina, Trump said, "In the good old days this doesn't happen because they used to treat them very, very rough. And when they protested once, they would not do it again so easily. But today they walk in and they put their hand up and they put the wrong finger in the air at everybody. And they get away with murder, because we've become weak."
• March 2016. At a rally in St. Louis, Trump once again addressed protesters who were being removed from the facility.
"Part of the problem and part of the reason it takes so long (to remove the protesters) is nobody wants to hurt each other anymore, right? And they're being politically correct the way they take them out. So it takes a little bit longer. And honestly, protesters they realize it -- they realize there are no consequences to protesting anymore. There used to be consequences. There are none anymore."
• March 2016. At a rally in Kansas City, talking about someone who had rushed the stage, Trump said, "I don't know if I would have done well, but I would have been out there fighting, folks. I don't know if I'd have done well, but I would've been — boom, boom, boom. I'll beat the crap out of you."
The legal question
Trump's words have, on occasion, drawn lawsuits. However, an attorney for the American Civil Liberties Union has written skeptically about whether Trump's words would qualify legally as incitement to violence.
"There is no question that Trump's decision to use his bully pulpit to actually bully protesters and to rile up his crowds against them is morally despicable," wrote Lee Rowland, a senior staff attorney with the free-speech group wrote concerning a lawsuit stemming from a Trump rally in Louisville. "But legally, deciding whether what happened in that crowded theater rises to the level of incitement is a trickier task."
Rowland wrote that "incitement charges have been used to jail anti-war protestors, labor picketers, Communists, and civil rights activists. Over time, the Supreme Court learned from these mistakes and adopted a very speech-protective test to determine when incitement has taken place. In Brandenburg vs. Ohio, the court ruled that the First Amendment permits liability for incitement only when speech is intended and likely to cause imminent and serious lawlessness. It's a high bar for a reason, and Trump's conduct at the rally didn't meet it."
Our ruling
Huckabee Sanders said, "The president in no way, form or fashion has ever promoted or encouraged violence."
We found one example -- when Trump said, "If you see somebody getting ready to throw a tomato, knock the crap out of them, would you?" -- that clearly fits the criteria of promoting or encouraging violence.
This was not an isolated incident; we found at least seven other examples in which Trump offered public musings that showed a tolerance for, and sometimes even a favorable disposition toward, physical violence.
Trump's words may not meet a legal threshold for incitement to violence, but Huckabee Sanders' portrayal seriously distorts the record of Trump's past statements. We rate her statement False.