Stand up for the facts!
Our only agenda is to publish the truth so you can be an informed participant in democracy.
We need your help.
I would like to contribute
If Your Time is short
Bloomberg has a long record as an advocate for gun control.

Bloomberg's ad tells the story of a Texas mother whose 20-year-old son was shot in 2013.

The ad's claim that "2,900 children die from gun violence every year" comes from Everytown for Gun Safety and counts people ages 0 to 19. Other groups look at people ages 0 to 17 and count roughly 1,500 deaths per year.
Former New York City Mayor Mike Bloomberg aired a 60-second campaign ad during the Super Bowl, squeezing his message on guns between the beer and car commercials that dominated Fox's broadcast of the Kansas City Chiefs' matchup with the San Francisco 49ers.
The ad tells the story of Calandrian Kemp, whose 20-year-old son, George H. Kemp Jr., had dreams of playing professional football before he was shot and killed outside Houston in 2013.
"Lives are being lost every day," Kemp, the narrator, says in the ad. "It is a national crisis."
The spot says that "2,900 children die from gun violence every year," and it ends by touting Bloomberg's record fighting for tougher gun control. It cost Bloomberg more than $10 million to broadcast nationwide, according to Politico.
"I chose to devote the entire 60-second ad to gun safety because it matters to communities across the country, and it will be a top priority for me as president," Bloomberg said in a statement. "Calandrian's story is a powerful reminder of the urgency of this issue."
Here's what you should know about Bloomberg's ad, the story it tells and the claims it makes.
Background on George H. Kemp Jr.
The first 30 seconds of Bloomberg's ad recalls the story of George Kemp's death, as told by his mother, Calandrian Kemp.
The story of George Kemp's death and the murder trial that followed was covered at the time by news organizations in and around Houston.
George Kemp was shot late at night on Sept. 26, 2013, in Richmond, Texas, according to local reports. The incident occurred after an altercation with men who were armed.
Three men were arrested. According to local reports and court records, one was convicted and sentenced to 34 years behind bars for murder. Another was convicted of aggravated assault with a deadly weapon and sentenced to 10 years on probation. The third was acquitted.
Calandrian Kemp began volunteering with Moms Demand Action, a gun control advocacy organization, in 2014, and she met Bloomberg in January 2019 at an event in Austin, Texas, according to the Bloomberg campaign.
Bloomberg's statistic on children killed due to gun violence
A screenshot from former New York City Mayor Mike Bloomberg's presidential campaign ad, "George."
The ad says that "2,900 children die from gun violence every year."
Julie Wood, national press secretary for the Bloomberg campaign, said the statistic is frequently cited by Everytown for Gun Safety, a gun control advocacy organization that had its origins in another gun control group that Bloomberg co-founded in 2006.
Everytown says the statistic comes from the Centers for Disease Control and Prevention and considers people ages 0 to 19 as children. The 2,900 number is the five-year average based on data from 2013 to 2017. It includes both unintentional and violence-related firearm deaths.
We searched the CDC's fatal injury data and confirmed the statistic. In 2017, there were 3,443 people ages 0 to 19 who suffered firearm-related deaths.
But how you count matters, and the age range makes a big difference. The age of majority — the age at which a child legally becomes an adult — is 18 in most states.
In a 2017 report, the CDC counted firearm-related deaths for children ages 0 to 17 and found that on average, from 2012 to 2014, nearly 1,300 children died at the hands of guns each year.
Other major gun control organizations, such as the Brady Campaign to Prevent Gun Violence and Gifford's Law Center, used the same CDC data as Everytown and the 0-to-17 age range, placing their tallies for children at roughly 1,500 gun-related deaths per year.
The NRA, Fox News and a number of conservative news sites called Bloomberg's statistic misleading for counting 18- and 19-year-old victims. But Wood told us the age distinction is meaningless for parents — like Calandrian Kemp — who lose their children to gun violence.
"Ask any grieving parent whose 18- or 19-year-old son or daughter was shot and killed, and they will tell you they lost a child," Wood said. "There are simply too many of these deaths, and Mike has a plan to prevent them with common-sense gun safety laws."
George Kemp was 20 when he died, according to local reports at the time.
Bloomberg's record on gun control
Bloomberg, now a Democrat seeking the party's nomination for president, is both a former Republican and a former independent.
Gun control has been a key issue for him dating back to his time as mayor of New York City. In 2006, he co-founded Mayors Against Illegal Guns, the predecessor for Everytown, which has pledged to spend $60 million toward electing gun-control candidates across the country in 2020.
Bloomberg's Super Bowl ad highlights a 2013 article in the Washington Post headlined, "Mayor Bloomberg takes on the gun lobby."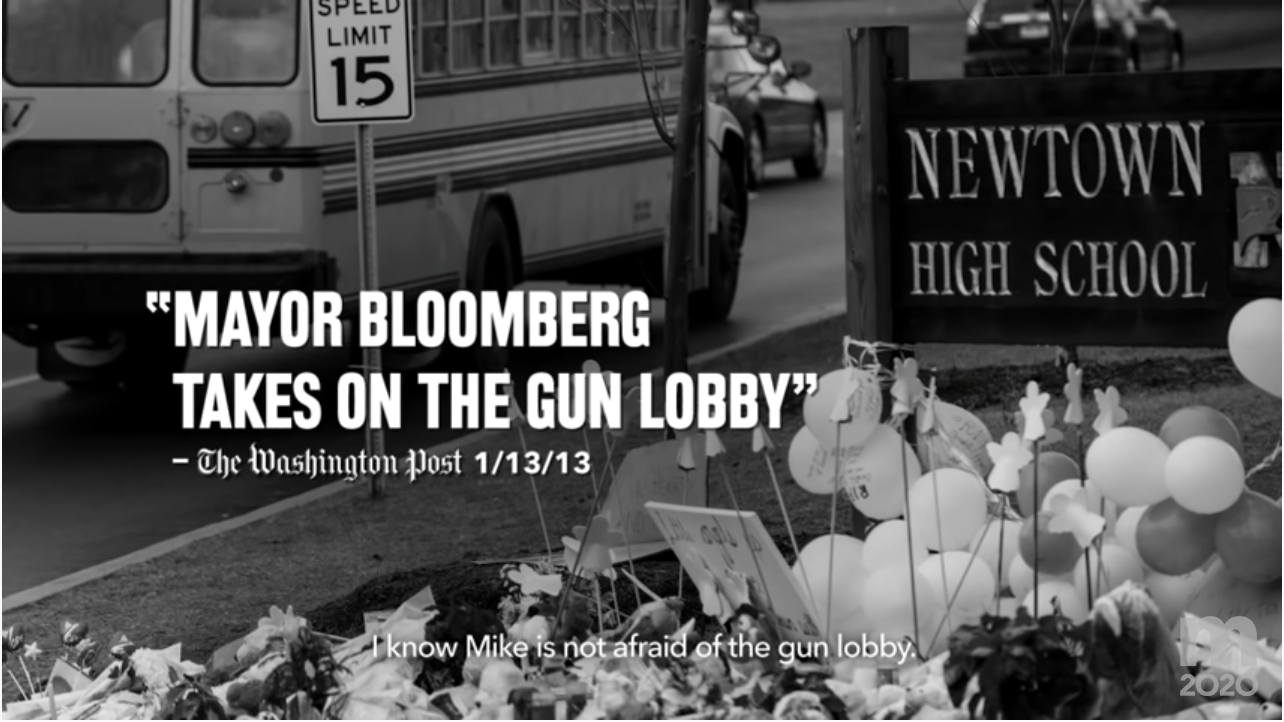 A screenshot from former New York City Mayor Mike Bloomberg's presidential campaign ad, "George."
The article described Bloomberg as "America's most prominent and deep-pocketed advocate for gun control" and detailed the then-mayor's efforts to turn Republican leaders on to his ideas for promoting gun safety and cracking down on gun-related deaths.
The article said that, at times, Bloomberg seemed like "the NRA's only active opposition."
While he was mayor, New York City saw drops in murders, police shootings and crime.
He also oversaw sting operations in 2006 and 2009 in which private investigators hired by the city uncovered violations of federal gun sale rules in different states. Based on the results, the city filed lawsuits against the offending gun dealers.
If elected president, Bloomberg has said he would change laws that allow prohibited buyers to purchase guns from unlicensed sellers at gun shows or online.
According to his website, he also plans to implement stricter background check laws, close the "boyfriend loophole," pass a federal red flag law, and reinstate the federal assault-weapons ban.
Mike Bloomberg on YouTube, "George | Mike Bloomberg for President," Jan. 30, 2020
Mike Bloomberg 2020, "Mike Bloomberg Campaign Releases Super Bowl Ad," Jan. 30, 2020
Mike Bloomberg 2020, "Gun Safety," accessed Feb. 2, 2020
Various court records from Ford Bend County, Texas, accessed Jan. 31, 2020
Various searches on the Centers for Disease Control and Prevention's Web-based Injury Statistics Query and Reporting System, Jan. 31, 2020
Brady Campaign to Prevent Gun Violence, "Key Gun Violence Statistics," accessed Jan. 31, 2020
Giffords Law Center, "Gun Violence Statistics," accessed Jan. 31, 2020
The NRA on Twitter, Feb. 1, 2020
Stephen Gutowski on Twitter, Feb. 1, 2020
The Blaze, "Bloomberg's $10 million Super Bowl ad caught making 'misleading' claims about violent gun deaths among children," Feb. 1, 2020
DailyWire, "Democrat Mike Bloomberg's Anti-Gun Super Bowl Ad Makes Wildly Misleading Claims On Child Gun Deaths," Feb. 1, 2020
Fox News, "Bloomberg's $10M Super Bowl ad posts misleading stat on child gun deaths," Feb. 1, 2020
Houston Chronicle, "Bloomberg to air Super Bowl ad featuring Houston woman whose son was fatally shot," Jan. 30, 2020
Politico, "Bloomberg unveils Super Bowl ad focused on gun reform," Jan. 30, 2020
The Washington Post, "Gun-control group co-founded by Bloomberg announces $60 million spending plan for 2020 elections," Jan. 27, 2020
Everytown for Gun Safety, "The Impact of Gun Violence on Children and Teens," May 29, 2019
Centers for Disease Control and Prevention, "Childhood Firearm Injuries in the United States," July 2017
Chron, "Attorney laments 'stain of injustice' in Fort Bend murder case," July 13, 2017
The Washington Post, "Mayor Bloomberg takes on the gun lobby," Jan. 13, 2013
Chron, "Suspect sought in Richmond murder case," Sept. 27, 2013
ABC13, "Search continues for second teen suspect in deadly shooting," Sept. 27, 2013
NPR, "Bloomberg Sting Reveals Gun Show Loopholes," Oct. 8, 2009
New York Post, "Bloomberg sting finds gun buying loopholes," Oct. 7, 2009
The City of New York, "Gun Show Undercover," October 2009
The City of New York, "Mayor Bloomberg Announces Final Settlement In Groundbreaking Litigation Against Gun Dealers Caught Selling In Apparent Violation Of Federal Law," Sept. 23, 2008
PolitiFact, "Who is Michael Bloomberg? A bio of the Democratic presidential candidate," Dec. 3, 2019
PolitiFact, "New York crime did drop when 2020 hopeful Michael Bloomberg was mayor, but he claims too much credit," Dec. 2, 2019
PolitiFact, "Bloomberg gun claim takes aim at Georgia," Nov. 9, 2010
Email interview with Julie Wood, national press secretary for the Bloomberg campaign, Feb. 1, 2020
Browse the Truth-O-Meter
More by Bill McCarthy