Stand up for the facts!
Our only agenda is to publish the truth so you can be an informed participant in democracy.
We need your help.
I would like to contribute
Trump has pushed out 5 inspectors general since April. Here's who they are
If Your Time is short
Since early April, Trump has taken steps to remove or replace five inspectors general.

The ousted watchdogs include the inspector general who handled the whistleblower complaint that led to Trump's impeachment and another who was conducting investigations related to Secretary of State Mike Pompeo.

Experts from nonprofit government ethics groups told us Trump's string of inspector general dismissals is unprecedented.
With the U.S. consumed by the coronavirus, President Donald Trump has taken steps to purge his administration of several independent government watchdogs. The push has Democrats and government ethics experts saying he's undermining a vital oversight apparatus.
On May 15, Trump announced his intent to fire State Department Inspector General Steve Linick and replaced acting Transportation Department Inspector General Mitch Behm, the latest in a string of dismissals of the officials tasked with overseeing federal agencies.
Since early April, Trump has taken steps to remove or replace five inspectors general from their respective offices in the intelligence community and the departments of defense, health and human services, state and transportation. Four of the changes came on Friday nights.
Technically, only the intelligence community's Michael Atkinson has been fired so far. Behm and two others were working in acting capacities, so they were demoted to prior positions. And by law, Linick's removal won't take effect until 30 days after Trump's notification of Congress.
At the White House May 18, Trump said that his actions are routine. "I think every president has gotten rid of probably more than I have," he said.
But there's no precedent for Trump's rapid removals, experts told us. President Barack Obama fired one inspector general, according to the Washington Post. Trump, meanwhile, said he's suggested for years that his agencies fire any Obama-appointed investigators.
"We are seeing right now, in real time, a true crisis in terms of the ability for there to be independent oversight and accountability within the executive branch," said Liz Hempowicz, director of public policy at the nonprofit Project On Government Oversight.
Here's what else experts said about the significance of the removals, and what you should know about the five inspectors general who have been ousted from their roles.
What the removals mean
Experts from nonprofit watchdog groups told us Trump is ratcheting up a years-long attack on government institutions meant to prevent waste, fraud and abuse.
The scale of Trump's dismissals would have been "completely unimaginable" to those who passed the post-Watergate law to establish inspector generals, Hempowicz said.
"A lot of people have asked me to put this in historical perspective," added Donald Sherman, deputy director of the nonprofit Citizens for Responsibility and Ethics in Washington. "The challenge is that in the 42 years since the passage of the Inspector General Act, there hasn't been a president that has reacted with this level of hostility to the inspector general community."
One wrinkle that's troubling, experts said, is the replacement of acting inspectors general at the departments of transportation and defense with new acting inspectors general — a move that, unlike for permanent nominations, doesn't require Senate confirmation.
"To me, what that says is that the president is exercising the ability to cherry pick who is conducting oversight, even in the interim," Hempowicz said.
Congress has more power to protect permanent inspectors general like Atkinson and Linick, experts said. In Linick's case, they can start by demanding proof the firing is justified.
"You can't just say you've lost confidence in an inspector general," Hempowicz said, referencing Trump's stated explanation for Linick's firing. "You have to say why you lost confidence."
Lawmakers opposed to Linick's ouster could also hold hearings or leverage other powers to pressure Trump, Sherman said, noting that such campaigns have worked before.
"Congress can't block the president from removing an inspector general," he said. "But there is a lot more that Congress can do to discover the real reasons why the president is firing these IGs and to put more pressure on him."
Steve Linick, inspector general of the State Department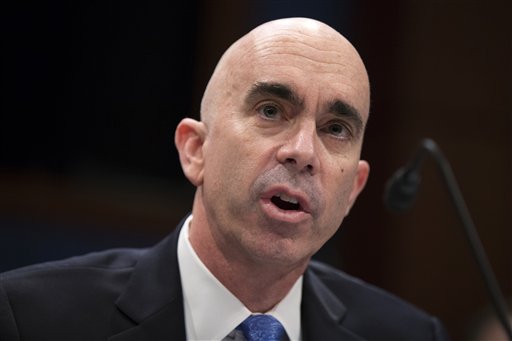 Steve Linick, State Department Inspector General, testifies on Capitol Hill in Washington on Dec. 10, 2014, before a House Select Committee on Benghazi hearing. (AP/Vucci)
Trump notified Congress of his intent to fire Linick, the State Department's inspector general since 2013, in a May 15 letter that said Linick no longer had Trump's "fullest confidence."
But speaking at the White House May 18, Trump said he doesn't know Linick and that he ordered the firing at Secretary of State Mike Pompeo's request.
Democrats have opened an investigation into Linick's firing, writing in letters to the White House, State Department and Linick that they suspect Pompeo sought Linick's removal as retaliation for his investigations into Pompeo's actions.
Multiple news outlets reported that Linick was investigating Pompeo's decision to bypass Congress while sending billions of dollars of arms to Saudi Arabia roughly last year, as well as whether Pompeo made a staffer run personal errands for him and his wife.
Linick was nominated to the post by Obama after working for years in the Justice Department and serving as the first inspector general of the Federal Housing Finance Agency.
He was a minor player in Trump's impeachment, privately briefing members of Congress in October about documents that Trump personal attorney Rudy Giuliani, a key player in the events that led to Trump's impeachment, had given the State Department.
Linick also oversaw a 2016 probe of then-Secretary of State Hillary Clinton's private email use.
Mitch Behm, acting inspector general of the Transportation Department
Behm, the Transportation Department's deputy inspector general, had been serving as the department's acting inspector general since Feb. 1.
As acting inspector general, Behmn had inherited a review his predecessor opened into Transportation Secretary Elaine Chao, Sherman said.
According to Politico, the probe was looking at whether Chao gave preferential treatment to Kentucky to benefit her husband, Senate Majority Leader Mitch McConnell.
But on May 15, the White House announced changes to the department inspector general's office, the Washington Post reported.
Trump not only nominated a Justice Department attorney to take over as the department's permanent inspector general, but he also named a new acting inspector general to replace Behm while that nomination awaits confirmation in the Senate.
Behm has been with the Transportation Department since 2003. He is listed as a member of the committee overseeing the economic relief packages passed in response to the coronavirus.
Christi Grimm, acting inspector general of the Health and Human Services Department
Grimm, the Health and Human Services Department's top deputy inspector general since January, had been serving as the department's acting inspector general until early May, when Trump announced he was nominating an assistant U.S. attorney to fill the post.
Her replacement came shortly after she drew Trump's ire for an April 3 report that said hospitals were experiencing shortages of tests, personal protective equipment and medical staff at a time when Trump was celebrating his administration's response to the coronavirus.
Trump said the report, which was based on a survey of more than 300 U.S. hospitals, was "just wrong." On Twitter, he called it a "fake dossier."
Why didn't the I.G., who spent 8 years with the Obama Administration (Did she Report on the failed H1N1 Swine Flu debacle where 17,000 people died?), want to talk to the Admirals, Generals, V.P. & others in charge, before doing her report. Another Fake Dossier!

— Donald J. Trump (@realDonaldTrump) April 7, 2020
Grimm has now returned full-time to her job as principal deputy inspector general. She's been with the inspector general's office since 1999, serving under administrations from both parties.
Glenn Fine, acting inspector general of the Defense Department
Fine, the principal deputy inspector general of the Defense Department since 2015, had been serving as the Pentagon's acting inspector general since before Trump took office.
He had been appointed to chair the committee overseeing the economic relief packages passed in response to the coronavirus. But on April 6, Trump ousted Fine from his Defense Department job, meaning he could no longer take charge of the new oversight panel.
Trump replaced Fine with a different acting inspector general and nominated another person to take over the role permanently pending Senate confirmation.
Fine has now resumed work as the department's top deputy inspector general, according to the Pentagon. He was previously the Justice Department's inspector general from 2000 to 2011.
Michael Atkinson, inspector general of the Intelligence Community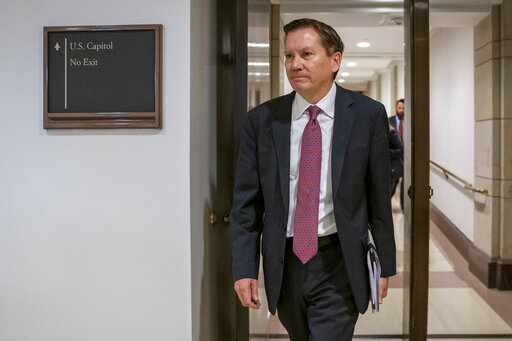 Michael Atkinson, then the inspector general of the intelligence community, arrives at the Capitol in Washington to testify privately about a whistleblower complaint on Oct. 4, 2019. (AP/Applewhite)
On April 3, Trump signaled his intent to fire Atkinson, the intelligence community inspector general who handled the whistleblower complaint that led to Trump's impeachment.
Defending his decision to reporters, Trump said Atkinson was a "disgrace to IGs" and falsely claimed Atkinson brought a "terrible, inaccurate whistleblower report" to Congress.
Atkinson alerted Congress in August that a whistleblower complaint he received was credible and of "urgent concern," but the complaint was blocked by the then-acting director of national intelligence, Joseph MaGuire.
The complaint, which detailed Trump's efforts to get Ukraine to investigate his political rivals, was ultimately declassified. The inquiry that followed led to Trump's impeachment in the House for abuse of power and obstruction of Congress.
Trump had nominated Atkinson to the position, which he took over in May 2018. He previously worked in the Justice Department for over 15 years.
In his letter to Congress — which matched the letter he later sent regarding Linick — Trump said he did not have "the fullest confidence" in Atkinson. A bipartisan group of senators sent a response demanding more explanation, but Atkinson was ultimately removed after 30 days.
In a statement on his removal, Atkinson said, "It is hard not to think that the president's loss of confidence in me derives from my having faithfully discharged my legal obligations as an independent and impartial inspector general."
An acting inspector general now occupies the role.
U.S. Department of Health and Human Services, "Christi A. Grimm," accessed via Internet Archive May 19, 2020
Office of the Director of National Intelligence, "IC Inspector General," accessed via Internet Archive May 19, 2020
U.S. Department of Defense Office of the Inspector General, "Glenn A. Fine," accessed via Internet Archive May 19, 2020
U.S. Department of State Office of the Inspector General, "Steven A. Linick," accessed via Internet Archive May 18, 2020
U.S. Department of Transportation Office of the Inspector General, "Deputy Inspector General (Acting Inspector General)," accessed via Internet Archive May 18, 2020
The White House, "Remarks by President Trump in a Roundtable with Restaurant Executives and Industry Leaders," May 18, 2020
The Washington Post, "Trump's slow-motion Friday night massacre of inspectors general," May 18, 2020
NBC News, "Saudi arms sale was a second area of investigation for fired State Department watchdog," May 18, 2020
Politico, "Fired watchdog was investigating arms sales to Saudi Arabia," May 18, 2020
CNN, "Pompeo refused to cooperate with watchdog probe into $8B arms sale to Saudi Arabia, source says," May 18, 2020
The New York Times, "State Dept. Investigator Fired by Trump Had Examined Weapons Sales to Saudis and Emiratis," May 18, 2020
U.S. Department of Transportation, "Deputy Inspector General (Acting Inspector General)," accessed May 18, 2020
Pandemic Response Accountability Committee, "PRAC Members," accessed May 18, 2020
CBS News, "The internal watchdogs Trump has fired or replaced," May 18, 2020
Letter from Eliot Engel and Robert Menendez to the White House, May 16, 2020
Letter from Eliot Engel and Robert Menendez to the State Department, May 16, 2020
Letter from Eliot Engel and Robert Menendez to the Steve Linick, May 16, 2020
CNN, "State Department inspector general becomes the latest watchdog fired by Trump," May 16, 2020
The Washington Post, "Trump ramps up retaliatory purge with firing of State Department inspector general," May 16, 2020
The New York Times, "Trump Removes State Dept. Inspector General," May 16, 2020
CNN, "Who Trump has removed from the inspector general role," May 16, 2020
USA Today, "The Trump administration has recently moved to oust 4 government watchdogs. Here they are:," May 16, 2020
The White House, "President Donald J. Trump Announces Intent to Nominate Individuals to Key Administration Posts," May 15, 2020
Politico, "Trump ousts State Department watchdog," May 15, 2020
The White House, "President Donald J. Trump Announces Intent to Nominate and Appoint Individuals to Key Administration Posts," May 1, 2020
Letter from Chuck Grassley to President Donald Trump, April 8, 2020
The White House, "Remarks by President Trump, Vice President Pence, and Members of the Coronavirus Task Force in Press Briefing," April 7, 2020
Donald J. Trump on Twitter, April 7, 2020
The New York Times, "Trump Ousts Pandemic Spending Watchdog Known for Independence," April 7, 2020
The New York Times, "Inspector General Fired by Trump Urges Whistle-Blowers 'to Bravely Speak Up,'" April 6, 2020
CNN, "READ: Trump's letter removing intelligence community inspector general," April 3, 2020
U.S. Department of Health and Human Services Office of Inspector General, "Hospital Experiences Responding to the COVID-19 Pandemic: Results of a National Pulse Survey March 23–27, 2020," April 2020
Council of the Inspectors General on Integrity and Efficiency, "Glenn A. Fine Appointed Chair of CIGIE's Pandemic Response Accountability Committee," March 30, 2020
The House Committee on Transportation and Infrastructure, "Amid New Report of Secretary Chao Using a Taxpayer-Funded Program to Dole Out Favors, Chair DeFazio Formally Requests DOT Inspector General Broaden Ongoing Inquiry," Dec. 20, 2019
Politico, "Chao's team helped McConnell's state win its largest DOT grant," Dec. 17, 2019
Government Publishing Office, "Inspector General Reform Act of 2008," Oct. 14, 2008
PolitiFact, "In firing of inspector general, Donald Trump falsely repeats that whistleblower got phone call wrong," April 6, 2020
PolitiFact, "Timeline: The Trump impeachment inquiry," Oct. 3, 2019
PolitiFact, "Read the Inspector General's letter on the Ukraine whistleblower complaint," Sept. 26, 2019
PolitiFact, "Read the declassified whistleblower complaint on Ukraine, Biden and Trump," Sept. 26, 2020
PolitiFact, "What the whistleblower law says about sharing complaints with Congress," Sept. 25, 2020
PolitiFact, "Trump wrongly says $6 billion went missing at State Department under Clinton," Oct. 26, 2016
Phone interview with Liz Hempowicz, director of public policy for the Project On Government Oversight, May 18, 2020
Phone interview with Donald Sherman, deputy director of Citizens for Responsibility and Ethics in Washington, May 18, 202
Browse the Truth-O-Meter
More by Bill McCarthy