Stand up for the facts!
Our only agenda is to publish the truth so you can be an informed participant in democracy.
We need your help.
I would like to contribute
A Newsmax host shut down MyPillow CEO's Dominion conspiracy talk. Here's the background
If Your Time is short
A Newsmax TV anchor read from a statement and walked off the set after his on-air guest, MyPillow CEO Mike Lindell, rehashed debunked conspiracy theories about election technology company Dominion Voting Systems in an interview.

Newsmax is facing possible legal action by Dominion, which in recent months has filed separate defamation lawsuits against Rudy Giuliani and Sidney Powell and sent warning letters to Newsmax executives, Lindell and others.

There's no evidence that Dominion voting machines flipped votes from Donald Trump to Joe Biden, or evidence to support many other false claims about Dominion.
A Newsmax TV anchor walked off the set after his guest, MyPillow Inc. CEO Mike Lindell, started voicing unsubstantiated conspiracy theories about the 2020 election and technology company Dominion Voting Systems less than 15 seconds into a Feb. 2 interview.
It's rare to see an anchor get up and leave during a TV segment, so the clip was widely shared on social media. It was the latest sign of the network's sensitivity to threats from Dominion to pursue defamation cases against people circulating falsehoods about the company's role in the 2020 election.
Lindell, a supporter of former President Donald Trump who became his informal adviser, has claimed for months that the election was stolen. He joined Newsmax's Bob Sellers and Heather Childers, who asked about Twitter's recent ban on Lindell's accounts.
"Well, first mine was taken down because we have all the election fraud with these Dominion machines," Lindell said. "We have 100% proof."
Lindell seemed to be alluding to a baseless conspiracy theory that Dominion's voting machines illegally flipped votes from Trump to President Joe Biden. The machines were not designed to change votes, and there's no evidence they did.
Sellers shuts down Lindell's Dominion claims
Allegations of vote-rigging and election fraud were once common on Newsmax, a pro-Trump TV channel and website. In the weeks following the election, former Trump lawyers Rudy Giuliani and Sidney Powell appeared on the network's programs to push such claims. So did Lindell.
This time, however, Sellers interrupted Lindell when he brought up Dominion. "Mike, you're talking about machines," Sellers said over Lindell, who went on speaking even as his words became mostly inaudible. "We at Newsmax have not been able to verify any of those kinds of allegations. We just want to let people know that there's nothing substantive that we've seen."
"Let me read you something here," Sellers continued, turning to read from something on his desk. "The election results in every state were certified. And Newsmax accepts the results as legal and final. The courts have also supported that view."
Sellers tried to steer the conversation back to the Twitter ban and "canceling culture," telling Lindell that he did not want to "relitigate the allegations that you're making."
But Lindell continued. He accused Newsmax's anchors of suppressing him and vowed to reveal his evidence against Dominion in the days to come. Sellers asked his producers to end the segment, then got up from his seat and left Childers to close out the interview.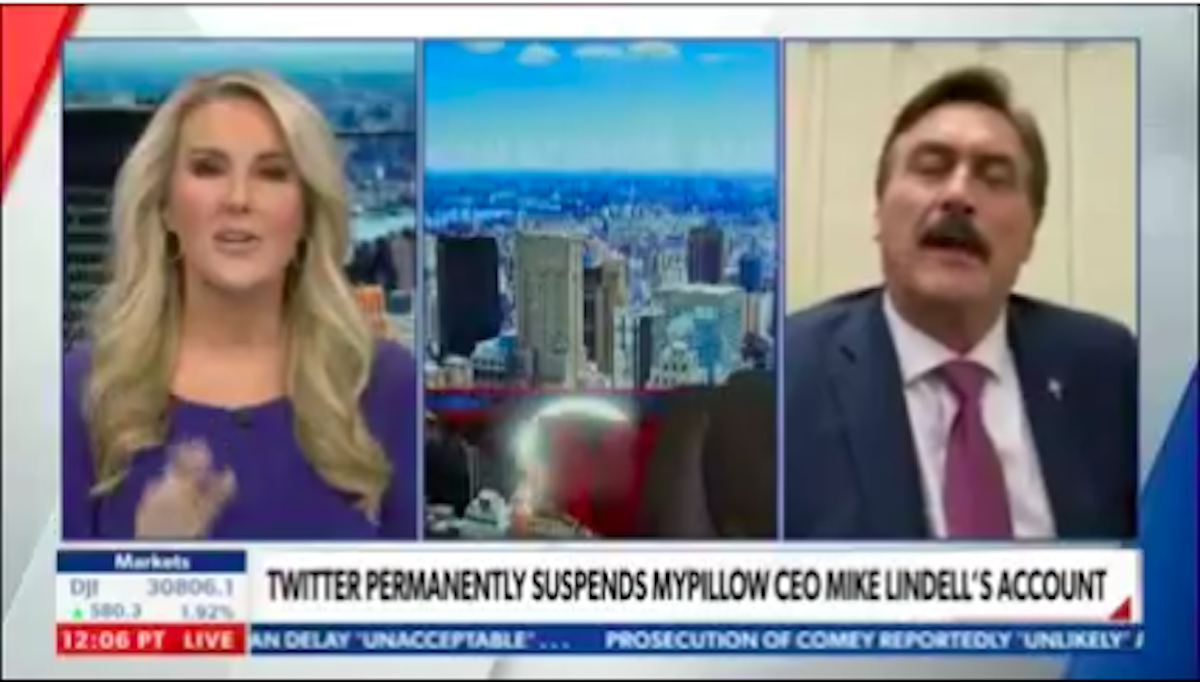 A screenshot of Newsmax TV's "American Agenda" after host Bob Sellers got up from his chair in the middle of a Feb. 2 interview segment with My Pillow CEO Mike Lindell.
"Newsmax and its anchor only wanted to make clear that it has found no evidence of software manipulation involving the election," Newsmax spokesperson Brian Peterson told PolitiFact. "However, Mr. Lindell is entitled to his own opinion and has a different viewpoint than ours."
In a broadcast the following day, Sellers attributed the spectacle to "confusion" over what the topic of the interview would be and said he could have handled things differently
Newsmax brought Lindell back hours after Sellers abandoned his interview to talk to host Rob Schmitt about his Twitter suspension. Lindell did not mention Dominion during that appearance.
"We wanted to make sure we had an opportunity to discuss suppression of free speech with him later in the evening," Peterson said, calling Lindell a "welcomed guest on our shows."
We tried reaching Lindell through MyPillow. The company did not respond to a request for comment.
The looming threat of lawsuits
Looming over the on-air sequence was the fact that Newsmax is facing the threat of legal action from Dominion, which has filed separate defamation lawsuits against Giuliani and Powell seeking $1.3 billion over their claims about the company. That's key context for viewers who may have been confused when Sellers read what sounded like a legal disclaimer.
A similar episode played out in December, when both Newsmax and Fox News ran segments debunking their own coverage on Dominion and another voting systems firm, Smartmatic.
On Dec. 19, Newsmax posted a statement to its website to "clarify its news coverage and note it has not reported as true certain claims made about these companies" by guests on its shows.
"No evidence has been offered that Dominion or Smartmatic used software or reprogrammed software that manipulated votes in the 2020 election," the network said. A Newsmax host later read the entire statement out loud during a Dec. 21 broadcast, as PolitiFact reported.
The statement came after Dominion demanded retractions and instructed Newsmax executives to preserve records on Dec. 18. A search of the TV monitoring service TVEyes showed more than 700 mentions of "Dominion" on Newsmax between the Nov. 3 election and that day.
In a pair of letters sent on Dec. 22 and shared with PolitiFact, Dominion's lawyers said that litigation is "imminent," and that they were "disappointed" that Newsmax did not retract "the falsehoods from its previous broadcasts and online articles."
"Your failure to retract these articles removes any doubt that Newsmax is defaming our client with actual knowledge that its claims are completely false," one of the letters said.
Dominion also sent a cease-and-desist letter to Newsmax TV host Greg Kelly on Dec. 22
Proving that someone knowingly made or aired a false statement is key to winning defamation and libel cases, said Ryan Calo, a law professor at the University of Washington. The statement Sellers read may have been meant to guard Newsmax against charges that it brought Lindell on knowing he would make false claims about Dominion.
"Other than not inviting such a person on your program, you can inoculate yourself against lawsuits by disclaiming the content," Calo said. "It seems like that's what they were trying to do."
For months, Dominion has fought baseless claims that it worked to change the election result, devoting an entire page on its website to addressing various allegations of fraud.
PolitiFact has debunked several false rumors about the company, including claims that it flipped votes; that it was shut down; that it is owned by the late Venezuelan president Hugo Chavez; that the military raided a company tied to it; and that it counted votes in foreign countries.
No lawsuit against Newsmax has been filed to date, but a spokesperson for Dominion said the company is working to hold all responsible parties accountable for false claims that sought to undermine faith in the election, hurt Dominion's reputation and subjected its employees to harassment and death threats.
"A lot of folks handed (Giuliani and Powell) a megaphone, and a very loud megaphone, on cable news shows and on the internet. And we are looking at each and every one of them," said Tom Clare, a lawyer representing the company, during a Jan. 26 interview with CNN.
Dominion's lawyers also sent letters to Lindell on Dec. 23 and again on Jan. 8 warning of imminent litigation. Lindell has said publicly that he would welcome a lawsuit, and Clare said Jan. 25 that he thinks Lindell "will eventually get his wish."
Jason Campbell on Twitter, Feb. 2, 2021
Dominion Voting Systems, "Setting the Record Straight: Facts & Rumors," Feb. 3, 2021
Various letters from Clare Locke LLP on behalf of Dominion Voting Systems, accessed Feb. 3, 2021
Various searches on TVEyes, accessed Feb. 3, 2021
The Washington Post, "After MyPillow CEO starts spouting election misinformation on Newsmax, anchor walks off show," Feb. 2, 2021
Newsmax, "Mike Lindell to Newsmax TV: Businesses Dropping MyPillow Are the Ones Losing Business," Feb. 2, 2021
CNN, "'Haven't ruled anybody out': Dominion lawyer on possible lawsuits," Jan. 26, 2021
NBC Montana on Facebook, "Dominion Voting Systems' legal counsel, Tom Clare of Clare Locke LLP, and Dominion CEO John Poulos speak on the company's defamation suit against Rudy Giuliani," Jan. 25, 2021
The Associated Press, "Dominion Voting Systems sues Giuliani over election claims," Jan. 25, 2021
Axios, "Dominion sends cease and desist letter to My Pillow CEO Mike Lindell," Jan. 18, 2021
The New York Times, "Dominion Voting Systems Threatens to Sue MyPillow CEO Mike Lindell," Jan. 18, 2021
The Associated Press, "Dominion sues Trump lawyer Sidney Powell for defamation," Jan. 8, 2021
Business Insider, "EXCLUSIVE: Dominion sends letters threatening defamation lawsuits to Sean Hannity, Maria Bartiromo, Lou Dobbs, and other pro-Trump media figures," Dec. 24, 2020
Newsmax, "Facts About Dominion, Smartmatic You Should Know," Dec. 19, 2020
Newsmax, "Mike Lindell to Newsmax TV: President Trump Will Prevail," Dec. 17, 2020
The New Yorker, "Why Newsmax Supports Trump's False Voter-Fraud Claims," Nov. 24, 2020
PolitiFact, "No, Myanmar didn't use Dominion Voting Systems for its election," Feb. 2, 2021
PolitiFact, "No proof that voting system in Michigan was designed to 'create systemic fraud,'" Feb. 1, 2021
PolitiFact, "China did not orchestrate voter fraud in the 2020 election," Jan. 19, 2021
PolitiFact, "No, AT&T was not conducting an audit of Dominion Voting Systems near Nashville explosion," Dec. 29, 2020
PolitiFact, "How Fox News, Newsmax vote-rigging coverage squares with defamation law," Dec. 23, 2020
PolitiFact, "No, Hugo Chavez's family does not own Dominion Voting Systems," Dec. 3, 2020
PolitiFact, "46 minutes of falsehoods: Trump rehashes baseless election claims in White House video," Dec. 3, 2020
PolitiFact, "Dominion and Smartmatic haven't shut down, and its executives aren't 'on the run,'" Nov. 24, 2020
PolitiFact, "Trump lawyer falsely claims voting technology companies were created for changing election results," Nov. 19, 2020
PolitiFact, "No, US military did not raid election software company tied to Dominion," Nov. 17, 2020
PolitiFact, "No evidence Dominion Voting Systems caused widespread tabulation errors that flipped votes for Biden," Nov. 13, 2020
Emailed statement from Dominion Voting Systems, Feb. 3, 2021
Email interview with Brian Peterson, senior vice president of communications and marketing for Newsmax, Feb. 3, 2021
Phone interview with Ryan Calo, professor of law and co-director of the Tech Policy Lab and the Center for an Informed Public at the University of Washington, Feb. 3, 2021
Browse the Truth-O-Meter
More by Bill McCarthy