Stand up for the facts!
Our only agenda is to publish the truth so you can be an informed participant in democracy.
We need your help.
I would like to contribute
Newsmax, Fox News air outdated, out-of-context photos of empty shelves in segments bashing Biden
If Your Time is short
In recent segments, both Newsmax and Fox News displayed old, out-of-context photos in a misleading way that suggested they showed empty shelves in the U.S. today.

For example, six photos that Newsmax represented as pictures capturing the current situation in the U.S. actually showed London in March 2020; Los Angeles in March 2020; Japan in September 2020; Australia in May; London in July; and Berlin in March 2012.

Social media users have similarly circulated outdated photos that show grocery stores with depleted shelves due to early-pandemic panic buying or other circumstances.
Newsmax and Fox News have aired old, out-of-context photos of empty grocery store shelves in recent segments bashing President Joe Biden for the jammed-up supply chain that experts say is backlogged due to the coronavirus pandemic's strain on the global economy.
Shortages of labor and raw materials have certainly created bottlenecks at a time when shoppers are looking to spend. And photos of depleted shelves, like these from the Associated Press in October, have legitimately helped to illustrate that story.
But other photos that appeared on Newsmax and Fox News were taken as early as March 2020, and some were snapped in other countries. The conservative networks represented them as though they were current and taken in the U.S.
"It is unprofessional and unethical to repurpose images from another time and place to illustrate a story that has nothing to do with the original context in which those images were made," said Nina Berman, the director of the photojournalism program at Columbia Journalism School.
"Using a photograph which shows empty shelves because of a coming typhoon in Japan, or old images from the early days of panic pandemic buying, to make a point about the current state of the U.S. economy is a classic case of disinformation," Berman added.
Newsmax and Fox News did not respond to requests for comment about the misleading photos.
Social media users have also circulated several outdated empty-shelf photos out of context. In one instance, conservative commentator Kimberly Klacik shared a photo of a British grocery store from March 2020 and falsely claimed that it offered "a look at" Biden's economic policies.
But when TV networks do the same thing, it reflects poorly on all journalists and contributes to distrust of other news organizations, said Lee Wilkins, an author on media ethics and professor emerita at the University of Missouri's School of Journalism.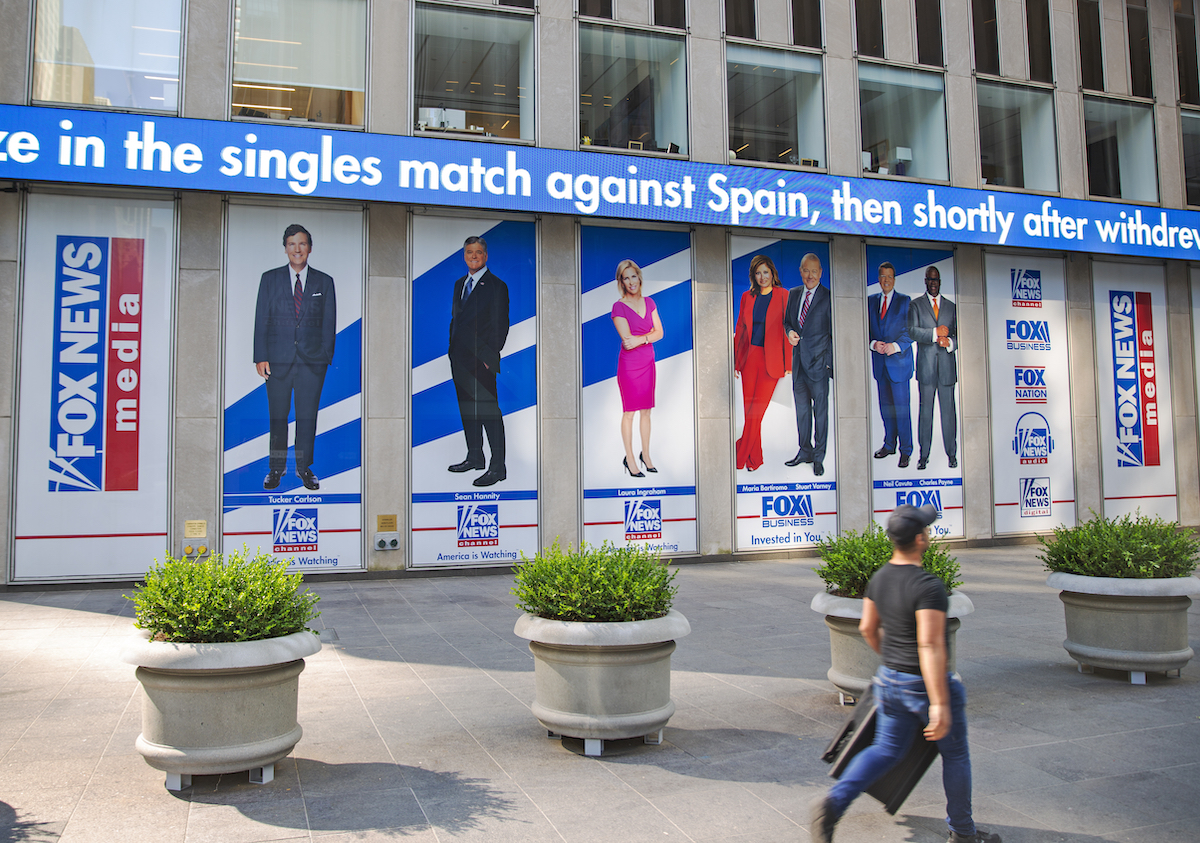 Several Fox News hosts are pictured in promotional posters outside Fox News studios in New York on July 31, 2021. (AP)
PolitiFact reached out to Getty Images and the Associated Press, the services that supplied the empty-shelves photos that Newsmax and Fox News used out of context. We did not hear back.
Newsmax poaches photos from London, Japan, Australia and Germany
On Oct. 18, Newsmax host Chris Salcedo interviewed Rep. James Comer, R-Ky., about the supply chain issues. Comer shared a clip from the interview on Twitter, writing that the "high prices and empty store shelves are a direct result of Joe Biden's reckless spending policies."
In the short clip, Comer faulted Biden's economic policies and COVID-19 vaccine requirement for large employers for labor shortages, high prices and depleted store shelves.
High prices and empty store shelves are a direct result of Joe Biden's reckless spending policies. @Newsmax pic.twitter.com/N1rkskUJvg

— Rep. James Comer (@RepJamesComer) October 19, 2021
But as Comer spoke, Newsmax filtered through six old, out-of-context images of empty shelves on screen, leaving the false impression that they depicted the situation Comer described. Here's what the original photos actually showed, according to their captions on Getty Images: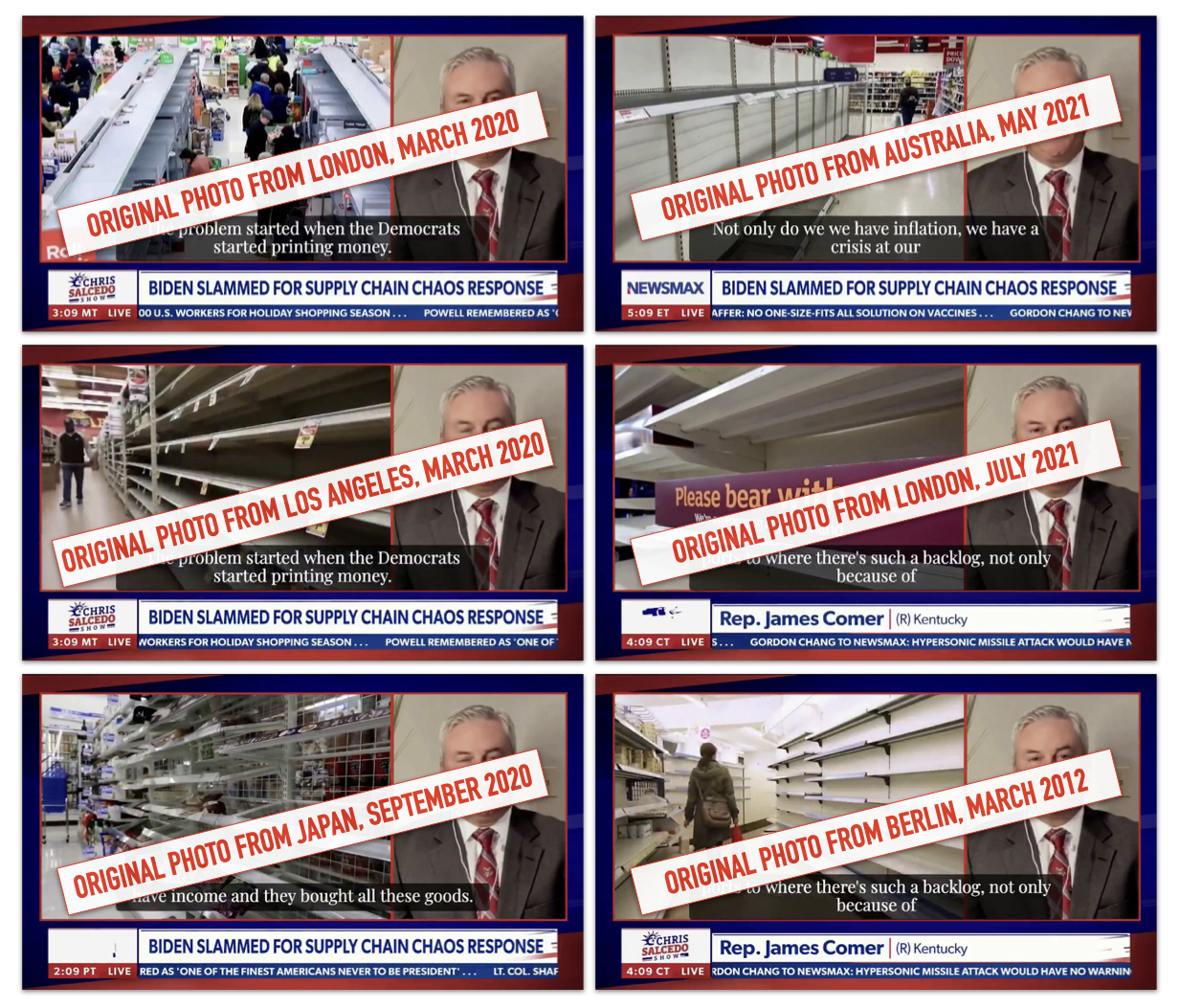 This illustration shows six empty-shelves photos that were aired out of context by Newsmax on Oct. 18, with text overlays added by PolitiFact to mark the photos' original contexts.
Newsmax did not label any of the six photos on screen, an omission that media ethics experts said was deceptive toward viewers.
"If you're going to run a story with a photo of empty shelves from Japan, be sure to say that they're in Japan, and not in the U.S." Wilkins said.
Early pandemic photos on Fox News
A similar scene played out at Fox News Oct. 19, when host Laura Ingraham opened her show by teasing an interview with GOP Reps. Jim Jordan and Mark Green about the supply chain.
"A new piece in the Washington Post reveals what the left wants for America: to have less, and to suffer, of course," Ingraham said, referring to an Oct. 18 column on the supply chain woes.
As Ingraham spoke, two photos from the Associated Press displayed on screen. But neither was current. The two photos showed rows of empty shelves at a Nebraska supermarket and a Pennsylvania grocery store in March 2020.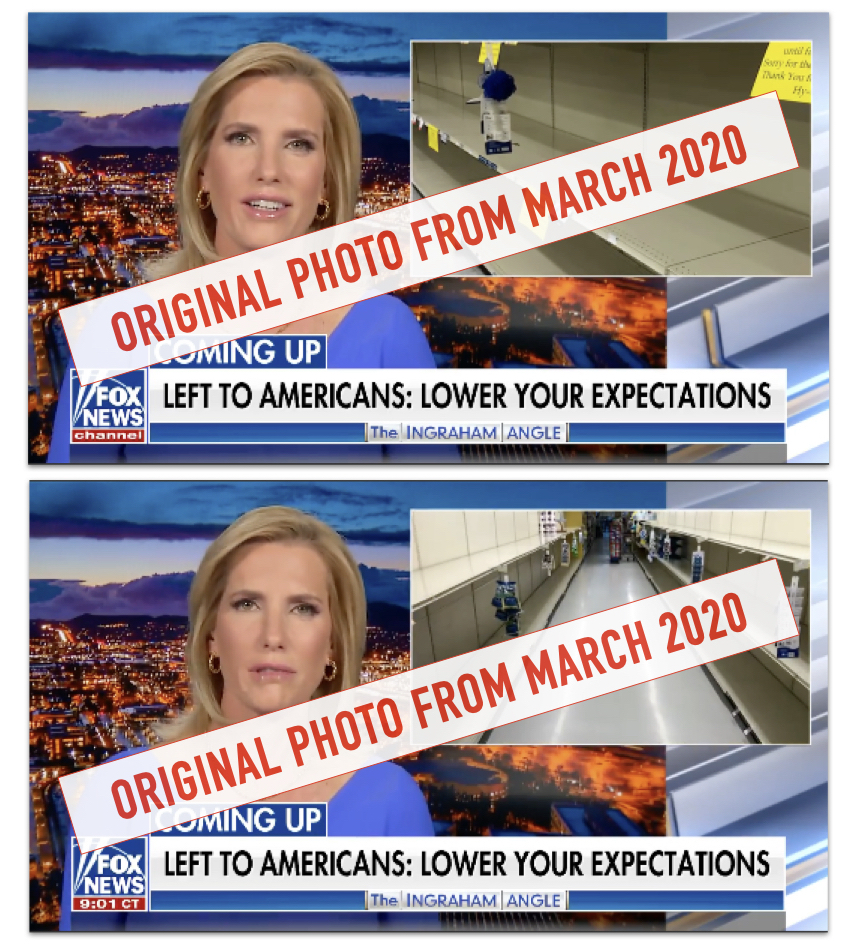 This illustration shows two empty-shelves photos that were aired out of context by Fox News during host Laura Ingraham's show on Oct. 19, with text overlays added by PolitiFact to mark the photos' original contexts.
A day earlier, Fox News host Will Cain also aired a photo from March 2020 as he blamed Biden for the depleted shelves and the chyron read, "Vaccine mandates are hurting America." Fox News had previously used the same image in a March 2020 report on its website.
Fox News, "The Ingraham Angle," Oct. 19, 2021
Fox News, "Fox News Primetime," Oct. 18, 2021
Newsmax, "The Chris Salcedo Show," Oct. 18, 2021
The Associated Press Images, accessed Oct. 21, 2021
Getty Images, accessed Oct. 21, 2021
Various reverse image searches on Google, TinEye and Yandex, accessed Oct. 21, 2021
USA Today, "Fact check: Photos of bare, fully stocked grocery store shelves shared online to support false claim," Oct. 20, 2021
Reuters, "Fact Check-Images do not show empty shelves in U.S. supermarkets in October 2021," Oct. 15, 2021
PolitiFact, "Conservative commentator uses outdated photo in botched attack on 'Build Back Better,'" Oct. 13, 2021
Email interview with Nina Berman, professor and director of the photojournalism program at Columbia Journalism School, Oct. 21, 2021
Email and phone interviews with Lee Wilkins, professor emerita at the University of Missouri's School of Journalism, Oct. 22, 2021
Browse the Truth-O-Meter
More by Bill McCarthy