Says he "brought 1,200 jobs to Texas by moving his factories here from China."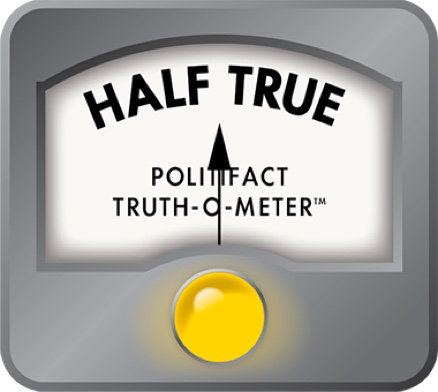 Shami claims he's created 1,200 jobs in Texas by moving his factories to Houston from China
Hair-care mogul Farouk Shami of Houston thinks "Made in the U.S.A. is the strongest brand in the world," and by promising to create new jobs, he's hoping to win the governorship.
As a head-start, "he just brought 1,200 jobs to Texas by moving his factories here from China," according to his Nov. 23 TV ad.
We decided to follow-up on one of his biggest talking points.
The Palestinian-born businessman, seeking the Democratic nomination in the March 2 primary, has created a $1 billion manufacturing company that makes CHI hair irons and BioSilk shampoo, among hair products.
Shami cut the ribbon on his new Houston facility CHI USA in late July 2009. Earlier that month, he announced he was moving to Houston overseas production of his hand-held products, like hair irons, and in the process bringing more than 1,000 jobs to that city.
But contrary to his ad, those jobs were created as a result of moving production from South Korea, not China, campaign director and senior strategist Vince Leibowitz said.
"That was a miscommunication within our campaign over where those jobs were cut, and unfortunately we got the incorrect information to the talented people who put together our television ad," Leibowitz said. Democratic media firm Devine Mulvey produced the spot.
As of Jan. 11, the campaign had changed its commercial to mention only the shift of jobs from Korea. The change happened after our inquiry. Still, on the same day we found the incorrect China reference in a video of the ad (shown to the right) on Shami's Web site, and on the site's homepage.
Elizabeth Yong, public relations manager for Houston-based Farouk Systems Group, said CHI USA produces "five to 10" of a total 61 hair care tools, including the original flat iron.Yong said bringing all production stateside will take two years, though "more than 1,000" jobs have already been shifted. Last July, the company said it hopes to shift 4,000 jobs to Texas by 2012, starting with the move of 1,000 jobs from South Korea and China.
Leibowitz said that some jobs have been created as a result of relocating production from China, but not the ones advertised as part of Shami's campaign.
Perhaps Shami deserves a back slap for admitting his mistake and reworking his ad. Still, incorrect information was left online. We rule his claim Half True.
Farouk Systems Group, Farouk Systems celebrates their grand opening to its new "Made in the USA" facility and has confirmed they will be hiring over 1,000 people this year, July 24, 2009

Farouk Shami for Texas Governor, Farouk Shami For Texas Governor commercial, Nov. 23, 2009
Farouk Shami for Texas Governor, faroukforgovernor.com, accessed Jan. 8

Houston Business Journal, CHI-maker meets 1,200 new positions head-on, by Mary Ann Azevedo, July 31, 2009

Interview with Vince Leibowitz, Farouk Shami for Texas Governor campaign director, Jan. 4, Jan. 7 and Jan. 11

Interview with Elizabeth Yong, Farouk Systems Group, Jan. 4.

The Wall Street Journal, Coming Home: Appliance Maker Drops China to Produce in Texas, Aug. 24, 2009
Browse the Truth-O-Meter
More by Ciara O'Rourke
Support independent fact-checking.
Become a member!
In a world of wild talk and fake news, help us stand up for the facts.