Stand up for the facts!
Our only agenda is to publish the truth so you can be an informed participant in democracy.
We need your help.
I would like to contribute
"The (federal) debt is growing by more than $4 billion a day."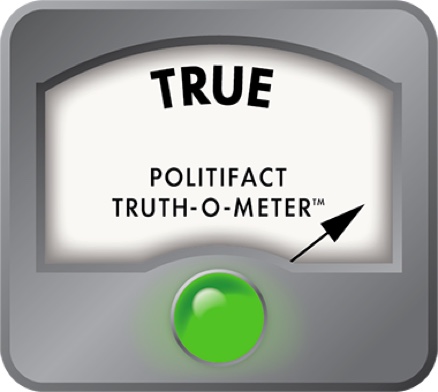 Gov. Rick Perry says the national debt is increasing by more than $4 billion each day
In his book Fed Up! Our Fight to Save America from Washington, Gov. Rick Perry calls the federal debt "too overwhelming to comprehend."
"The national debt is already more than $13.4 trillion," he writes. "For perspective, that is over $43,000 per man, woman and child in America. Worse yet, the debt is growing by more than $4 billion a day."
Or more than $2.7 million a minute and more than $46,000 per second.
Yikes. Is Perry's call right?
A footnote in Perry's book cites a Bloomberg news article that says "the budget deficit will be $1.5 trillion next year... higher than previous Obama administration forecasts because of a recession that was deeper and longer than expected, White House budget chief Peter Orszag said." (The book incorrectly says the article was written Aug. 25, 2010; it was last updated online Aug. 25, 2009.)
The public debt is the sum of each year's spending deficits. Most years we spend more than we take in, and we have to make up that gap by borrowing. Clinton announced a surplus in September 1998 — the first U.S. budget surplus in 29 years. Federal budgets were balanced in both fiscal 1999 and fiscal 2000, and 2001 was the last year we had a surplus.
That wasn't the expectation of the nonpartisan Congressional Budget Office, which issued this cheerful report in 2002: "The outlook for the federal budget over the next decade continues to be bright. Assuming that current tax and spending policies are maintained, the Congressional Budget Office projects that mounting federal revenues will continue to outstrip spending and produce growing budget surpluses for the next 10 years." At the time, the CBO estimated $5.6 trillion in surpluses by 2011.
But we digress — back to the grimmer future. Perry spokeswoman Catherine Frazier also pointed us to the CBO's March 2010 analysis of President Barack Obama's budget proposals for fiscal year 2011. "The CBO projected the same (debt) figure around the time the book was being compiled," she said.
The CBO found that if Obama's proposals — including the health care overhaul — were enacted, the federal government's deficits would total $1.5 trillion in fiscal year 2010 (which ended Sept. 30) and $1.3 trillion in 2011.
Divide the CBO's projected addition of $1.5 trillion in debt in 2010 by the 365 days in a year, and you have about $4.1 billion in debt each day. And the $1.3 trillion in 2011? About $3.6 billion each day.
What does that tell us?
Josh Gordon, policy director at the Concord Coalition, a group that advocates fiscal responsibility, agreed that people have a hard time wrapping their heads around trillions of dollars of public debt. Also, Gordon cautioned against interpreting the per-day spending rate as as a reflection on Washington policy makers as opposed to the health of the economy.
"We always like to measure debt as a percent of the economy, because as the economy grows, the key question is whether the debt is growing more slowly or more quickly," he said. That is, surging debt is worse if the economy is sagging.
According to the CBO analysis noted by Perry's spokeswoman, the projected 2010 and 2011 deficits were expected to amount to 10.3 and 8.9 percent of the gross domestic product, respectively. "By comparison," the report says, "the deficit in 2009 totaled 9.9 percent of the GDP."
The U.S. Treasury tracks a daily history of total public debt — to the penny. On Nov. 9, total public debt outstanding was $13,727,147,399,038.59 — about $13.7 trillion, according to the Treasury. That's up from $13,725,166,759,183.46 on Nov. 8, a difference of about $2 billion. And that's up $1.8 billion from Nov. 5.
Finally, we chased more recent data since the CBO estimates that Perry cites were from March.
In August, the CBO projected the 2011 deficit would be about $1.1 trillion — assuming tax cuts signed into law by then-President George W. Bush in 2001 expire at the end of the year. And on Oct. 7, the CBO estimated that the federal budget deficit was "slightly less than $1.3 trillion fiscal year 2010, down from slightly more than $1.4 trillion in 2009." That's a debt increase of about $3.5 billion and $3.8 billion per day, respectively. "Outlays were lower and revenues were higher than previously expected," the CBO's analysis says.
Upshot: We think it's reasonable to pause where Perry's research team landed in March. At that time, the CBO estimated the government would record $1.5 trillion in debt for fiscal year 2010, which breaks down to about $4.1 billion per day, though (as we note) those figures have since ratcheted down a bit.
We're persuaded too that a case could be made for paying closer attention to the shifting ratio of the debt to the GDP. Regardless, Perry's calculation was on target. We rate his statement as True.
Fed Up! Our Fight to Save America from Washington, page 57
Bloomberg, Obama raises 2010 deficit estimate to $1.5 trillion, Aug. 25, 2009
Congressional Budget Office, An Analysis of the President's Budgetary Proposals for Fiscal Year 2011, March 2010
Congressional Budget Office, Monthly Budget Review, fiscal year 2010, Oct. 7, 2010
Congressional Budget Office, The Budget and Economic Outlook: An Update, August 2010
Office of Management and Budget, Mid-Session Review; Budget of the U.S. Government, Fiscal Year 2011
PolitiFact.com, Axelrod claims Bush saddled Obama with a big deficit, Jan. 15, 2010
PolitiFact Ohio, John Kasich touts role in balancing budget, creating surplus, boosting jobs, Oct. 31, 2010
E-mail interview with Catherine Frazier, deputy communications director, Nov. 9, 2010
Interview with Josh Gordon, policy director, Concord Coalition, Nov. 11, 2011
Browse the Truth-O-Meter
More by Ciara O'Rourke
Support independent fact-checking.
Become a member!
In a world of wild talk and fake news, help us stand up for the facts.