Stand up for the facts!
Our only agenda is to publish the truth so you can be an informed participant in democracy.
We need your help.
I would like to contribute
"The federal government borrows $4 billion every day."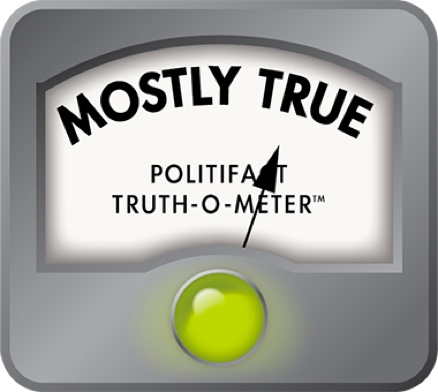 GOP Congressional Committee says U.S. borrows $4 billion a day for spending
Hundreds of Rhode Islanders got phone calls last week from the National Republican Congressional Committee, with a recorded message attacking U.S. Rep. David Cicilline.

Specifically, the GOP was criticizing Cicilline's support of a Democratic budget proposal for fiscal 2012, which the Republican-controlled House defeated 166 to 259 on April 15. Similar calls were made in 22 other Congressional districts where the GOP perceives an incumbent Democrat to be vulnerable.

"Thanks to Washington's addiction to spending, the federal government now borrows $4 billion a day," the recorded voice said. "That's given us $14 trillion in debt. And David Cicilline is making it worse. He voted for another Pelosi budget that would strangle our economy with more spending, more debt and more borrowing from China."

Setting aside the freshman congressman's vote on the Democrats' proposed budget --which is a matter of public record --we wondered about that $4-billion figure, which Republicans around the country are citing in their budget battles with Democrats.

If Rhode Island were to borrow that much, in just two days it would pay for the entire proposed state budget of $7.7 billion for next year. Or it could pay for the I-Way,  the new Sakonnet River bridge and the replacement of the Route 95 viaduct in Pawtucket -- with $3 billion in pocket change.

Does the United States really borrow that much every day?

When we asked for proof of the claim, the NRCC referred us to a report by our friends at PolitiFact Florida. Turns out PolitiFact Georgia also looked into a similar claim.

First, a primer, courtesy of PolitiFact Florida. Let's start with the difference between the "national deficit" and the "national debt."  

The deficit is the result of the government spending more in a single budget year than it takes in as revenue from taxes and other sources. The deficit in 2010 was $1.3 trillion, according to the website of the U.S. Office of Management and Budget. We've had a deficit every year since 2002.

Before that, from 1998 to 2001, for a brief period at the end of President Bill Clinton's term and the start of President George W. Bush's administration, the federal government was actually operating with a surplus, according to a Congressional Research Service report.

The national debt, meanwhile, is the total amount of money owed by the federal government to creditors who have loaned the government money. That stood at $14.25 trillion on April 6, according to PolitiFact Georgia.

Its research determined that the debt has grown by an average of more than $4 billion a day since 2009. In 2010, the average was $4.7 billion a day. It has dropped, however, to about $2.45 billion a day so far this year.

But between the end of 2009 and April 6, 2011, the public debt has risen by an average of just above $4 billion a day.

Those numbers were enough to convince PolitiFact Georgia that the claim of borrowing $4 billion a day was Mostly True.   
   
PolitiFact Florida, delving into a similar matter, questioned the notion of the federal government borrowing billions every day to stay afloat.

"The actual borrowing doesn't occur every day," Sean Snaith, director of the University of Central Florida's Institute for Economic Competitiveness, told PolitiFact Florida. "The periodic auction of bonds, that's when the money is raised."

Still, PolitiFact Florida found the $4-billion figure reasonable and also went with a Mostly True ruling.

Makes sense to us. That's why we're going to do some borrowing ourselves, and go with our PolitiFact colleagues. We rate this one Mostly True too.
"Senators ring alarm about "$4 billion" daily debt," PolitiFact Georgia, published April 11, 2011

"Sen. Marco Rubio says leaders borrowing $4 billion a day to grow government," PolitiFact Florida, published April 15, 2011

"NRCC Targeted Calls Underscore Cicilline's Spending and Borrowing Spree," news release of the National Republican Congressional Committee, dated April 28, 2011

Interview with Tory Mazzola, spokesman for the National Republican Congressional Committee, April 29, 2011
Browse the Truth-O-Meter
More by Richard Salit
Support independent fact-checking.
Become a member!
In a world of wild talk and fake news, help us stand up for the facts.