Stand up for the facts!
Our only agenda is to publish the truth so you can be an informed participant in democracy.
We need your help.
I would like to contribute
"It's just crazy that the government will ... make it illegal to use the old [incandescent] bulbs."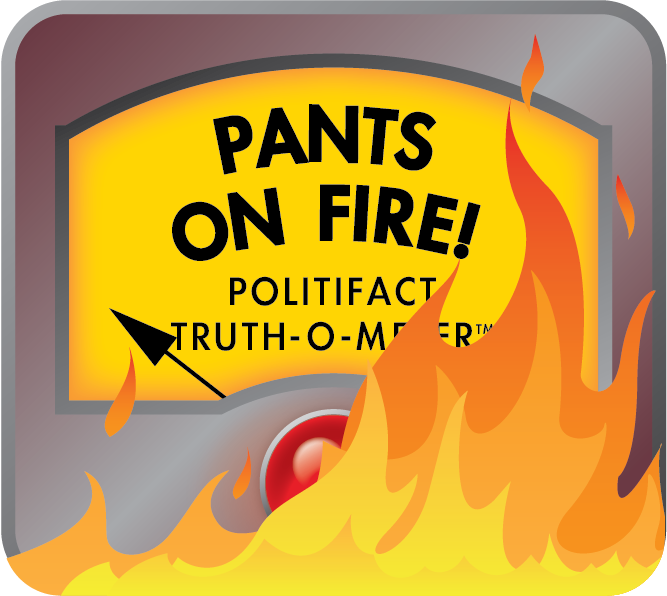 Head of R.I. public policy group says federal law bans use of incandescent bulbs
You've heard the jokes before -- how many so-and-so's does it take to screw in a light bulb?

While light bulbs are remarkably simple to use, new energy efficiency mandates have complicated matters. And that has some people riled up.

Appearing as a guest on WHJJ-AM's "Helen Glover Show," Mike Stenhouse, executive director of the Ocean State Policy Research Institute, complained about federal regulations that will mean lights out for the traditional incandescent light bulb.

"They're basically telling you that the normal light bulbs that we have always used, that Thomas Edison invented, are going to be illegal, I mean, imagine that, they are going to be illegal to use and they have to be replaced," he said.

He continued, "It's just crazy that the government will make us, MAKE US, force us, make it illegal to use the old bulbs and we have to use these new ones and that is just tyranny."

A light bulb went off here at PolitiFact and we wondered: Is it true that it will be illegal to use our old bulbs? "

When we asked Stenhouse to shine some light on his statement, he referred us to a video of a speech on the floor of Congress by U.S. Rep.Ted Poe,  R-Texas. In it, Poe hit on several of the themes that Stenhouse echoed, namely that the government is over-reaching its proper role in setting new efficiency standards for light bulbs.

Conservatives, including Rush Limbaugh and Tea Party leaders, have railed against the law.

It turns out that our colleagues at PolitiFact National looked into similar claims -- by AmeriPAC, a political action committee that largely supports conservative Republican candidates -- that old incandescents would have to be tossed out and replaced with energy efficient ones.

To begin, let's go back to 1879 when Thomas Edison invented the forerunner of the modern-day  incandescent bulb. Its technology has changed little in the ensuing 132 years. Today, incandescent bulbs are used in an estimated 3 billion of the 4 billion light fixtures  the country.

But in recent years, with rising energy costs and growing concerns about climate change, demand for more energy-efficient lighting has gained momentum. Incandescents are terribly inefficient, with 90 percent of the energy they consume lost through heat.

Responding to those concerns, then-President George W. Bush signed the Energy Independence and Security Act of 2007, which received a measure of bipartisan support in Congress. (It passed in the House 264 to 163, with 36 Republicans voting in favor, and in the Senate, 65 to 27, with 20 Republicans voting in favor.

The act deals with a broad range of energy-consumption issues, including light bulb efficiency. Section 321  spells out the new standards, essentially requiring light bulbs to use 27 percent less energy than traditional incandescents.

The law, while setting efficiency standards for light bulbs, does not ban or favor one type of bulb over another, according to a "backgrounder" put out by the U.S. Environmental Protection Agency. But it will, in effect, end production of traditional incandescent bulbs, beginning with 100-watt bulbs in 2012, then 75-watt bulbs in 2013 and ending with 40-watt bulbs in 2014.

Halogen incandescent bulbs will meet the new standards as will still-pricey LEDs and popular and more affordable compact fluorescent light bulbs, or CFLs. Prices today are $40 to $50 for an LED, $3 for fluorescent alternatives and $1.50 for halogen incandescents, compared with about 50 cents for a typical 100-watt incandescent.

We note, by the way, that Stenhouse echoed concerns about mercury in CFLs, saying, "If you break them... your home becomes a hazardous area."

But the EPA calls that a "myth," saying that "airing out and removing the bulb pieces from the room will quickly dissipate any mercury vapor." The EPA also labels as myth assertions, repeated by Stenhouse, that CFLs will raise mercury levels in the environment. The agency says coal power plants are the  "main emitter" of mercury in the United States, PolitiFact National rated a claim that CFLs are "toxic" and  "not environmentally friendly" as Half True.

Setting aside these issues about CFLs and, more broadly the merits of the law itself, we return to the question that consumers will want answers to  beginning in 2012: Will the law, as Stenhouse states, "make it illegal to use the old bulbs."

While the bill sets standards for new light bulbs "manufactured or imported" to the United States, it does not address using old bulbs that don't meet the new standards.
   
When reached by PolitiFact National, Jen Stutsman, a spokeswoman for the Department of Energy, said people can keep using their old incandescent bulbs and stores can continue to sell them -- even after the new standards are in place -- until they are sold out.
   
"There are no energy police coming to your home to make you remove your light bulbs," said Steven Nadel, executive director of the American Council for an Energy-Efficient Economy, a 30-year-old advocacy organization that advises lawmakers and conducts research.

Stenhouse admitted the possibility that he "might have made a little mistake there" in saying that incandescents will be illegal to use -- a statement he made at two separate points of his appearance.

Also, he emphasized that his appearances as a guest of Glover, the former Survivor contestant, are part of  his group's "Liberty Bytes" program. He said the initiative encourages listeners to ask how issues reported in the news "affect your personal liberties....It's not our research...it's all based on media accounts."

"Obviously, we were convinced that it was accurate," he said, but added, "We did not take the next step of going into the bill and looking up this stuff ourselves."

We don't think it would have taken that much research to get a simple and key fact about the bill straight. We found numerous references, including at the Department of Energy website, where  a Q & A states that, "Consumers will have the choice to continue using traditional incandescent bulbs for as long as they last, or switch to more efficient bulbs."

Stenhouse needn't fret personally about which bulbs to use. There's plenty of light emanating from his trousers. We rate this one Pants on Fire!

(Get updates from PolitiFactRI on Twitter. To comment or offer your ruling, visit us on our PolitiFact Rhode Island Facebook page.)
WHJJ Talk Radio, Helen Glover show, Liberty Bytes appearance by Mike Stenhouse on June 13.

Mike Stenhouse, executive director of the Ocean State Policy Research Institute, interview on June 10 and e-mail on June 13.

You Tube, testimony in the U.S. House of Representatives by Rep. Ted Poe, accessed on June 13.

PolitiFact National, "Banned Light Bulbs? Is the government saying no to incandescents?" published May 24; "Conservative group claims new law would require people to throw away existing light bulbs, " published May 16; and "Consumers are being pushed to compact fluorescent light bulbs that are unsafe," published May 16.

U.S. Environmental Protection Agency, backgrounder on Energy Independence and Security Act of 2007, March 2011.

U.S. Department of Energy, "Frequently asked questions: Lighting choices to save you money," accessed on June 20.

Govtrack.us, Energy Independence and Security Act Sect. 321 "Efficient Light Bulbs,"

New York Times Magazine, "Bulb in, bulb out," June 3, 2011.
Browse the Truth-O-Meter
More by Richard Salit
Support independent fact-checking.
Become a member!
In a world of wild talk and fake news, help us stand up for the facts.