Stand up for the facts!
Our only agenda is to publish the truth so you can be an informed participant in democracy.
We need your help.
I would like to contribute
"We are one of the most expensive [bus] rides in New England."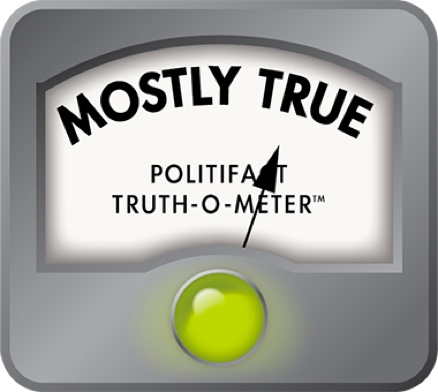 Transit CEO says Rhode Island bus fares are among most expensive in New England
With the Rhode Island Public Transit Authority facing a projected $4.6- million budget shortfall in the coming year, CEO Charles Odimgbe told his board of directors that bus service would have to be cut 10 percent.

He ruled out raising fares, something the board has done five times since 2002.

"We are one of the most expensive rides in New England," Odimgbe told the board members during the meeting.

Does a ticket to ride cost more in Rhode Island? We decided to find out.

When we reached Odimgbe, he said he based his statement on knowledge of the industry. He later had a RIPTA employee forward an internal survey. He qualified the remark he made to his board, saying it's more relevant to compare RIPTA to transit systems that are comparably sized and in areas with a comparable cost of living than to simply look toward other systems in New England.

If you did look to Boston or New York for a comparison and took into consideration their higher cost of living, "you will come to the conclusion that the rides in Rhode Island are very high," he said.

We're not sure why cost of living should be a factor, so we focused only on how much it costs to ride the bus.

In Rhode Island, the fare for riding a RIPTA bus is $2 one way. Need to transfer to another bus? That costs another 50 cents. Ride frequently? You can get a one-day pass for $6 and a monthly pass for $62. Some people, including seniors, disabled, low-income and students, can ride for free or for half price.

[Of the 18.2 million rides RIPTA provided during the past 12 months, about 4.2 million, or one-quarter, were seniors and disabled people who hold free passes -- they number 40,000 -- and another 2 million were students with passes, according to assistant general manager Mark Therrien.]

By comparison, in Boston, the base bus fare is $1.50, or 25 cents less with a pre-paid Charlie Card. A monthly local pass costs $40.

Let's look at some other transit systems in New England. In Portland, Maine, the fare is $1.50, with a monthly pass costing $45.

The Worcester Regional Transit Authority charges $1.50, with monthly passes going for $48.  In Burlington, Vt., the fare for a public bus is $1.25, with a monthly pass costing $42. Connecticut Transit, serving Hartford and New Haven among other communities, charges $1.25, with free transfers.

RIPTA's internal survey draws a comparison with a handful of comparable, or "peer" systems outside of New England. Fares were reported from last summer, but we went to their individual websites and updated those that have changed. In cities such as Albany, Rochester, Memphis, and Louisville, basic fares were lower than RIPTA's.

So far, Odimgbe's claim seems to be holding up.

But comparing only base fares doesn't give a complete picture of what it costs to ride a bus in any of these systems. And this is where Odimgbe's claim begins to break down.

In Rhode Island, there's one basic fare, no matter how many miles you travel -- whether it's within Providence city limits or between outlying communities and the capital city. Get on a bus in Westerly and it will carry you the 43 miles to Providence, all for just $2. Get a transfer for another 50 cents and you could then head to Woonsocket, another 15 miles.

[Odimgbe said the agency has concluded that because most RIPTA riders travel within urban areas -- an estimated 85 percent of rides within 7 miles of downtown Providence -- it would not be worth creating a system to charge long-distance riders more.]

You're not going to travel those long distances in Connecticut that cheaply.  Express bus service between Hartford and outlying areas is based on zone fares that range from from $2.25 to $4.30.

For example, if you board a bus in Old Saybrook or New Haven and travel the 40-plus miles to Hartford, the fare is $4.30, more than double Rhode Island's fare for a comparable distance.

Boston, meanwhile, has higher fares for its Inner Express ($3.50) and Outer Express ($5) services.

Let's make one last stop before we arrive at our destination. The American Public Transportation Association, whose members include RIPTA and 350 other transit systems conducts an annual survey of base fares for adults. Of those that responded to the 2010 survey, only four U.S. systems charged more than RIPTA, ranging from $2.25 in San Diego to $3.65 in San Francisco.

So what have we learned during our ride? When we confined our comparison to New England, just as Odimgbe stated, we could not find another bus system charging as much as RIPTA's $2 base fare. And while several of these do not charge to transfer to other buses, RIPTA tacks on another 50 cents. RIPTA's monthly pass also is substantially higher.

However, while RIPTA lets patrons travel all the way across the state for no more than $2.50,  riders in Boston and Connecticut have to pay substantially more to travel comparable distances.

So, Odimgbe's claim that RIPTA is "one of the most expensive rides in New England" is true for base fares, but not when it comes to longer trips. Because 85 percent of RIPTA riders pay the base fare, we rate his claim MostlyTrue.
(Get updates from PolitiFactRI on Twitter. To comment or offer your ruling, visit us on our PolitiFact Rhode Island Facebook page.)
Projo.com, "R.I. bus service faces 10% cut to cover deficit," publised June 21, 2011.

Interview, Charles Odimgbe, CEO Rhode Island Public Transit Authority, on June 22, 2011.

American Public Transportation Association, survey titled "Adult Single-Trip Base Fares," accessed on June 22, 2011.

Interview, Philip Fry, assistant general manager for planning and marketing, Connecticut Transit, on June 23, 2011.

RIPTA.com, Fares and ticket sales info, accessed June 22, 2011.

Web sites of public transit systems cited in this article.
Browse the Truth-O-Meter
More by Richard Salit
Support independent fact-checking.
Become a member!
In a world of wild talk and fake news, help us stand up for the facts.