Stand up for the facts!
Our only agenda is to publish the truth so you can be an informed participant in democracy.
We need your help.
I would like to contribute
"Dubious taxpayer-funded stimulus projects in Rhode Island include … $250,000 to provide digital television to the state's inmate population."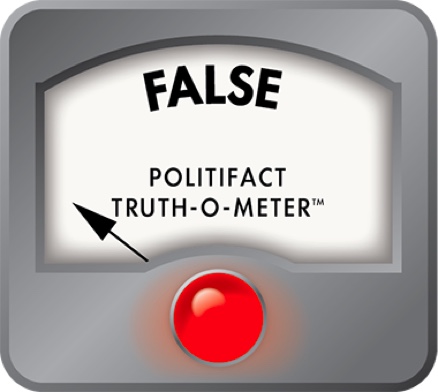 Watchdog group says R.I. used stimulus funds for $250,000 project to "provide digital television to the state's inmate population."
Flip through "The 2011 Rhode Island Piglet Book" and you'll find hundreds of examples of what the Ocean State Policy Research Institute (OSPRI)  considers wasteful spending of taxpayer dollars

OSPRI, which says it is devoted to "the principles of free enterprise, limited government, and traditional American values," published the 39-page booklet in June with the support of Citizens Against Government Waste, a national conservative nonprofit group. The report focuses on municipal, state and federal spending in Rhode Island.

The authors say the booklet  "exposes over 300 pork projects, bungled boondoggles, bad ideas and examples of abuse of power that have resulted in the waste, fraud and abuse of more than $600 million of the taxpayers' hard-earned money."

We can't check on every example. But we were intrigued by one, related to federal stimulus spending, that OSPRI executive director Mike Stenhouse cited when publicizing the report on an appearance on WHJJ-920 AM's "The Helen Glover Show."

The report says: "The stimulus' $2 billion price tag alone doesn't tell the whole story of how tax dollars were spent – and wasted – in Rhode Island. In order to see the pork projects and frivolous spending hidden in the state's stimulus spending, it is necessary to take a closer look."

Included on a list of "some of the more dubious taxpayer-funded stimulus projects" is "$250,000 to provide digital television to the state's inmate population."

Our antennae perked up: Did the state channel stimulus funds to digital TV for prisoners?

The item in the report is footnoted and includes the first in a series of links that  bring you to an OSPRI Web page with what appears to be a list of Department of Corrections projects. It includes $250,000  "to convert digital television signal."

We inquired about the project at the state Office of Economic Recovery and Reinvestment, which administers spending under the American Recovery and Reinvestment Act (ARRA)  -- the formal name of the stimulus program. Deputy director Laurie Petrone reviewed records and got back to us.

"Under ARRA, they are not receiving any funds for that," she said.

So we contacted the corrections department

"There were no ARRA funds used for the digital conversion project," said spokeswoman Tracey Zeckhausen.

When we related this to Stenhouse, he sent an e-mail with an attached state document that he said was where "the specific information was originally drawn from."

The document heading reads, "Office of Economic Recovery and Reinvestment" and beneath that it says "submitted requests under review, state agencies and state university." Beneath that, in larger red type, the phrase "submitted requests under review" is repeated.

Petrone said those headings reflect that the document was merely a list of projects that various state agencies and institutions proposed as possible candidates for stimulus funding. The state compiled the list as it prepared to apply for stimulus money, she said. Ultimately, many did not receive ARRA funds, including the requested $250,000 for digital TV conversion at the Adult Correctional Institutions, she said.

The corrections department did undertake the project, however, using $143,000 in capital funds and $31,000 from its general fund to pay for work that ended up costing $174,000, Zeckhausen said. The sources of those revenues were state taxpayer dollars, she said.

The project, completed in early 2009, prepared the Adult Correctional Institutions for the federally mandated deadline for full-power TV stations to switch from analog to digital broadcasts. After that date, June 13, 2009, the prisons' analog TVs -- the only kind available at that time -- would have been unable to receive over-the-air broadcasts without special converter boxes and antennae.

And, Zeckhausen noted, "They do not get cable."

The ACI's 3,200 inmates watch TV in common areas and in their cells. In minimum security, as many as eight inmates may live in the same dormitory room and share one television. Inmates in old maximum security, who have no cellmates, have the exclusive choice of what to watch.

The 2009 project involved improvements to the ACI's existing antenna system, including rewiring and installing new components for reception of over-the-air digital broadcasts, Zeckhausen said. TVs are connected to the antenna wiring via a cable plugged into a cell wall.

Today, inmates can purchase converter boxes for their analog TVs for $69 or buy new 13-inch digital flat-screen TVs for $191 (with clear backs to prevent the hiding of contraband). The TVs can receive about two dozen  stations,  including NBC, CBS, ABC and PBS outlets in Providence and Boston.

Why should inmates get to watch TV at all?

"An idle inmate can present a security risk. Keeping prisoners occupied is critical, and the opportunity to watch TV is one way to do that," Corrections Director A. T. Wall said in a statement. He also said that TV "keeps inmates...in tune with current events, another factor in preparing them for life beyond the walls."

But our mission here isn't to judge whether such spending is, or is not,  "dubious." It's to check on the accuracy of the report's claim.

Here's what we found:

OSPRI got two things right. The project was "taxpayer-funded" and it did provide digital television to the state's inmates.

But it got two big things wrong. First, the project didn't cost $250,000. The actual price was $174,000.

And more important, it is not a "stimulus project." OSPRI should have heeded the cautionary note in big red type on the document it cited. A call to the Office of Economic Recovery and Reinvestment would have cleared that up.

When we told Stenhouse what we learned, he downplayed the source of the project's funding. The main purpose of the Piglet book, he said, is " to list federal, state, and local expenditures of taxpayer dollars in R.I."

Isn't the purpose of a 38-page report with 412 footnotes to get the facts right?

Furthermore, the OSPRI report pointedly described federal stimulus spending as a "litany of pricey and preposterous handouts" in highlighting 17 local projects it said benefited from the program.

When we asked Petrone about those other items, she said only 2 of the 17 won funding through the state. We can't delve into those here, but we're checking into whether any secured stimulus funding through some other means, if they received any public funding at all, and whether the projects were actually undertaken. (Download the report, go to page 32 and let us know the ones you're interested in.)

The Piglet Book authors got a bit lucky on this one. The fact that the ACI completed the project without stimulus funding saved their bacon from the flames of a Pants on Fire ruling. We rate this one False

(Get updates from PolitiFactRI on Twitter. To comment or offer your ruling, visit us on our PolitiFact Rhode Island Facebook page.)
Ocean State Policy Research Institute (OSPRI), The 2011 Rhode Island Piglet Book, downloaded July 6, 2011.

Emails, Mike Stenhouse, executive director of OSPRI, July 6-7, 2011.
Emails, Tracey Zeckhausen, chief of information and public relations, R.I. Department of Corrections, July 6-7, 2011.

Interview, Laurie Petrone, deputy director of the R.I. Office of Recovery and Reinvestment, July 7, 2011.

Popular Science, "Your Guide to the Digital TV Conversion," accessed July 7, 2011.

WHJJ-920 AM, "The Helen Glover Show," segment aired on June 6, 2011.

Projo.com, "R.I. state prison gears up for the switch to digital on 1,500 TVs," published Dec. 26, 2008.
Browse the Truth-O-Meter
More by Richard Salit
Support independent fact-checking.
Become a member!
In a world of wild talk and fake news, help us stand up for the facts.