Stand up for the facts!
Our only agenda is to publish the truth so you can be an informed participant in democracy.
We need your help.
I would like to contribute
"In the past four years, (the U.S. Senate) has only passed nine out of 48 appropriation bills."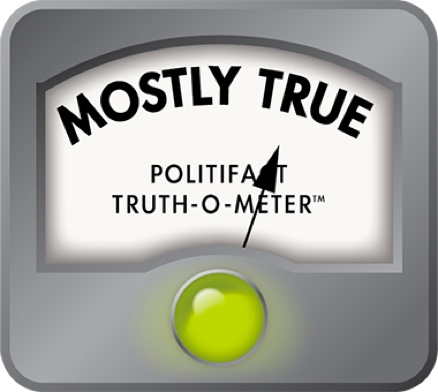 Senate record on appropriations draws Kingston's scrutiny
The race for the U.S. Senate seat being vacated by the retiring Saxby Chambliss is in full swing -- at least on the GOP side, where at least four major hopefuls have announced for the seat.
One of the contenders made a point of denouncing the work -- or lack of work -- carried out by the current Senate over the past few years.
In a speech announcing his run for the Senate last month, U.S. Rep. Jack Kingston of Savannah said:  "The United States Senate has not passed a credible budget in four years. In the past four years, it has only passed nine out of 48 appropriation bills."  
"It has killed any attempts to rein in entitlements, reform out-of-control spending or reduce government interference in our lives," he continued. "If we are going to turn America around, we have to start with the United States Senate."
Our fact-checkers have examined some aspects of this argument before. Last year, PolitiFact Tennessee found that the Senate had not passed a budget in three years. And PolitiFact Georgia recently found that with the exception of a few very, very short meetings, Congress had spent 66 of the first 100 days of the current session in recess.
So now, has the U.S. Senate really passed little more than one-fifth of the appropriations bills that have come before it, as Kingston claims? We decided to track down the numbers and check out the claim.
Kingston spokesman Chris Crawford responded to our inquiry in an email. The congressman's statement was about "regular order appropriations measures" that should have passed for fiscal years 2010-2013, he said. The claim was based on figures from the Status of Appropriations Legislation charts for 2010-2013 maintained by the Library of Congress.
There are 12 regular annual appropriations, or spending, bills that provide funding for federal departments and agencies. When those bills are passed individually, through the traditional committee process, they are considered to have gone through the "regular order." The 12 appropriations bills are included in the annual budget resolution.
According to Kingston's count, the nine bills that were passed were in fiscal year 2010, Crawford said. The nine appropriations bills were for: agriculture, commerce-justice-science, defense, energy and water, homeland security, interior and environment, the legislative branch, military construction-veterans affairs, and transportation-housing and urban development.
We also checked the Library of Congress charts and found that Kingston's count was accurate for the past four fiscal years. And in fiscal 2010, while the Senate passed nine spending bills, it did not pass regular order spending bills for financial services, labor/health and human services/education and the State Department and foreign operations.
When lawmakers in the Senate and House chambers -- or even within the same chamber -- can't agree on the individual spending bills in time  for the new federal fiscal year on Oct. 1, the bills can sometimes be lumped together in "omnibus" bills. In December 2011, the Senate passed an omnibus spending bill of almost $1 trillion that combined nine of the 12 appropriations bills.
Before that, the federal government had operated throughout 2011 on a continuing resolution that maintained policies and program levels set in the fiscal 2010 appropriations bills. For fiscal 2013, the Senate passed another continuing resolution at the end of March, almost six months after deadline, to keep the government running. President Barack Obama signed the stopgap plan into law a week later.
So what does this mean? Has the Senate been derelict in its duties?
The Senate hasn't been passing individual spending bills, "but I see this largely as a reflection of the majority's (Democrats) inability to secure the necessary 60 votes for passage given GOP opposition and willingness to filibuster the bills," said Sarah Binder, a senior fellow at the Brookings Institution and a political science professor at George Washington University.
For Kingston's argument, from a very far bird's-eye view of the Senate, this is an institution that is having a hard time functioning under its rules during these times of political polarization, Binder said. Kingston is right to say the Senate is having a hard time, she said.
But before criticizing this Senate too much, Binder said, we need to remember that this has happened before. In the 1980s, for example, the House and Senate passed none of the 12 spending bills individually but put them all into omnibus bills, she said.
"Ultimately there are no innocent parties here," Binder said.
To sum up, Georgia Congressman Jack Kingston said the U.S. Senate has only passed nine out of 48 appropriation bills in the past four years.
Data from the Library of Congress, which tracks bill histories, show that his statement is correct. But digging a bit deeper into his claim -- and into history -- shows that this congressional stalemate that lingers over federal spending is not new.
Also, while the Senate may not have passed its portion of bills, there are lawmakers on both sides of the aisle who have prevented real progress on solutions to reduce the national debt and grow the economy.
Kingston's statement is accurate but needs more information. We rated it Mostly True.
Savannah Morning News, "It's official, Kingston's running," Sean Horgan, May 2, 2013
Email response, Chris Crawford, spokesman, U.S. Rep. Jack Kingston, June 12, 2013
Library of Congress, Status of Appropriations Legislation charts, http://thomas.loc.gov/home/approp/app13.html
PolitiFact Georgia, "Congress away too often, Georgia lawmaker says," Eric Stirgus, April 22, 2013
PolitiFact Tennessee, "Bob Corker says Senate has not passed a budget in more than three years," Michael Collins, Sept. 28, 2012
Phone interview, Sarah Binder, senior fellow, Brookings Institution, June 17, 2013
National Council on Aging, Capitol Hill terms and definitions (adopted from Congress.org)
The Congressional Appropriations Process: An Introduction, Jessica Tollestrup, Feb. 23, 2012
The Hill, "Senate passes $1T omnibus spending bill, sends it to Obama for signature," Alexander Bolton, Dec. 17, 2011
CNN, "Senate approves bill to prevent government shutdown," Alan Silverleib, March 20, 2013
Browse the Truth-O-Meter
More by Janel Davis
Support independent fact-checking.
Become a member!
In a world of wild talk and fake news, help us stand up for the facts.