Stand up for the facts!
Our only agenda is to publish the truth so you can be an informed participant in democracy.
We need your help.
I would like to contribute
Says a question about his financial skills at the CNBC debate included "discredited attacks from Democrats and my political opponents."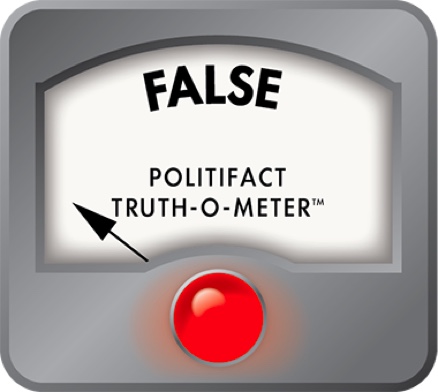 At debate, Rubio calls tally of financial mishaps a pack of 'discredited attacks'
U.S. Sen. Marco Rubio waved off a question about his economic smarts during the latest Republican presidential debate, saying stories about his personal financial decisions weren't worth discussing.
At the Oct. 28, 2015, debate in Boulder, Colo., CNBC moderator Becky Quick asked Rubio how qualified he felt to guide national fiscal policy when he'd had so many money problems himself.
"Sen. Rubio, you yourself have said that you've had issues. You have a lack of bookkeeping skills," Quick said, quoting Rubio's 2012 book An American Son before listing several examples. "You accidentally inter-mingled campaign money with your personal money. You faced foreclosure on a second home that you bought. And just last year, you liquidated a $68,000 retirement fund. That's something that cost you thousands of dollars in taxes and penalties.
"In terms of all of that, it raises the question whether you have the maturity and the wisdom to lead this $17 trillion economy. What do you say?" she asked.
Rubio's response was to dismiss all of Quick's examples as partisan smear tactics.
"Well, you just listed a litany of discredited attacks from Democrats and my political opponents, and I'm not gonna waste 60 seconds detailing them all," he said. He then went on to detail his blue-collar upbringing with immigrant parents.
The response made us pause, because we wondered what had been "discredited" about Rubio's widely reported financial mishaps. In this context, "discredited" means the things Quick said are not true or accurate.
Rubio's campaign did not respond to our requests for comment, but we'll take them one at a time and explain what happened:
"You accidentally inter-mingled campaign money with your personal money." Years before Rubio became speaker of the Florida House of Representatives in 2006, he created two political committees to pay for travel and other expenses.
A 2010 Tampa Bay Times and Miami Herald investigation found he failed to disclose paying $34,000 in expenses, including $7,000 to himself. He paid his wife Jeanette, who was treasurer of one of the committees, $5,700 for "gas and meals." Rubio also gave relatives another $14,000 and charged $51,000 in travel expenses to his own credit cards.  
Speaking of credit cards: In 2005, the Republican Party of Florida gave him an American Express for expenses. Rubio charged thousands of dollars' worth of restaurant meals while his meals in Tallahassee were being covered by taxpayers as part of being in the state House.
Rubio routinely used the party's card to pay personal expenses, which he later repaid. Those included a rental car, repairs to his personal vehicle, flights to Tallahassee, a family reunion trip and paver work to his home.
In all, he spent more than $100,000 between November 2006 and November 2008. He didn't release disclosures prior to that. The Florida Commission on Ethics in 2012 dismissed a citizen complaint that had been filed during Rubio's 2010 Senate campaign.
Rubio wrote in his book that the expenses were the result of simple mix-ups. "For example, I pulled the wrong card from my wallet to pay for pavers," he wrote. Another time, "my travel agent mistakenly used the card to pay for a family reunion in Georgia."

"Each time, I identified the charges and paid the costs myself, directly to American Express. The Republican Party of Florida didn't pay a single one of them. Nevertheless, in hindsight, I wish that none of them had ever been charged."
Quick's description of these events is accurate.
"You faced foreclosure on a second home that you bought." In 2005, Rubio bought a house in Tallahassee with then-state Rep. David Rivera for $135,000. The pair used the home while in town on state business.
Foreclosure proceedings on the Tallahassee house were started in 2010 when Rivera, then Florida House budget chairman and running for Congress in Miami, failed to make mortgage payments for five months. The loan had been structured for interest-only payments on an adjustable rate mortgage until April 2010. Rubio and Rivera stopped paying the loan in February because of a dispute over how much the payments would be after April.
In June 2010, Deutsche Bank filed a lawsuit for $136,000, prompting Rivera to make a hasty payment for the missing months. Foreclosure proceedings were stopped.
Rivera later became entangled in ethics investigations and Rubio has kept some distance from him. They sold the house in June 2015 for $117,000.
It's worth noting that the foreclosure proceedings didn't proceed, but Rubio did "face" them on a second home.
"And just last year, you liquidated a $68,000 retirement fund. That's something that cost you thousands of dollars in taxes and penalties." Rubio disclosed in May 2015 he had cashed out a tax-advantaged retirement account on Sept. 1, 2014, closing an American Bar Association account for the cash infusion.
"It was just one specific account that we wanted to have access to cash in the coming year, both because I'm running for president, but, also, you know, my refrigerator broke down. That was $3,000. I had to replace the air conditioning unit in our home," Rubio told Fox News Sunday host Chris Wallace. "My kids all go to school, and they're getting closer to college and school is getting more expensive. And then when you're running for president, we just wanted to access the sum of that cash."
Because of the way most traditional IRAs are structured, Rubio was able to put money into the account without paying taxes. When he closed the account, by law he would have likely had to pay both income taxes and a 10 percent penalty, a move financial advisers usually do not recommend.
Taxes and penalties could have ranged from about $24,000 to as high as $30,000, but it's unclear how much he paid.
Quick's description here, too, is accurate.
Our ruling
Rubio said the premise of questions about his financial skills are "discredited attacks from Democrats and my political opponents."
He was responding to examples Quick gave when asking if he was prepared to oversee the nation's economy as president. She listed troubles Rubio had experienced with campaign bookkeeping, foreclosure proceedings and liquidating an IRA at severe tax penalties.
All of these events happened and have been well-documented. It's not accurate for Rubio to refer to the issues as "discredited," whether his opponents have used them to attack him or not. Quick was not making things up nor shading the facts.
We rate Rubio's statement False.
https://www.sharethefacts.co/share/6a595865-463d-4975-981a-4e8332b0611d
Browse the Truth-O-Meter
More by Joshua Gillin
Support independent fact-checking.
Become a member!
In a world of wild talk and fake news, help us stand up for the facts.