Stand up for the facts!
Our only agenda is to publish the truth so you can be an informed participant in democracy.
We need your help.
I would like to contribute
"I am roughly being paid $53 a day to educate your child."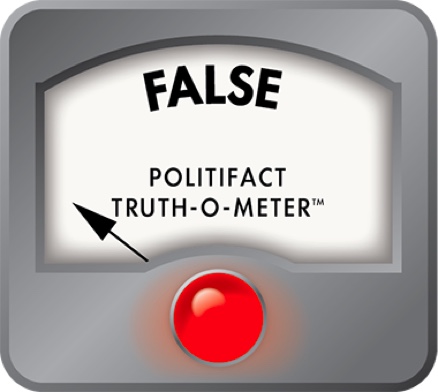 NC teacher: I make $53 per day. Records show he's wrong.
For the hottest debate in North Carolina politics, look no further than teacher pay.
Gov. Roy Cooper often talks about the need for higher teacher pay. Meanwhile, Republicans in the GOP-controlled legislature brag about raising teacher salaries each of the past five years.
Now, with teachers scheduled to rally in Raleigh on May 16 to raise awareness about the need for more education funding, one teacher's story has gained traction in the politisphere.
Nick Cols, a teacher from Western North Carolina, posted on Facebook that his "take home pay" for April was $1,715 after insurance and child-care and taxes were deducted.
"I am roughly being paid $53 a day to educate your child," he posted.
PolitiFact usually sticks to fact-checking politicians, pundits, fake news sites and prominent organizational leaders. But this claim quickly gained traction not only in North Carolina news but across the country. His story was shared by Cooper and others to emphasize their position that state lawmakers aren't properly funding education.
With that in mind, PolitiFact found it necessary to review his claim.
We reached out to the teacher for comment on specifics of his salary, but didn't hear back. He also deleted the post. So we then reached out to the public school system in Stokes County, where he works.
What records show
Wage information for public school teachers — and all government employees — is public record. So Melisa Jessup, executive director of human resources for Stokes County Schools and the district's lead spokeswoman, provided PolitiFact with the teacher's information.
The teacher — whose full name is Nicholas Brandes — works at North Stokes High School and has been a teacher for nine years and eight months, Jessup said.
That means, under the state's salary schedule for teachers with bachelor's degrees, he qualifies for an annual salary of $40,550 from the state. (A first-year teacher with a bachelor's degree would receive a $35,000 salary, which would jump above $40,000 after 10 years, $45,000 after 15 years, and $50,000 after 23 years.)
North Carolina's public school teachers also receive supplements from their county governments. In Stokes County, that means Brandes gets about 4 percent of his annual state salary added to his pay from the county. That would mean a teacher with his level of experience makes about $42,172 per year before taxes.
On top of that, Brandes is currently an assistant coach for the football and wrestling teams. So he receives an additional $2,300 for each year that he coaches those teams.
How his pay compares
So that puts his annual salary at $44,472 before taxes, health insurance and childcare costs are taken out.
That $44,472 salary is slightly higher than the most recent median income calculated for Stokes County — $42,489 — but lower than the most recent median income calculated for all North Carolina residents, $48,256. The average salary for North Carolina teachers across the board (including all levels of experience) is $51,214.
Some teachers choose to only accept checks during the school year, which runs from mid August to early June. Brandes chose to have his salary spread out over 12 months, so his monthly income is about $3,706. And, according to Jessup, his deductions for "optional supplemental insurances and various other pre-tax deductions, as well as health insurance costs" come out to about $954 a month. That includes childcare.
That leaves him with about $2,752 a month.
Now let's look at weekly and daily pay. Excluding holidays or days off, there are typically four five-day work weeks in a month. A monthly $2,752 paycheck spreads out to $688 a week and $137 a day.
Checking the check
Rather than speak hypothetically, let's return to the $1,715 paycheck Brandes posted on Facebook. There appear to be problems with the teacher's math.
To arrive at the $53-per-day figure for April, Brandes would've had to divide $1,715 by 32 days. However, there were 30 days in April.
More importantly, the school system told PolitiFact that Brades worked approximately 21.5 days in April. So his check for that month — $1,715 — divided by 21.5 equals $79.76 per day.
That difference of $26.76 per day doesn't sound like much. But extrapolated over 21.5 days, there's a $575 difference between what readers might think Brandes earned in April versus what he actually made.
Apply the same math ($575 times 12) over a year and there's a difference of $6,906 between what Brandes could be taking home annually compared with what could be derived from Facebook and in the media.
Our ruling
A teacher in western North Carolina said he makes $53 a day, spurring politicians to use his claim to support their position that teachers across the state are underpaid. The difference between what the teacher claimed and what the records show is about $26.76. In other words, his daily pay in April was about 50 percent higher than he claimed it was.
What teachers make is an important debate — one that should be won or lost on solid numbers. There are many ways of illustrating a correct number, but the $53/day is not the poster child it was made out to be.
We rate this statement False.
A Facebook post by Nicholas Brandes.
Facebook post by Gov. Roy Cooper.
Email correspondence with Melisa Jessup, executive director of human resources for Stokes County Schools and the district's lead spokeswoman.
The 2017-2018 salary schedule for N.C. public school teachers, posted on the N.C. Department of Public Instruction website.
Salary information for Stokes County Schools teachers, posted on the school district's website.
Income data for Stokes County, posted by the U.S. Census Bureau.
Income data for North Carolina, posted by the U.S. Census Bureau.
Story by WFMY, "'I'm Paid $53 A Day To Educate Your Child' | NC Teacher Posts Copy Of Paycheck," published May 10, 2018.
Story by WRAL, "$53 a day: NC teacher posts photo of paycheck on Facebook," published May 14, 2018.
Story by Fox Carolina, "NC teacher posts paycheck on Facebook to draw attention to low pay," published May 13, 2018.
Stories by The News & Observer, "North Carolina teachers are now averaging more than $50,000 a year," published March 2, 2018; "An NC teacher posts his paycheck on Facebook. But did he make his point?," published May 14, 2018.
Browse the Truth-O-Meter
More by Paul Specht
Support independent fact-checking.
Become a member!
In a world of wild talk and fake news, help us stand up for the facts.