Gov. John Kasich says 60 percent of U.S. population is within 600 miles of Ohio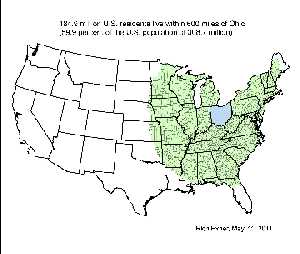 Location is commonly cited as the most important consideration in buying real estate, and geographic location was the reason that Cleveland once was tagged as being -- or occupying -- "the best location in the nation."

The slogan was coined in 1944 by the Cleveland Electric Illuminating Co., now part of FirstEnergy Corp., to help build post-war business.

"The claim was based on the fact that within 500 miles of the city lived half the people of the United States and Canada; that Cleveland was the natural meeting place of iron ore, coal, copper, gypsum, stone, sand and other vital raw materials; and that efficient water, rail, highway and air transportation facilitated delivery and reduced costs," wrote historians Carol Poh Miller and Robert Anthony Wheeler.

The slogan has fallen into disuse, but geography hasn't changed.

Gov. John Kasich touted the concept this month when he spoke to the Ohio Chamber of Commerce about making Ohio more competitive for business growth:

"We're to the point now where location matters because logistics matters again," he said. "Cost of shipping things matters again. We're within 600 miles of 60 percent of America. We're in a perfect location."

Given our Buckeye bias, PolitiFact Ohio wanted to believe it. But we have examined similar claims before and found them wanting. We knew that population has shifted since the 1940s, when the population center point of the entire nation (now in Missouri) was still in Ohio. But we also noted that Kasich moved the measuring stick from 500 miles cited in those previous claims to 600 miles.

Using the tools we employed before, we built a map including all U.S. counties whose seats are located within 600 miles of Ohio's borders. We used U.S. Census Bureau data to calculate the aggregate population.

We found that 184,900,000 people live within 600 miles of Ohio, or 59.9 percent of the U.S. population of 308.7 million.

That's 60 percent, whether you round off by a number that is not statistically significant or factor a margin of error.

The 600-mile reach would include nearly all of the Eastern Seaboard, the upper Midwest, much of the Deep South and some states west of the Mississippi River.

One additional note: In addition to 60 percent of the U.S. population, Kasich's claim also would encompass the most populous parts of Ontario and Quebec.

We rate Kasich's statement as True.