Stand up for the facts!
Our only agenda is to publish the truth so you can be an informed participant in democracy.
We need your help.
I would like to contribute
Fox News airs misleading graphics about Schiff, Taylor
Both critics and fans have said Fox News is a friendly place for President Donald Trump, his administration and his allies.
That comfort seems to be extending to the network's live coverage of public hearings related to the House impeachment inquiry into Trump's actions on Ukraine.
During the Nov. 13 testimony of Ambassador William Taylor Jr., the top American diplomat in Ukraine, and senior State Department official George Kent, Fox News showed graphics that amplified unsubstantiated attacks Trump has pushed against Taylor and House Intelligence Committee Chairman Rep. Adam Schiff, D-Calif.
To be clear, Fox News also aired graphics presenting the same biographical information about Taylor, Schiff and others found on other TV news networks.
That viral tweet about Fox's graphic on Bill Taylor is a bit misleading. Its just one (the last) of several shown on screen during testimony in a sort of chronological order of events pic.twitter.com/14oVeV3mHS

— Jon Passantino (@passantino) November 13, 2019
But the visuals featuring Trump-friendly claims had social media users buzzing. So we decided to put the false and misleading claims in context.
"Schiff publicly exaggerated substance of Trump-Zelensky call"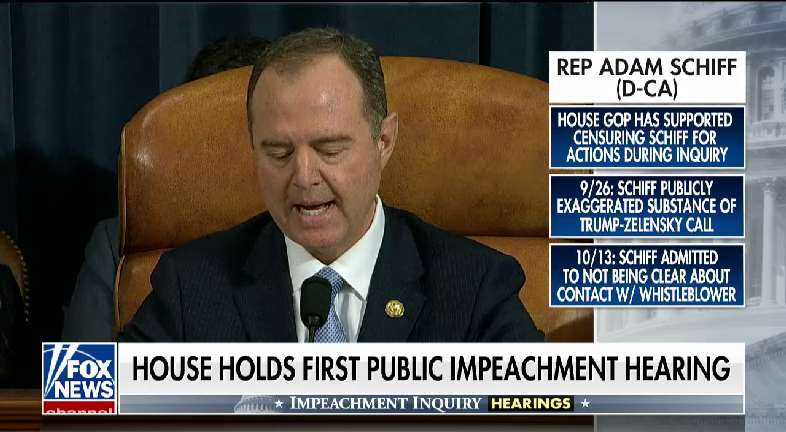 A screenshot of Fox News' coverage of the Nov. 13 hearing.
This claim is in reference to the way Schiff described the July 25 phone call between Trump and Ukrainian President Volodymyr Zelensky.
During a Sept. 26 congressional hearing, Schiff gave his interpretation of what Trump said on the call, which he said "reads like a classic organized crime shakedown." He was not reading word-for-word from the readout of the call, but Republicans said he made it seem like he was.
When Rep. Mike Turner, R-Ohio, pointed out that what Schiff said did not match the readout of the call, Schiff said his summary was "meant to be at least part in parody."
We noted that Schiff explicitly introduced his remarks as "the essence of what the president communicates" and described them as "in sum and character, what the president was trying to communicate." He said he was presenting Trump's message "shorn of its rambling character and in not so many words," and he never pretended to offer Trump's exacts words.
We also compared Schiff's dramatized version to the White House readout of the call. We found that his summary was mostly accurate with a few exaggerations.
"Schiff admitted to not being clear about contact w/ whistleblower"
Schiff did learn the outlines of the whistleblower's complaint days before it was submitted to the intelligence community inspector general, despite what he said several times in September.
But there's no evidence that Schiff personally had contact with the whistleblower, nor is there evidence that he helped write the complaint that spurred the launch of the impeachment inquiry.
Seeking guidance, the whistleblower turned to a House Intelligence Committee aide, who advised the whistleblower to get a lawyer and file a complaint through the formal channels, per the committee procedures. The aide shared some of that information with Schiff.
When this information came out, we rated Schiff's September claim that "we have not spoken directly with the whistleblower" False. His spokesperson told us his statement should have been more carefully phrased, and Schiff later said he should have been more clear.
"Trump has repeatedly implied that Schiff has committed treason"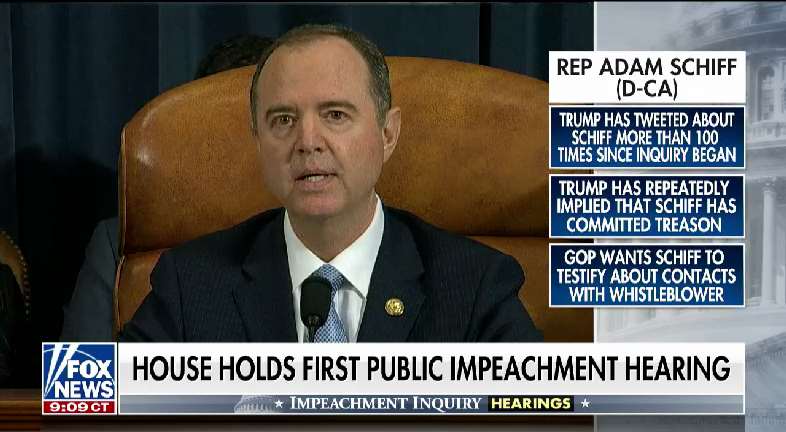 A screenshot of Fox News' coverage of the Nov. 13 hearing.
Trump has repeatedly accused Schiff of treason for his retelling of Trump's June 25 call with Zelensky. But experts and the Constitution say Schiff's actions don't constitute treason.
As we've noted, treason is defined narrowly in the Constitution to keep it from being applied to mere differences of opinion. The Constitution defines it this way:
"Treason against the United States, shall consist only in levying war against them, or in adhering to their enemies, giving them aid and comfort. No person shall be convicted of treason unless on the testimony of two witnesses to the same overt act, or on confession in open court."
Because the definition is so narrow, charges have only been brought a few dozen times in the country's history. Experts agreed that nothing Schiff has said or done constitutes treason.
Trump's accusation blurs the distinction between loyalty to a president and loyalty to the United States, said Carlton Larson, a law professor at the University of California-Davis and author of a book on treason. Even if Schiff had made up Trump's words, it wouldn't count as treason.
"President Trump dismissed Taylor as a 'Never Trumper'"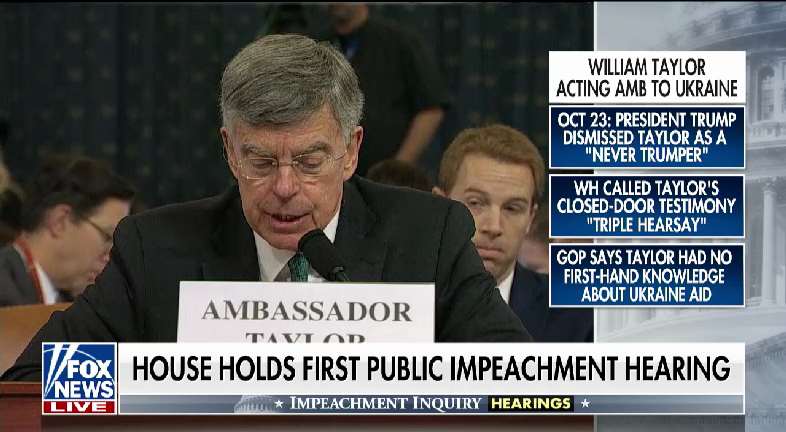 A screenshot of Fox News' coverage of the Nov. 13 hearing.
Trump has called Taylor, a career diplomat and military veteran, a "Never Trumper," including on Twitter the morning of Taylor's testimony.
There's no evidence that Taylor would qualify as a Never Trumper under any reasonable definition for the term, and leading Never Trumpers told us they had never heard of him associating with the movement. We rated Trump's statement False.
Taylor is currently the acting U.S. ambassador to Ukraine, a role known as the chargé d'affaires that Secretary of State Mike Pompeo asked him to fill. He has worked in every administration since 1985, including most recently as ambassador to Ukraine from 2006 to 2009.
Rep. Eric Swalwell: "Mr. Kent, are you a 'Never Trumper'?"

Kent: "I am a career diplomat "who serves whatever President is duly elected"

Swalwell: "Ambassador Taylor, are you a 'Never Trumper'?"

Taylor: "No sir" https://t.co/fTsxjXIV4I pic.twitter.com/QhBTxNoLZu

— CNN Politics (@CNNPolitics) November 13, 2019
When Rep. Eric Swalwell, D-Calif., asked Taylor during his testimony if he was a Never Trumper, Taylor said no.
Mediaite, "Fox News Graphics Dept. Burns Itself During Impeachment Hearing By Promoting Trump's Baseless Claims," Nov. 13, 2019
Fox News, "Schiff admits he should have been 'much more clear' about contact with whistleblower," Oct. 13, 2019
Lis Power on Twitter, Nov. 13, 2019
Jon Passantino on Twitter, Nov. 13, 2019
Nicole Hemmer on Twitter, Nov. 13, 2019
CNN Politics on Twitter, Nov. 13, 2019
Statement from Fox News, Nov. 13, 2019
PolitiFact, "Donald Trump says William Taylor and George Kent are Never Trumpers. There's no evidence they are," Nov. 13, 2019
PolitiFact, "Who is Ambassador William Taylor?" Nov. 12, 2019
PolitiFact, "Adam Schiff's false claim that 'we have not spoken directly with the whistleblower,'" Oct. 4, 2019
PolitiFact, "Adam Schiff's retelling of Donald Trump's Ukraine phone call isn't treason," Oct. 1, 2019
PolitiFact, "In context: Adam Schiff's dramatized version of the Trump-Zelensky call," Sept. 30, 2019
Browse the Truth-O-Meter
More by Bill McCarthy