Stand up for the facts!
Our only agenda is to publish the truth so you can be an informed participant in democracy.
We need your help.
I would like to contribute
What we know about Jacob Blake's shooting in Kenosha, Wis.
If Your Time is short
On Aug. 23, Jacob Blake, a Black man, was shot by a white police officer in Kenosha, Wis. Blake survived, but is partially paralyzed from a bullet that severed his spinal cord.

On the third night of protests over the shooting, two people were killed and one injured after police say someone opened fire with an assault-style weapon.

Several widely shared posts on social media make inaccurate, misleading or unproven claims about Blake, his interaction with police and the events that followed.
Update: After this story was published, the Wisconsin Department of Justice provided an update on its investigation. Those details are now included in this report.
Police in Illinois have arrested a teenager in connection with the killing of two people during a third night of protests over the shooting of Jacob Blake, a Black man, by a white police officer in Kenosha, Wis.
State law enforcement officials are still piecing together the events that led to Blake's shooting on Aug. 23, and the U.S. Justice Department has launched a civil-rights investigation. A video recording of the incident, posted on Twitter by a lawyer representing his family, shows the 29-year-old Blake walking away from two police officers who are pointing guns at him, and then one officer shooting Blake in the back as he opened the door of a car where three of his children sat in the back, according to news reports.
Raysean White, a bystander who recorded the shooting, said he grabbed his camera after he saw officers struggling with Blake, according to CNN.
The footage has spurred another wave of unrest at a time when Americans have been protesting racial injustice following the death of George Floyd, 46, who was killed by a white police officer in Minneapolis in May, and other incidences of police violence.
It has also set off a wave of speculation and misinformation on social media, touching on Blake's past, whether he was armed, the identity of the officer who fired on Blake, and the background of the teen arrested in the Aug. 25 killings of two demonstrators in Kenosha.
Several Facebook posts about the incidents were flagged as part of Facebook's efforts to combat false news and misinformation on its News Feed. (Read more about our partnership with Facebook.)
Here's what we know — and what we don't.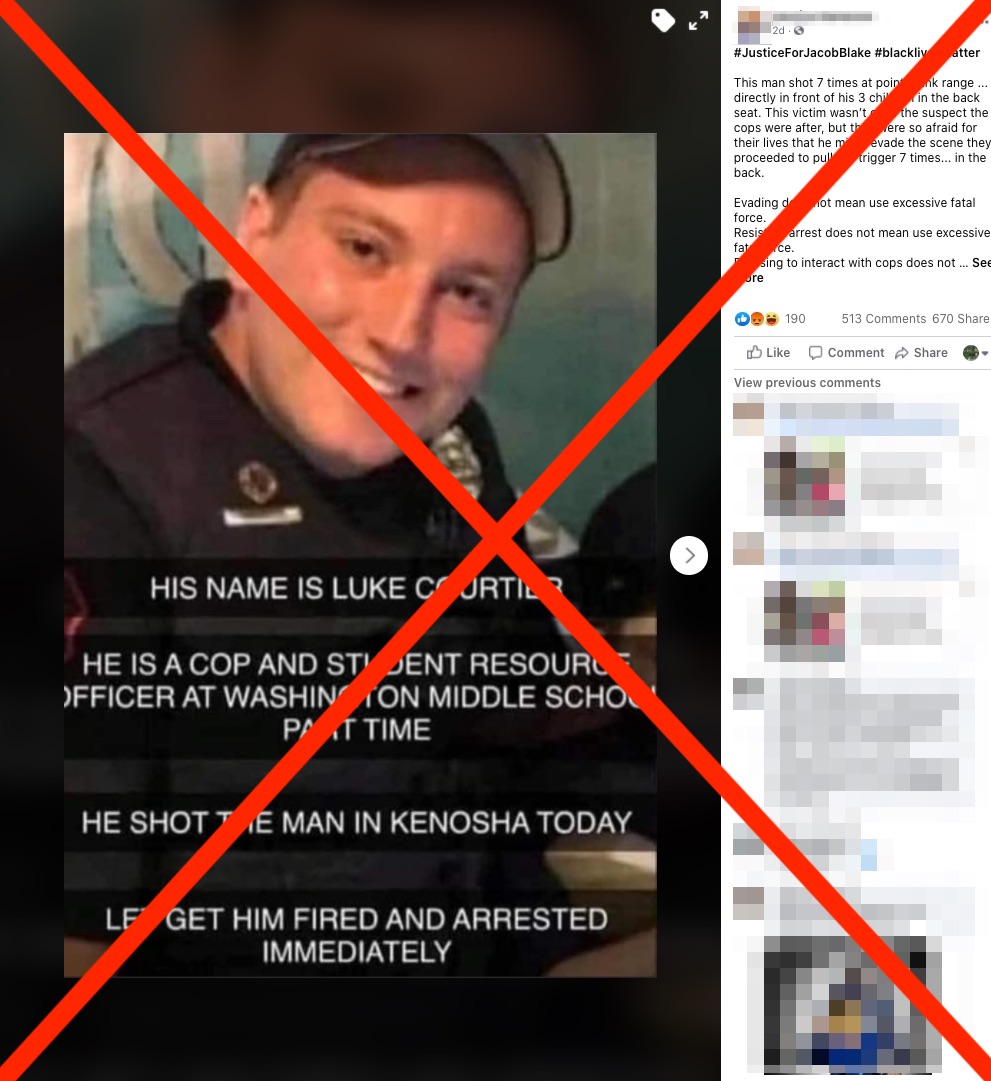 (Screenshot from Facebook)
Who is the officer who shot Jacob Blake?
The officer who fired at Blake was Rusten Sheskey, a seven-year veteran of the Kenosha Police Department, according to the Wisconsin Division of Criminal Investigation, which said Sheskey fired his weapon seven times.
One Facebook post had it otherwise. "His name is Luke Courtier," reads the text over a photo of an officer being shared on Facebook. "He is a cop and resource officer at Washington Middle School part time. He shot the man in Kenosha today. Let get him fired and arrested immediately."
Another post warns that this is not the officer's name. "EVERYONE SHARING THE COPS NAME!!! IT IS NOT LUKE!! THE SHOOTERS NAME IS Rusten Sheskey!!!!!! RUSTEN SHESKEY!!!!!!!!!" the post says. It shows two images of an officer and mentions Bradford High School.
In 2016, the Kenosha Police Department posted photos of an officer named Luke Courtier who resembles the man pictured in the Facebook post. But Courtier has not been named as one of the officers involved in the shooting. We couldn't find his name in any credible news reports about the incident.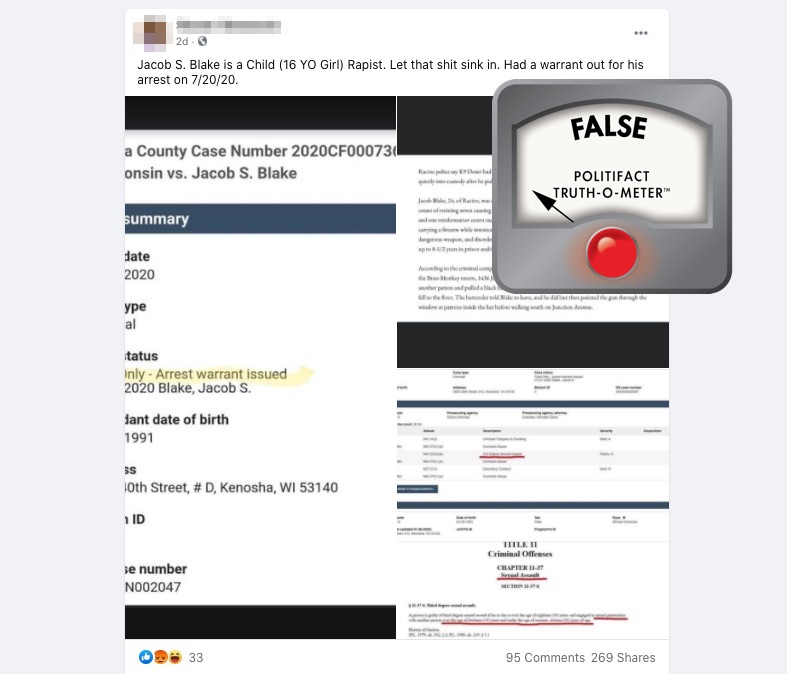 (Screenshot from Facebook)
Blake is not a 'child rapist'
An Aug. 24 Facebook post claims that Blake "is a Child (16 YO Girl) Rapist."
That's inaccurate.
The post references an active arrest warrant for Blake and a 2015 article from the Racine County Eye, an online news outlet based just north of Kenosha County. Neither proves that Blake is a "child rapist."
First, let's take a look at the article — which is unrelated to the warrant.
In September 2015, police arrested Blake after he pulled a gun at a bar in neighboring Racine. He was charged with one felony count of resisting arrest and "one misdemeanor count each of carrying a concealed weapon, carrying a firearm while intoxicated, endangering safety-use of a dangerous weapon, and disorderly conduct," according to the Eye.
Blake was charged in Racine County Circuit Court, but the case is not listed in the state's database of circuit court records. According to the website, felony and misdemeanor cases that result in dismissal or acquittal appear in the database for only two years after they're resolved.
RELATED: Jacob Blake is not a 'child rapist'
The warrant for Blake's arrest was issued July 7 in Kenosha. According to court records, Blake was charged with one felony count of third-degree sexual assault and two misdemeanor counts of disorderly conduct and criminal trespassing. All those charges are related to an alleged incident of domestic abuse that occurred May 3. The criminal complaint was filed July 6.
According to Wisconsin law, third-degree sexual assault can include nonconsensual sexual intercourse or certain other sexual contact. Sex with a minor is not listed as one of the offenses included in the charge.
Did Blake have a weapon during his encounter with police?
At 5:11 p.m. on Aug. 23, Kenosha officers responded to a complaint of "family trouble" at Blake's address. The woman who called police reported that Blake "isn't supposed to be there and he took the complainant's keys and is refusing to give them back."
Three officers arrived on the scene within the next few minutes. The dispatcher told officers that the complainant said Blake is trying to leave.
Bystander video shows Blake scuffling with the officers on the passenger side of a gray SUV. Another video, shot from the driver's side of the vehicle, shows three police officers with their guns drawn as Blake walks around the side of the SUV.
Two officers follow Blake closely. As Blake tries to enter the vehicle, one officer is seen pulling Blake's shirt and shooting him in the back at close range.
In the video, police tell Blake to "drop the knife." He appears to be carrying a dark object in his left hand. State investigators said on Aug. 26 that Blake admitted that he had a knife in his possession, and investigators found a knife on the driver's side floorboard of Blake's vehicle.
Several widely shared Facebook posts include a screenshot from a graphic video that shows the shooting. In the still, Blake's hand is circled in red.
"Police were called because Jacob Blake was waving a knife around and in conjunction with a domestic situation," said Mike the Cop, a social media influencer focused on law enforcement, in an Aug. 24 post. "Blake said he had a gun in the car and was going to go get it."
Blake did not have a gun in the car, according to authorities, and there's no clear evidence that he was "waving a knife around."
Raysean White, the man who recorded the video, told the Associated Press that he didn't see a knife in Blake's hands. An attorney representing Blake and his family told CNN that Blake did not have a weapon in his car.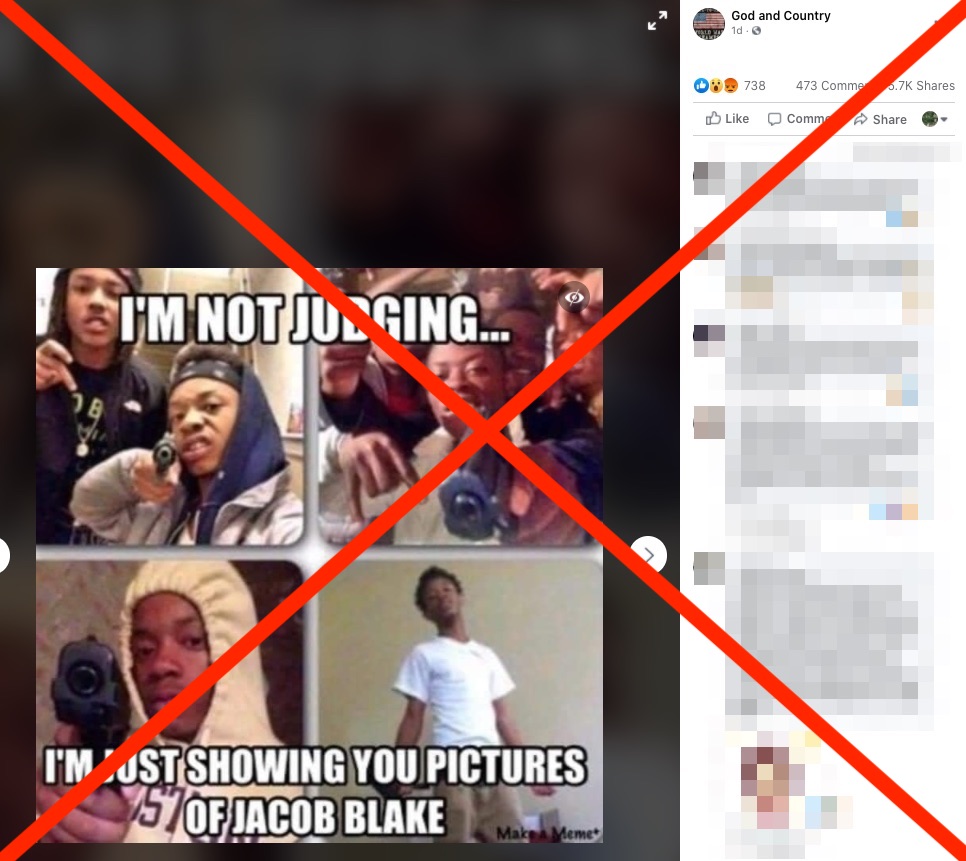 (Screenshot from Facebook)
Photos on social media misidentify Blake
A grid of four images being shared on social media show someone posing with a gun, and in three of the photos, aiming it at the camera.
"I'm not judging," the post says, "I'm just showing you pictures of Jacob Blake."
These aren't photos of Blake.
RELATED: These photos don't show Jacob Blake posing with a gun
They previously spread on social media in connection with the death of 16-year-old Pierre Loury, who was shot by a police officer in 2016 in Chicago.
But we couldn't find credible sources confirming that the person in these photos is Loury, either. His Facebook account now shows only two photos, including one that says "R.I.P."
Who shot and killed people during the unrest from Blake's shooting?
Kyle Rittenhouse, 17, was arrested in Illinois on suspicion of first-degree intentional homicide, according to public records. He is suspected of fatally shooting one person in the head and another in the chest during an Aug. 25 demonstration in Kenosha, according to the Daily Beast, and he was scheduled to appear at an extradition hearing on Aug. 28.
Several Facebook users identified Rittenhouse as the person they say was responsible for shooting three people during the demonstrations.
"Kyle Rittenhouse 17 years old who appears to be part of an organized militia group," one post says, linking to a tweet with a recording in which gunshots can be heard.
Rittenhouse is a resident of Antioch, Ill., about 15 miles southwest of Kenosha. Whether he was part of a militia group is unclear.
The confrontations with protesters on Aug. 25 may have stemmed from a "call to arms" posted on Facebook by a self-described militia called the Kenosha Guard, according to the Verge.
"Any patriots willing to take up arms and defend our city tonight from the evil thugs?" the post said before Facebook took it down. "No doubt they are currently planning on the next part of the city to burn tonight."
"We are unaware if the armed citizen was answering the Kenosha Guard Militia's call to arms," the group said in an Aug. 26 statement. "Just like with the shooting of Jacob Blake, we need all the facts and evidence to come out before we make a judgment."
Rittenhouse was not a bike cop pictured in a Facebook post
A Facebook post showing two photos — one of a Kenosha police officer in a bike helmet and another of the suspected shooter during demonstrations on Aug. 25 — and wrongly claims that the images show the same person.
"Come to find out the shooter last night is a…. COP?" the post says.
The first photo shows Sheskey, the Kenosha police officer who investigators say shot Blake. That image was used in a 2019 Kenosha News story about his work as a "bike cop." before it started circulating on Facebook.
RELATED: The teen accused of killing demonstrators is not a police officer
He is not the same person as Rittenhouse, the suspected shooter at the demonstrations.
Facebook post, Aug. 24, 2020
Facebook post, Aug. 23, 2020
Facebook post, Aug. 26, 2020
Facebook post, Aug. 26, 2020
Facebook post, Aug. 25, 2020
Facebook post, Aug. 26, 2020
The New York Times, Two killed and one injured on third night of unrest in Kenosha, Wis., Aug. 26, 2020
The New York Times, Wisconsin reels after police shooting and second night of protests, Aug. 24, 2020
Ben Crump tweet, Aug. 23, 2020
CNN, Man who recorded Jacob Blake's shooting says he's traumatize and cannot sleep, Aug. 25, 2020
CNN, Wisconsin police shoot a Black man as his children watch from the vehicle, attorney says, Aug. 24, 2020
Kenosha Police Department Facebook post, Oct. 21, 2016
Kenosha News, Snapshop: Bike cop serves community through enforcement, public relations, Aug. 18, 2019
Kenosha Police Department, Media release, Aug. 26, 2020
The Daily Beast, 17-year-old Blue Lives Matter fan charged with murder after two killed at Kenosha protest, Aug. 26, 2020
The New York Times, Arrest in overnight shooting during unrest in Kenosha, Wis., Aug. 26, 2020
The Verge, Facebook takes down 'call to arms' event after two shot dead in Kenosha, Aug. 26, 2020
NBC News, Teen suspect in Kenosha shooting taken into custody in Illinois, facing charges: police, Aug. 26, 2020
Chicago Tribune, Boy, 16, shot by police, lived and died in one of city's toughtest neighborhoods, May 10, 2016
The Associated Press, 17-year-old arrested after 2 killed during unrest in Kenosha, Aug. 26, 2020
The Associated Press, "Lawyer says Blake paralyzed, protests erupt for 3rd night," Aug. 26, 2020
CNN, "Second video of Jacob Blake's shooting surfaces"
YouTube video from "CBS This Morning," Aug. 24, 2020
Facebook post, Aug. 24, 2020
940.225 - Wisconsin Legislature
Wisconsin Circuit Court Access
Facebook post, Aug. 24, 2020
Racine County Eye, "Police: K9 Dozer Helps Subdue Man Who Pulled Gun at Bar," Sept. 22, 2015
Milwaukee Journal Sentinel, "Jacob Blake was shot less than 3 minutes after Wisconsin police arrived at the scene, according to dispatch audio," Aug. 25, 2020
CNN, "Jacob Blake's family attorney says he did not have a weapon in the car," Aug. 26, 2020
Browse the Truth-O-Meter
More by Daniel Funke