Get PolitiFact in your inbox.
The death of George Floyd: What you need to know
If Your Time is short
Protests raged in Minneapolis over the death of George Floyd, a 46-year-old black man who died after an officer pinned Floyd's neck under his knee.

The Hennepin County Attorney announced May 29 that Derek Chauvin, the officer who restrained Floyd, has been charged with murder and manslaughter.

Investigations into the incident and the other officers involved are ongoing. It's the latest in a long series of fatal encounters between black men and white police.
Protests have flared up in Minneapolis and across the country as demonstrators decry the May 25 death of George Floyd. Floyd, a 46-year-old black man, died in police custody after a white officer pinned Floyd's neck under his knee while Floyd pleaded that he couldn't breathe.
Protesters, fed up with the latest in a long series of fatal encounters between black men and white law enforcement officers, have stormed the streets, looted city stores and set fire to a Minneapolis police department building.
"The chapter that's been written this week is one of our darkest chapters," said Minnesota Gov. Tim Walz, who deployed the Minnesota National Guard, in a May 29 press conference.
Hennepin County Attorney Mike Freeman announced May 29 that Derek Chauvin, the officer who pinned Floyd, has been charged with third-degree murder and manslaughter.
Freeman said the county has never filed charges so quickly. Between witness statements, a medical examiner's preliminary report, bodycam footage and bystander videos that spread widely on social media, he said his office had everything they needed.
Chauvin is now in custody, Freeman said. Ongoing investigations could bring further charges against him and the other three officers involved with Floyd's death, who have all been fired.
The FBI and Justice Department are conducting a federal civil rights investigation as a "top priority," and the Minnesota Bureau of Criminal Apprehension is investigating the incident.
In short, a lot has happened since Floyd's death. Here's what we know about the story so far.
A 911 call, a violent arrest and a viral video
Around 8 p.m. on May 25, a staffer at Cup Foods, a local convenience store, called 911. He told the operator that Floyd had paid for cigarettes using "fake bills" and that he was outside the store, "sitting on his car" and appearing "awfully drunk," according to a transcript of the call.
The owner of Cup Foods later told CNN the issue was over a counterfeit $20 bill.
The Minneapolis Police Department said in a statement that officers responded "on a report of forgery in progress" and, finding Floyd in his car, ordered him to exit the vehicle.
The statement said Floyd "physically resisted officers," who handcuffed him and called for an ambulance because "he appeared to be suffering medical distress."
Video recorded by a bystander at the scene shows Chauvin restraining Floyd behind a parked police cruiser and pinning Floyd's neck to the pavement with his knee. Three more officers can be seen at various points, with one keeping onlookers off the street.
The 10-minute video is disturbing, but can be watched here.
Floyd can be heard repeatedly telling the officers, "I can't breathe." After a few minutes, Floyd becomes silent, closes his eyes and stops moving, but Chauvin keeps his knee in place.
Bystanders can be heard begging the officers to let him breathe, with one person telling the officers his nose is bleeding and another demanding that they check his pulse.
"He's not resisting arrest or nothing," one bystander says.
Medics arrive in an ambulance and roll Floyd, still motionless, onto a stretcher before loading him into an ambulance and taking him away.
The Minneapolis Fire Department's report said Floyd was unresponsive and pulseless in the ambulance, adding that witnesses on the scene said the police "killed the man."
He was pronounced dead at the Hennepin County Medical Center at 9:25 p.m, according to the medical examiner.
Additional videos show no resistance
As protests mounted, so did the evidence that Floyd had not resisted arrest, as the police report said.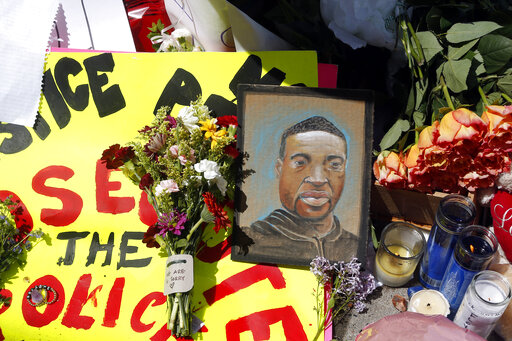 A portrait of George Floyd is seen on May 27, 2020, as part of the memorial for him near the site of his arrest in Minneapolis. (AP/Mone)
One witness told CNN he did not think Floyd was resisting arrest. The owner of Cup Foods said that surveillance video from his store does not show Floyd resisting arrest.
Other publicly available videos — including one video captured by a bystander from their car and another pulled from the surveillance tape of a nearby Dragon Wok restaurant — show Floyd stepping out of his car with no apparent resistance.
According to the Minneapolis Police Department's policy and procedure manual, neck restraints that are meant to control are allowed only against "a subject who is actively resisting."
Neck restraints that are designed to knock someone unconscious are reserved as last-ditch measures for dealing with aggressive resistance, per the manual.
Floyd's family has called for murder charges to be filed against the officers, as has Minneapolis Mayor Jacob Frey, who said May 27 that he "saw nothing that would signal that this kind of force was necessary" and that the knee-to-neck technique "should not be used, period."
In a statement after Freeman announced charges against Chauvin, Frey said the move was "an essential first step on a longer road toward justice and healing our city."
A history of similar incidents
Floyd grew up in Houston. He played sports in high school and later at a community college in Florida, according to the New York Times. He moved to Minneapolis four or five years ago.
He worked as a bouncer at a restaurant owned by Jovanni Thurnstrom, who was also his landlord, before it closed on-site dining due to the coronavirus.
"Everyone here loves him," Thurnstrom told a local ABC affiliate, adding that Floyd was "a very calm, nice guy" who wanted to learn to Bachata dance and once drove an intoxicated diner home from the restaurant.
Floyd joins a growing list of black men dead from fatal run-ins with law enforcement.
Some people drew comparisons to the 2014 death of Eric Garner, who died in New York after an officer put him in a chokehold. Others remembered Philando Castile, who was shot to death in 2016 during a traffic stop in Minnesota.
Both incidents touched off similar protests. So have more recent events, such as the fatal shooting in Georgia of Ahmaud Arbery by a white former police officer and his son.
Protesters demonstrate outside of a burning Minneapolis 3rd Police Precinct on May 28, 2020, in Minneapolis. (AP/Minchillo)
Myron Orfield, professor of civil rights and civil liberties law at the University of Minnesota Law School, said race-related riots have swept the country before. They came in the 1960s, during both World Wars and in other times, always hitting segregated cities particularly hard.
"It happens when social conditions become unlivable, and then usually the police conduct is like a match," Orfield said.
Minneapolis is particularly segregated, Orfield said, citing a report he authored on the city's racial disparities. It doesn't help that the U.S. is battling a pandemic.
"When the white community gets a cold, the black community gets pneumonia," he said. Against that backdrop, an episode of police brutality is bound to "light a fuse."
In his career, Chauvin had 18 complaints and two letters of reprimand filed against him, according to a summary released by the Minneapolis Police Department. Tou Thao, another officer involved, had six complaints, one of which was still open.
Chauvin shot suspects in other incidents, the Associated Press reported. Thao was sued in federal court in 2017 for allegedly using excessive force.
"The Minneapolis Police Department, in my experience, has always had a number of really brutal, racist police officers," Orfield said. "It's been a part of the culture of that department for quite a while. Most of the police officers are good, but there's a bad element."
Hennepin County Attorney's Office on Facebook, May 29, 2020
Minneapolis Police Department, "5-300 Use of Force," accessed May 29, 2020
CNN, "The Minneapolis police officer who knelt on George Floyd's neck had 18 previous complaints against him, police department says," May 29, 2020
CNN, "The move used to restrain George Floyd is discouraged by most police. Here's why," May 29, 2020
City of Minneapolis, "MPD Frequently Requested Public Information," accessed May 29, 2020
The New York Times, "What We Know About the Death of George Floyd in Minneapolis," May 28, 2020
CNN, "Surveillance video does not support police claims that George Floyd resisted arrest," May 28, 2020
U.S. Department of Justice, "Joint Statement Of United States Attorney Erica MacDonald And FBI Special Agent In Charge Rainer Drolshagen," May 28, 2020
City of Minneapolis, "Mayoral Declaration of Local Emergency," May 28, 2020
CNN, "Store owner explains why police were called on George Floyd," May 28, 2020
CNN Tonight on Twitter, May 28, 2020
The Washington Post, "Officer accused in Floyd's death opened fire on 2 people," May 28, 2020
CNN, "Prosecutors do not announce charges in George Floyd's death but say 'justice will be served,'" May 28, 2020
NBC News on YouTube, "Watch: Police Release Heavily-Redacted Bodycam Video Of George Floyd Arrest | NBC News NOW," May 28, 2020
CBS This Morning, "George Floyd​'s family calls for Minneapolis police officers to be charged: 'This was clearly murder,'" May 27, 2020
CNN Tonight on Twitter, May 27, 2020
KARE 11 on YouTube, "Mayor Jacob Frey calls on county attorney to charge officer involved in George Floyd's death," May 27, 2020
The Star Tribune, "Minneapolis police, protesters clash almost 24 hours after George Floyd's death in custody," May 27, 2020
Mayor Jacob Frey on Facebook, May 26, 2020
Mayor Jacob Frey on Twitter, May 26, 2020
Alex Lehnert on Twitter, May 26, 2020
KSTP.com, "'I want people to remember him that way': Boss of George Floyd says he was a 'calm, nice guy,'" May 26, 2020
Facebook post, May 25, 2020
Minneapolis Police Department: "Investigative Update on Critical Incident," May 25, 2020
City of Minneapolis, "911 Call Transcript," May 25, 2020
Hennepin County Medical Examiner, "George Perry Floyd," May 25, 2020
Minneapolis Fire Department, Incident Report, May 25, 2020
University of Minnesota Law School, "Why Are the Twin Cities So Segregated?" February 2015
Phone interview with Myron Orfield, professor of civil rights and civil liberties law and director of the Institute on Metropolitan Opportunity at the University of Minnesota Law School, May 29, 2020
Email interview with Casper Hill, media relations coordinator for the City of Minneapolis, May 29, 2020
Browse the Truth-O-Meter
More by Bill McCarthy