Get PolitiFact in your inbox.
When do senators resign to assume the presidency or vice presidency?
If Your Time is short
There's no rule that says Kamala Harris has to leave her Senate seat at a certain time before Joe Biden is inaugurated as president, experts said.

Several past vice presidents who came from the Senate or another public office held onto their seats until December or January.
Newsmax TV host Grant Stinchfield suggested that Vice President-elect Sen. Kamala Harris is holding onto her Senate seat because of the inaccurate claim that President Donald Trump can still win reelection.
"Harris is a woman who has yet to resign from the United States Senate in preparation of becoming the next vice president and ultimately president, if the media gets their way," he said Dec. 15. "Why hasn't she resigned yet? Because maybe, like all of us, she still thinks President Trump has a shot at victory, if only all the evidence of fraud can be proven and exposed."
There's no evidence to back Stinchfield's speculation. President-elect Joe Biden won the election, and electors across the country sealed his victory on Dec. 14 after weeks of litigation from Trump and his allies revealed no evidence of widespread fraud to change the results.
Harris' decision to remain in the Senate for some time before becoming vice president is not unusual. She isn't required to resign yet.
"No rule bars the vice president-elect from her day job representing California until she takes the oath on the 20th," said Terry Sullivan, a professor emeritus of political science at the University of North Carolina, Chapel Hill. "Then the constitutional ban on serving in two branches kicks in."
Anthony Rizzo, a spokesperson for Newsmax, said Stinchfield "was only speculating" as to why Harris had not left her seat. "He offered no conspiracy theory or claim she was not resigning for this reason," Rizzo said, adding that Newsmax recently declared Biden the president-elect.
The Biden transition team pointed to Harris' public comments and tweets referencing Biden's victory over Trump.
Some commentators who have made similar suggestions about Harris' continued work in the Senate, including fellow Newsmax host Greg Kelly, noted that former President Barack Obama resigned from his own Senate seat in mid-November before moving to the White House.
Obama's resignation was historically early compared with other officials in his shoes. According to the New York Times, he resigned earlier than any other president-elect or vice president-elect over the last 50 years who held public office at the time of his or her election.
"Al Gore resigned from the Senate on Jan. 2, 1993, and Joe Biden resigned from the Senate on Jan. 15, 2009," said Jack Beermann, a professor of law at Boston University.
There are several reasons why Harris may want to stay in her seat. It's possible she is waiting for California Gov. Gavin Newsom, also a Democrat, to appoint her successor. Holding her seat also allows her to vote on Senate matters or participate in committee hearings.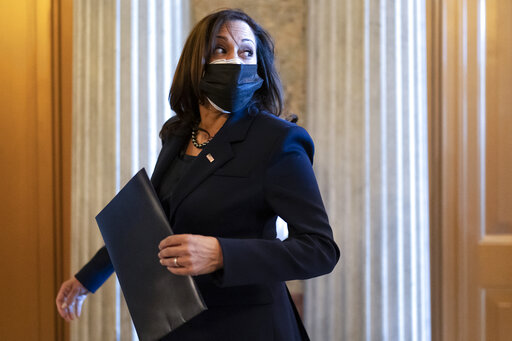 Vice President-elect Sen. Kamala D. Harris, D-Calif., heads to the Senate chamber for a procedural vote on the National Defense Authorization Act in Washington on Dec. 11, 2020. (AP/ Applewhite)
"It would only be prudent for Harris to keep her Senate seat until she becomes a member of the executive branch at noon Jan. 20, 2021," said James Pfiffner, a professor emeritus in the Schar School of Policy and Government at George Mason University. "The Senate might conceivably consider important issues between now and then."
"If her vote were important, she could resign the morning of the inauguration," Beermann added.
Harris may also want to be present if Republican senators object in January to the counting of Electoral College votes in a longshot attempt to overturn the results of the election, experts said.
One reason a senator in Harris' position might resign early is "so a successor will be ahead in seniority, which can eventually impact committee assignments," said Aaron Crawford, assistant editor of the Papers of Andrew Jackson at the University of Tennessee, Knoxville.
Previous presidents and vice presidents have followed no clear pattern, the New York Times review shows. Vice President Mike Pence, for example, served as Indiana's governor until Jan. 9, 2017, according to Indiana's official state website.
Two other vice presidents who came into office after working in the Senate — Dan Quayle, who served with President George H.W. Bush, and Walter Mondale, who served with President Jimmy Carter — left their Senate seats in January and December, respectively.
One odd case occurred in 1961: Lyndon B. Johnson, a senator representing Texas, had run simultaneously for reelection to the Senate and for vice president on a ticket with President John F. Kennedy. He won both races. "He was actually sworn in (to the Senate) for the new term on Jan. 3 and then immediately resigned," Crawford said.
RELATED: Jeanine Pirro suggests, without evidence, that Biden won't be on Election Day ballot
Newsmax TV via TVEyes, Dec. 15, 2020
Media Matters for America, "Newsmax hosts embrace conspiracy theory claiming Trump can still win since Kamala Harris hasn't resigned her Senate seat," Dec. 16, 2020
National Conference of State Legislatures, "Vacancies in the United States Senate," accessed Dec. 17, 2020
FiveThirtyEight, "Tracking Congress In The Age Of Trump," accessed Dec. 17, 2020
Indiana.gov, "Indiana Governor History," accessed Dec. 17, 2020
United States Senate, "Lyndon Baines Johnson, 37th Vice President (1961-1963)," accessed Dec. 17, 2020
Kamala Harris on Twitter, Dec. 14, 2020
Kamala Harris on Twitter, Dec. 14, 2020
NBC News, "Who will replace Kamala Harris in the Senate? California governor weighs a shortlist of firsts," Dec. 13, 2020
The New York Times, "No, it isn't unusual that Kamala Harris is still in the Senate," Dec. 1, 2020
PolitiFact, 'Casting and counting the electoral votes: What to expect," Dec. 10, 2020
Email correspondence with the Biden transition team, Dec. 17, 2020
Email correspondence with Sen. Kamala Harris's office, Dec. 17, 2020
Email correspondence with Anthony Rizzo, information specialist at Newsmax, Dec. 17, 2020
Email interview with Jack Beermann, professor of law at Boston University, Dec. 17, 2020
Email interview with Aaron Crawford, assistant editor at the University of Tennessee, Knoxville's Papers of Andrew Jackson, Dec. 17, 2020
Email interview with Jeffrey A. Engel, director of the Center for Presidential History at Southern Methodist University, Dec. 17, 2020
Email interview with James Pfiffner, professor emeritus in the Schar School of Policy and Government at George Mason University, Dec. 17, 2020
Email interview with Terry Sullivan, professor emeritus of political science at the University of North Carolina at Chapel Hill and the executive director of the White House Transition Project, Dec. 17, 2020
Browse the Truth-O-Meter
More by Bill McCarthy