Stand up for the facts!
Our only agenda is to publish the truth so you can be an informed participant in democracy.
We need your help.
I would like to contribute
The uninvited guest: How to keep the coronavirus out of Thanksgiving
If Your Time is short
The safest way to celebrate Thanksgiving during the coronavirus pandemic is to spend the day at home with members of your immediate household, experts said.

If you're planning on getting together in person with family and friends from outside of your immediate household, you should consider isolating as soon as possible.

In-person gatherings should be kept small and short, with attendees keeping their distance, wearing masks, and taking as many other precautions as they can.

Researchers developed a tool that can help you assess the likelihood that somebody at your gathering will be carrying the coronavirus.
With small indoor gatherings driving a record surge of new coronavirus cases across the U.S., public health officials are worried about the holiday season accelerating a worsening situation.
Thanksgiving comes at a difficult time in the pandemic. Hospitals across the U.S. are being overwhelmed by new COVID-19 patients as the country sets daily infection records, and more than 1,000 COVID-19 deaths are being reported on average each day.
The safest way to celebrate, public health experts say, is to simply stay home with your household. The mayor of Chicago asked the city's residents to cancel Thanksgiving plans.
But as Thanksgiving draws closer, experts are bracing for the reality that many traditional celebrations will likely go on as usual, even as the pandemic is worse than ever.
"There's the safest way, and then there's the reality of what people are going to do," said Cindy Prins, an epidemiologist at the University of Florida. "I expect to see a spike, unfortunately."
If you do plan to join outside friends or family for Thanksgiving, experts say you should take as many precautions as you can to protect the people on the guest list. The time to reduce contacts and isolate at home is now.
Determine the risk
The first step in deciding whether to ditch your usual holiday traditions is to assess the risk that gathering with outside family or friends could leave your loved ones sickened by the virus.
There's a lot to consider, according to the Centers for Disease Control and Prevention. How much travel is involved? How many people are getting together? Will you be able to gather outside? Are any guests coming from coronavirus hotspots? Are infections surging in your area? Are any of your loved ones older or beset by preexisting conditions?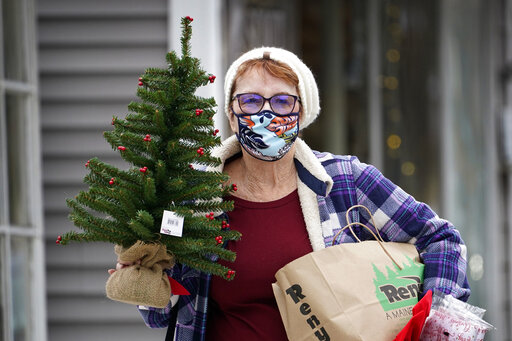 Maine resident Suzanne West wears a face covering after shopping for holiday decorations on Nov. 13, 2020, in Bridgton, Maine. (AP)
"The worst-case scenario is that someone you love could get sick and die from COVID-19," Prins said. "But I think it is really hard for people to really understand that risk and apply it to themselves. I don't think anybody thinks that they're going to get COVID."
A peer-reviewed, interactive tool built by researchers at Georgia Tech University can help you determine what kind of risk your gathering will carry.
The COVID-19 Risk Assessment Planning Tool projects how likely you are to encounter an infected person at a gathering based on the size of the event and the county it's in. The tool pulls from per capita case numbers and assumes there are more infections than are known.
"This doesn't give you the probability that you will catch COVID. It's the probability that it's there," said Clio Andris, an assistant professor of city and regional planning and interactive computing, who helped develop the map. "Did we invite COVID or not?"
The tool shows that the safest way to celebrate is with your immediate household. "Even if we're all doing one additional household at a time, it creates a chain," Andris said.
That chain-like transmission was on display as cases raged in the U.S. after Memorial Day. It was also evident in Canada, where the celebration of Thanksgiving in October led to spikes in many parts of the country. "This sucks," Prime Minister Justin Trudeau said weeks later.
Take precautions ahead of time
If you've settled on hosting or visiting with people outside of your immediate household, experts recommend communicating ahead of time about expectations for testing, isolation and safety.
"The biggest mistake is assuming everyone has the same definition of 'careful,'" wrote Emily Landon, an associate professor of medicine at the University of Chicago, in an online Q&A.
Along with your family or friends, you should consider getting tested for the coronavirus a few days before the holiday, experts said. You should also reduce your contacts and isolate at home for at least a week — and preferably two weeks — to make sure you're not carrying the virus.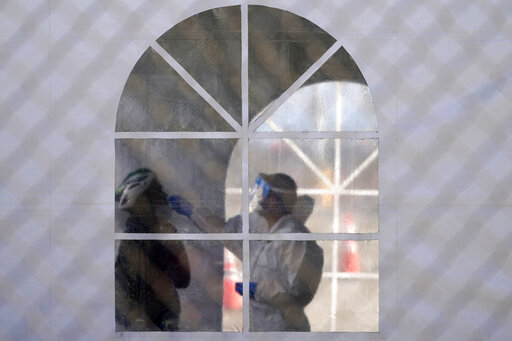 A health care worker gives a test at a COVID-19 testing site during the coronavirus outbreak in San Francisco on Nov. 16, 2020. (AP)
"You could be testing negative and yet you could still be incubating the coronavirus," Prins said. "What we recommend now is that people start to essentially quarantine."
Small gatherings often feel safe because you're surrounded by loved ones. But studies from the CDC have shown that immediate households are a common source of coronavirus spread, as are small events between two or more separate households.
"Your grandpa doesn't need to go to a bar to get COVID-19 from a bar," Landon wrote. "He could get it from your cousin who went to a bar last week and is now unknowingly spreading the virus."
Make smart travel plans
If you insist on traveling, you should plan to do so in ways that minimize the likelihood you or a loved one could be exposed en route to your gathering.
Travel increases your risk of getting and spreading COVID-19. The least risky option is a short car trip involving only your immediate household and no stops, the CDC says.
Since most airlines are equipped with effective air filters, the risk of catching the virus on direct flights is relatively low as long as the airline is enforcing mask compliance, spacing out available seats and screening for sick passengers. But you could still get sick from a nearby passenger.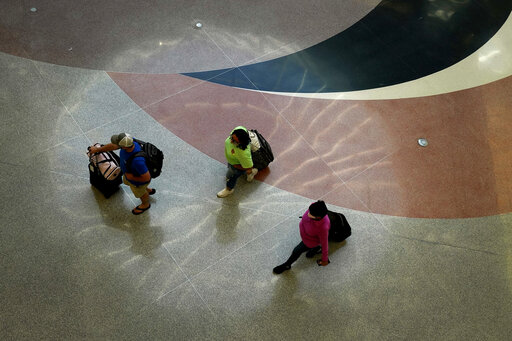 Travelers walk through a mostly-empty arrival lobby at Hartsfield-Jackson International Airport on Nov. 16, 2020, in Atlanta. (AP)
Once everyone has arrived at the destination for your gathering, experts advise avoiding Ubers or other ride-sharing options and driving only in cars with your immediate household. (If you do have to get in a car with others, Prins suggested spreading out, cracking the windows, having everyone wear a mask and making sure the air conditioner isn't recirculating the same air.)
The CDC also recommends returning home for the night or lodging in a single-family rental with your immediate household instead of crashing with relatives or at another shared living space.
Practice good pandemic hygiene, especially indoors
Thanksgiving celebrations this year shouldn't drag on, experts said. And they should stay small, even if that means keeping your grandparents home or having them call in over Zoom.
Limit "close contact" with anyone who might be infected. The CDC now defines close contact as being within 6 feet of an infected person for a cumulative total of 15 minutes or more over a 24-hour period starting two days before the onset of symptoms.
The best practices for minimizing contact include mask wearing, social distancing and disinfecting common surfaces — even while you're catching up with your uncle or cheering on your team during a football game.
"Maybe make the assumption that someone at your gathering has COVID," Prins said, and act accordingly.
The most dangerous part of your Thanksgiving gathering, experts said, will likely come when you sit down to eat. People take off their masks when they eat, and they tend to sit close. One CDC study from September found a correlation between infections and dining at restaurants.
Experts recommend eating and socializing outside if the weather permits, or in a semi-outdoor space like a garage, porch or room with windows open. Turning the music down can also keep you from yelling and sending viral particles through the air, especially as you keep your space.
Seating people from different households at separate tables spaced at least 6 feet apart is another way to minimize risk.
The CDC also advises using single-use utensils and condiment packets, and possibly having each household bring their own food and drink. If you do choose to carve up one turkey and split it between your loved ones, then hand-washing and sanitation should be a priority.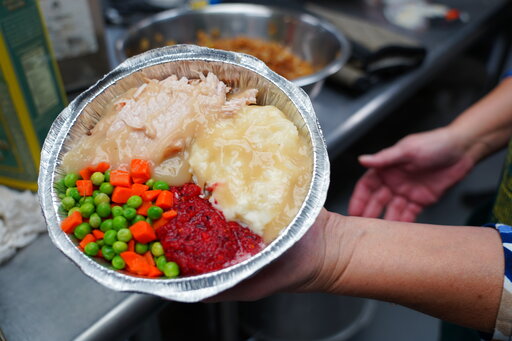 Volunteers prepare individual Thanksgiving meals for seniors in Hawthorne, N.J., on Nov. 3, 2020. (AP)
"Make sure everyone washes their hands before they eat and have some hand sanitizer at the table if you're using shared serving utensils or holding hands for prayer," Landon wrote.
Get creative
Choosing to stay home — the safest option — doesn't mean you can't enjoy the holiday.
A virtual gathering is a safe workaround, and you can get creative by hosting recipe swaps or online game nights. "Thanksgiving over Zoom is a great idea," Andris said.
"You don't want to gloss over these holidays and not be able to have them as you normally would," Prins said. "But unfortunately, it's just not where we are right now. Next year we'll have them back. It's only going to be one year, I think."
Prins told PolitiFact that she plans on celebrating Thanksgiving in Florida with her sister and brother-in-law, with masks worn at all times and dinner served at a spaced-out table.
Andris plans to spend the day safely at home in Atlanta with her 8-year-old pet bunny, Jessica Rabbit.
Georgia Tech University, "COVID-19 Event Risk Assessment Planning Tool," accessed Nov. 16, 2020
COVID Tracking Project, "US Daily Deaths," accessed Nov. 16, 2020
Johns Hopkins University, "Coronavirus Resource Center," accessed Nov. 16, 2020
Poynter, "Jails and prisons are superspreaders that need journalistic attention during the pandemic," Nov. 16, 2020
CBS This Morning on YouTube, "Dr. Fauci on record COVID-19 cases in U.S., holiday safety," Nov. 13, 2020
Centers for Disease Control and Prevention, "Celebrating Thanksgiving," Nov. 12, 2020
The Washington Post, "At dinner parties and game nights, casual American life is fueling the coronavirus surge as daily cases exceed 150,000," Nov. 12, 2020
CNBC, "Chicago mayor asks residents to cancel Thanksgiving plans and stay indoors as Covid cases rise," Nov. 12, 2020
Centers for Disease Control and Prevention, "Holiday Celebrations and Small Gatherings," Nov. 11, 2020
The Los Angeles Times, "Now you can see the COVID-19 risk anywhere in the country, in real time," Nov. 11, 2020
The Associated Press, "Experts say no need to cancel Thanksgiving, but play it safe," Nov. 10, 2020
The New York Times, "Serve Up Some Extra Precautions at Your Thanksgiving Table This Year," Nov. 6, 2020
Centers for Disease Control and Prevention, "Transmission of SARS-COV-2 Infections in Households — Tennessee and Wisconsin, April–September 2020," Nov. 6, 2020
University of Michigan, "How to Have a Safe Holiday Season During the COVID-19 Pandemic," Nov. 3, 2020
Centers for Disease Control and Prevention, "Personal and Social Activities," Oct. 29, 2020
Centers for Disease Control and Prevention, "Considerations for Events and Gatherings," Oct. 29, 2020
University of Chicago Medicine, "How to safely celebrate holidays during the COVID-19 pandemic," Oct. 28, 2020
Centers for Disease Control and Prevention, "Know Your Travel Risk," Oct. 21, 2020
Centers for Disease Control and Prevention, "Appendices," Oct. 21, 2020
USA Today, "The holidays are coming. Does the COVID-19 pandemic mean you should skip even small family gatherings? What experts say," Oct. 21, 2020
Public Health on Call, "180 - Thinking Through The Fall and Winter Holidays During COVID-19: Innovative Ways to Gather and Celebrate," Oct. 15, 2020
Centers for Disease Control and Prevention, "Community Transmission of SARS-CoV-2 at Two Family Gatherings — Chicago, Illinois, February–March 2020," April 17, 2020
PolitiFact, "What is the risk of getting coronavirus on a plane?" Sept. 4, 2020
PolitiFact, "Tucker Carlson distorts new CDC report, makes false mask claim," Oct. 15, 2020
Phone interview with Cindy Prins, assistant dean for educational affairs and a clinical associate professor of epidemiology at the University of Florida College of Public Health and Health Professions, Nov. 14, 2020
Phone interview with Clio Andris, assistant professor of city and regional planning and interactive computing, Nov. 13, 2020
Browse the Truth-O-Meter
More by Bill McCarthy