Stand up for the facts!
Our only agenda is to publish the truth so you can be an informed participant in democracy.
We need your help.
I would like to contribute
'Cheap fakes': Viral videos keep clipping Biden's words out of context
If Your Time is short
Opponents of President Joe Biden have repeatedly circulated videos that cut his comments short or take his words out of context to leave a misleading impression.

PolitiFact has fact-checked several viral clips in that mold since Biden took office, including videos that have been snipped down to as little as 3 seconds of content.

The tactic, which the Trump campaign employed ahead of the 2020 election, fuels the narrative that Biden is senile and incompetent, experts said.

Experts who study misinformation recommend that people who come across potentially out-of-context videos should check on the source, seek out the full context, and consider whether the clips seem designed to provoke a strong emotional reaction.
In an October 2020 campaign speech in Georgia, just days before the election that sent him to the White House, candidate Joe Biden used a quote from Pope Francis.
The quote came from a letter the pope had sent to Roman Catholic bishops, in which he urged world leaders to "ask ourselves, 'Why I am doing this? What is my real aim?'"
On social media, former President Donald Trump's campaign seized on the moment to turn it against Biden and cast him as confused and senile — a narrative Trump and his allies had been pushing for months. With a tweet clipping Biden's speech down to just 7 seconds of video, the campaign made it look like Biden was speaking for himself, rather than quoting the letter.
"Joe Biden: 'Why am I doing this? Why? What is my real aim?" the Trump War Room account said in the Oct. 27 tweet. PolitiFact rated the tweet False.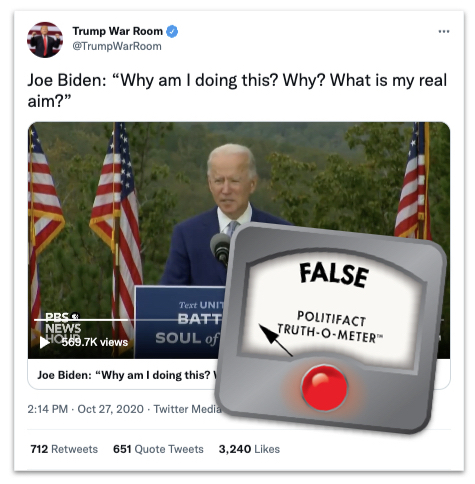 A misleading Trump campaign tweet clipped Biden's comments quoting Pope Francis short to portray him as confused in October 2020.
Such strategic video cuts were a favorite tactic of Trump's campaign and supporters. Another time, the campaign shared a chopped-down clip that appeared to show Biden saying he was running for Senate; in context, he was actually talking about running for office as a Democrat throughout his career, including as a U.S. senator.
The deceptive video editing turned out to be just a preview of what was to come as Biden took over the White House. The attacks continued during the transition and throughout Biden's first year.
Social media users, conservative influencers and outlets, and groups like the Republican National Committee have repeatedly targeted the 79-year-old president by spreading truncated, out-of-context clips that distorted the meaning of his words.
"These clips draw on a common trope about President Biden that's popular among his detractors: He's old, bumbling and senile, meaning he's incompetent and incapable of doing this job," said Rebekah Tromble, the director of the Institute for Data, Democracy, and Politics at George Washington University.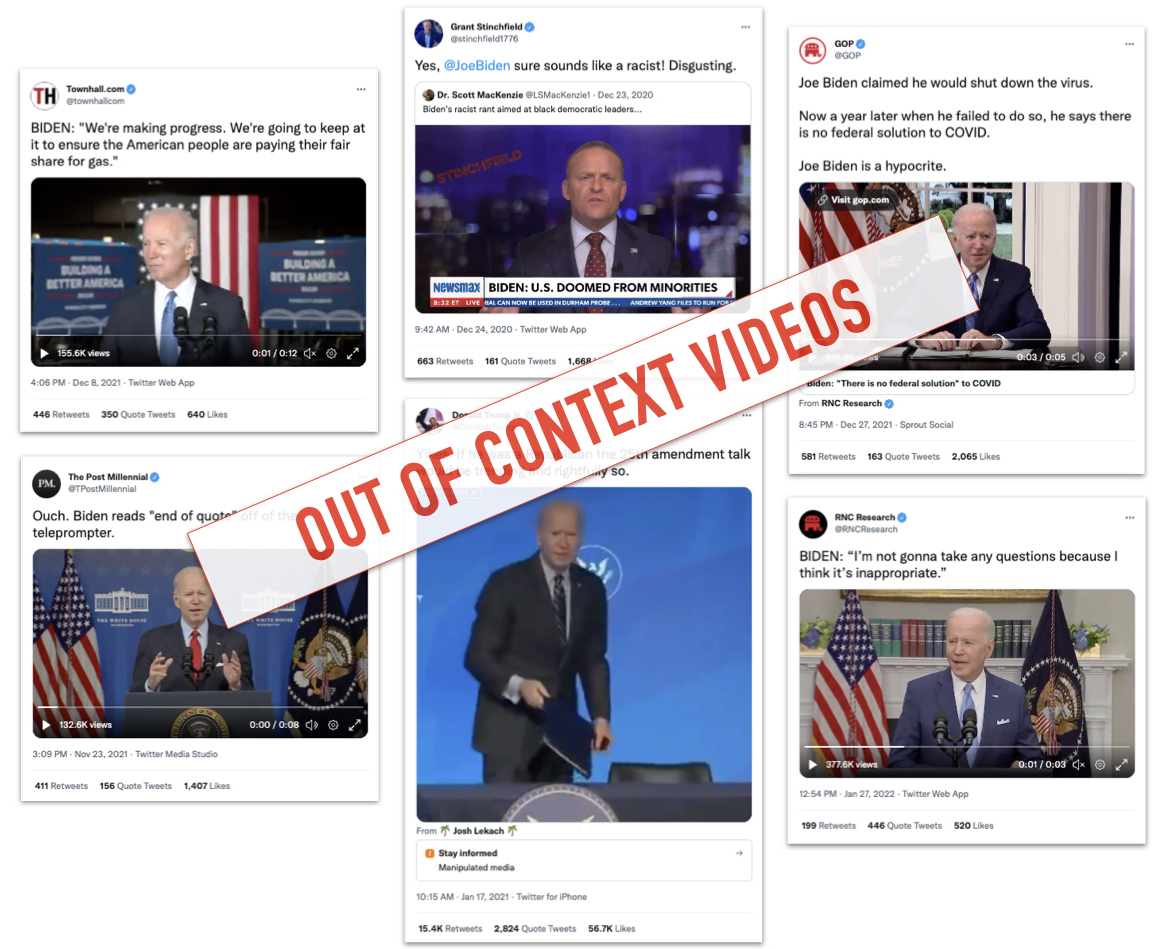 Opponents of Biden have shared videos that take his words out of context.
The tactic is what experts who study misinformation and media manipulation call a "cheap fake," said Claire Wardle, co-founder and executive director of First Draft, a nonprofit organization that works to protect against harmful disinformation and misinformation.
"It's the weaponization of context," Wardle said. "It's genuine content, but the context changes via minor edits. Anyone can be vulnerable with the right edit."
Anyone can be vulnerable to falling for those edits, too. Experts cautioned that Americans surfing social media or watching cable news should be wary of clips that are cut really short, presented with no clear context, and aimed at triggering an emotional reaction.
An affordable form of misinformation
Combining false information with kernels of truth has been a powerful form of propaganda for decades, said Inga Kristina Trauthig, the research manager and a senior research fellow at the University of Texas at Austin's Center for Media Engagement.
And it has only expanded in the digital age.
But unlike more sophisticated "deep fakes" that use complex technology to swap someone's face, clone their voice or synchronize their lips to a different audio track, the cheap fakes are easy to produce. Amateurs with basic software can make edits that slow a video down, speed it up, cut it into snippets, insert or remove details, or present it in a false context.
"It's essentially free," Wardle told PolitiFact. "And if someone says 'that's fake,' they can say, 'No, this is from an actual event.'"
One such trend in recent years saw social media users slow down footage of House Speaker Nancy Pelosi, D-Calif., to leave the false impression that she was drunkenly slurring her words.
Biden detractors use tactic to reinforce narratives
As Trump's team criticized Biden during the campaign as too old, bumbling and out of touch — a man who wouldn't leave his basement, had grown senile, and didn't know what he was talking about — Biden became a main target of deceptive edits that sought to reinforce that narrative.
Those efforts continued even after the campaign ended. Days before Biden was sworn in, Donald Trump Jr. shared an altered video on Twitter that purported to show Biden looking confused about where to go after an event ended. The video received millions of views, but it showed only 19 seconds of footage from the event, and it zoomed in on Biden. The result: Viewers did not see that Biden was actually waiting for others to leave the stage before him.
Many other videos have been similarly edited, shortened to present his words out of context:
"It is hard to objectively assess if a person, especially someone as high profile as the president, is aloof or not," Trauthig said of the misleading clips. "It is easy, however, to manipulate media content which delivers a clear picture in one direction."
The White House declined to comment for this story.
It's not just Biden who has been targeted during this period. Other members of the Biden White House have had the meaning of their words distorted in videos that went viral. They include Dr. Anthony Fauci, the chief medical adviser, and Jen Psaki, the press secretary.
But the videos that take Biden out of context are especially effective, Tromble said, because they build on Biden's reputation, dating back to his days as a senator, for being gaffe-prone.
Biden made a number of verbal blunders on the campaign trail. That has continued since, such as when he stumbled in his description of Satchel Paige as a great baseball pitcher in the Negro leagues, prompting critics to say he called Paige a "negro."
Biden grew up stuttering. That his stutter remains unknown to many Americans "makes it easy for his opponents to create fake but convincing clips of President Biden," Tromble said.
The clips also resonate with the perception among some voters that Washington politicians are detached, and they also fit in with the image some Trump voters have carved out for Biden as the weak, fragile counterpart to Trump's combativeness, experts said.
Experts who study misinformation recommend that when people come across clips of public figures from either political party that have been trimmed — and especially when the clips going viral are only a few seconds long — they should consider the source of the information and look for the full context. Biden's remarks are typically televised and transcribed on the White House's website.
"I always caution people to pause for a second whenever they encounter media that evokes strong emotional reactions," Tromble added. "We need to take a breath and ask ourselves, 'Is there a reason this makes me feel so upset? Is this designed to rile me up?'"
Harvard Kennedy School Shorenstein Center on Media, Politics and Public Policy, "The Media Manipulation Casebook: Cheap Fake," accessed Feb. 11, 2022
USA Today, "Fact check: Biden was quoting Walmart US CEO when he said 'end of quote' during speech," Dec. 6, 2021
Slate, "Beware the Cheapfakes," June 12, 2019
PolitiFact, "In context: What Jen Psaki said about 'soft-on-crime consequences,'" Feb. 1, 2022
PolitiFact, "Deceptive RNC edit takes Biden's words on taking Supreme Court questions out of context," Jan. 28, 2022
PolitiFact, "Biden's 'no federal solution' clip doesn't save Trump PAC's attack on Biden and COVID-19 plan," Jan. 5, 2022
PolitiFact, "Video of child giving Biden vial of blood to drink is doctored," Dec. 17, 2021
PolitiFact, "In context: Joe Biden's 'fair share' comments on gas prices," Dec. 9, 2021
PolitiFact, "In Context: Joe Biden's 'Negro' reference to baseball player Satchel Paige," Nov. 12, 2021
PolitiFact, "Video takes Biden out of context on the role vaccines play in hurricane preparedness," Sept. 17, 2021
PolitiFact, "No, Biden didn't say this country is doomed because of African Americans," April 23, 2021
PolitiFact, "Joe Biden stumbled over his words in a recent speech," Feb. 26, 2021
PolitiFact, "Donald Trump Jr. tweets altered video of Joe Biden event," Jan. 18, 2021
PolitiFact, "Newsmax host recycles out-of-context clip in call for Joe Biden's impeachment," Jan. 12, 2021
PolitiFact, "Biden was quoting Pope Francis, not expressing confusion about his campaign," Oct. 27, 2020
PolitiFact, "Trump campaign ad takes Biden out of context three times on taxes," Oct. 21, 2020
PolitiFact, "Facebook video edits Joe Biden's comments on running for Senate, president," Oct. 14, 2020
PolitiFact, "Biden's verbal blunders: Separating the real from the fake," Oct. 5, 2020
PolitiFact, "Biden isn't in the basement, but the Trump campaign keeps saying so," Oct. 4, 2020
PolitiFact, "Geriatrics experts say Brit Hume's claim that Joe Biden is 'senile' is wrong," Oct. 1, 2020
PolitiFact, "Why false claims about Nancy Pelosi being drunk keep going viral — even though she doesn't drink," Aug. 3, 2020
PolitiFact, "Viral video of Nancy Pelosi slowed down her speech," May 24, 2019
PolitiFact, "Fact-checking distorted video Sarah Sanders used to bar a CNN White House reporter," Nov. 8, 2018
Email interview with Claire Wardle, co-founder and executive director of First Draft, Feb. 9, 2022
Email interview with Rebekah Tromble, associate professor of media and public affairs and the director of the Institute for Data, Democracy, and Politics at George Washington University, Feb. 9, 2022
Email interview with Inga Kristina Trauthig, research manager and senior research fellow at the Center for Media Engagement at the University of Texas at Austin, Feb. 9, 2022.
Browse the Truth-O-Meter
More by Bill McCarthy