Stand up for the facts!
Our only agenda is to publish the truth so you can be an informed participant in democracy.
We need your help.
I would like to contribute
Fact-checking conspiracy theories about the death of Michael Stenger, former Senate sergeant-at-arms
If Your Time is short
Michael Stenger, the Senate sergeant-at-arms at the time of the Jan. 6, 2021, attack at the U.S. Capitol, died June 27. Reports said he died of natural causes, but his death fueled a number of unsubstantiated rumors and conspiracy theories online.

Some posts called the timing of Stenger's death suspicious and sought to link it to an announcement of an unscheduled hearing by the House committee investigating Jan. 6. Others pointed to a remark Stenger made a month after the attack about the possibility that "professional agitators" could have been involved as evidence of something amiss.

False claims conflated Stenger's death with the murder of a different Michael Stenger in 2013. Some went so far as to blame Hillary Clinton, reviving the decades-old, baseless conspiracy theory about a so-called "Clinton body count."
Michael Stenger, the Senate sergeant-at-arms at the time of the Jan. 6, 2021, attack at the U.S. Capitol, died June 27, according to reports from Politico and other outlets. He was 71.
The cause of Stenger's death was not yet known as of June 29. NBC News reported that his death was not believed to be suspicious. The Associated Press reported that he died of natural causes, citing two unnamed sources. Fox News reported that he had cancer.
Stenger had served as the Senate sergeant-at-arms since 2018. He resigned shortly after the insurrection along with other officials tasked with securing the Capitol.
Amid the information vacuum, social media users ginned up their own explanations for his death. A surprise House hearing into the Jan. 6 attack also fanned the flames of speculation.
Across Twitter and other internet platforms, the news of Stenger's death fueled unsubstantiated rumors and conspiracy theories about the Jan. 6 attack, how he died, and Hillary Clinton.
Social posts speculate about timing
A flurry of posts, including from former White House chief strategist Steve Bannon and Rep. Marjorie Taylor Greene, R-Ga., suggested that the timing of Stenger's death was suspicious.
Stenger died June 27, the same day the House Jan. 6 committee broke from its schedule and announced a hearing for June 28. The hearing featured Cassidy Hutchinson, a former top aide to Mark Meadows, former President Donald Trump's final chief of staff.
On Twitter, Greene shared a video of Stenger testifying to Congress in February 2021 that future Jan. 6 investigations should consider probing the possible "funding and travel of what appears to be professional agitators." Greene has previously promoted debunked claims about left-wing antifa activists or FBI agents infiltrating the Jan. 6 crowd and provoking the violence.
Similar conspiracy theories took off across right-wing internet spaces.
"'Dies suddenly' before testifying is suspicious," said one post calling Stenger's death a "murder" on Truth Social, Trump's social media app. "The January 6th panel is desperate to cover up the Democrat/FBI/Antifa orchestrated event to disrupt the objections to the 2020 election fraud."
"Former Senate Sergeant-at-Arms Michael Stenger Testified that Paid Professional Agitators Were Operating at Jan. 6 Riot — NOW HE'S DEAD (VIDEO)," read a headline on the Gateway Pundit, a pro-Trump blog site with a history of spreading false and misleading claims.
The Gateway Pundit article speculated that Stenger's comment about possible "professional agitators" was a reference to Ray Epps, a man right-wing politicians and pundits have falsely held up as an FBI informant who instigated a "false flag" attack on Jan. 6.
The article linked to a post on the Telegram messaging app from a promoter of the baseless QAnon conspiracy theory.
"Stenger testified that there was paid professional agitators at January 6th," the anonymous QAnon influencer wrote in the post, which received hundreds of thousands of views. "Is that what they didn't want out? I smell desperation."
Facebook posts sharing the Gateway Pundit article were flagged alongside several other posts about Stenger's death as part of Facebook's efforts to combat false news and misinformation on its News Feed. (Read more about our partnership with Facebook.)
"I believe in coincidences. Coincidences happen everyday. But I do not trust coincidences," said another widespread post shared June 28.
Despite the revived social media speculation, there remains no evidence that the Jan. 6 attack was a "false flag" event orchestrated by antifa or the FBI. The most serious charges lodged to date targeted the far-right Proud Boys and Oath Keepers militia groups for seditious conspiracy.
The New York Post reported that a woman who answered the phone at Stenger's home said his death had "nothing to do with Jan. 6 at all."
Baseless claims say Stenger was 'shot and killed,' Clinton did it
Other social media users misreported Stenger's cause of death, falsely claiming he was "shot and killed" while crossing the street near an apartment where he supposedly lived.
"I just found this #Stenger arrived in a friend's car and was dropped off across the street," said one June 27 tweet responding to the news of his death, the first post PolitiFact found making this claim. "As Stenger crossed the street toward his apartment, he was shot and killed. The shooting was partially captured on surveillance video from cameras on a nearby building."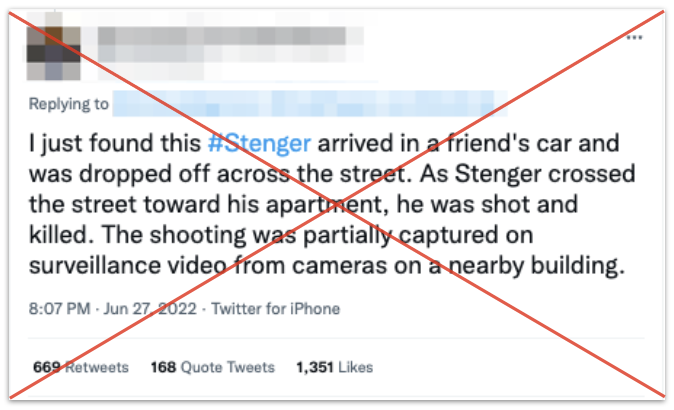 The rumor took off across Twitter, Facebook, TikTok, Reddit and other platforms like Gettr.
Several social media posts accused Hillary Clinton of arranging for Stenger to be murdered, playing off the decades-old conspiracy theory that Clinton and her husband, former President Bill Clinton, have an extensive "body count" of people they have had assassinated.
"The life expectancy of people who know details about Nancy Pelosi's actions on Jan 6 is tragically short … maybe she's been getting tips from Killary?" said one viral Telegram post.
"Welp, Killary strikes again," said another post on Truth Social that repeated the inaccurate claim that Stenger was "shot to death outside his apartment."
"The Senate sergeant at arms during Jan. 6, Michael Stenger, was found shot dead outside his apartment," said another post on Facebook. "Sounds a little … Clintonian … to me."
But there's no evidence the Clintons were involved in Stenger's death, and the original tweet claiming that Stenger was "shot and killed" lifted language almost verbatim from an unrelated court document detailing the death of a different Michael Stenger in 2013. That Michael Stenger was fatally shot in a drive-by shooting, local news reported at the time.
PolitiFact staff writer Grace Abels contributed research to this story.
CrowdTangle, accessed June 29, 2022
Associated Press, "US Senate sergeant-at-arms during Capitol riot dies at 71," June 28, 2022
Snopes, ""Michael Stenger's Death Fuels Conspiracy Theories," June 28, 2022
Newsweek, "Michael Stenger's Death Before Jan. 6 Hearing Sparks Conspiracy Theories," June 28, 2022
NBC News, "Former Senate security chief dies; death not considered suspicious," June 28, 2022
New York Post, "Michael Stenger, Senate security chief on Jan. 6, dies before hearing," June 28, 2022
Chad Pergram on Twitter, June 28, 2022
K Tully-McManus on Twitter, June 27, 2022
The Gateway Pundit, "Former Senate Sergeant-at-Arms Michael Stenger Testified that Paid Professional Agitators Were Operating at Jan. 6 Riot — NOW HE'S DEAD (VIDEO)," June 28, 2022
Truth Social posts, June 28, 2022
Gettr posts, June 28, 2022
Marjorie Taylor Greene on Twitter, June 28, 2022
Tweet, June 28, 2022
Tweet, June 27, 2022
Reddit post, June 27, 2022
Casetext, "People v. Lepe," Aug. 30, 2021
East Bay Times, "Oakland: Police identify Sunday homicide victim," Dec. 2, 2013
PolitiFact, "How new Jan. 6 revelations on Ray Epps, others undercut Tucker Carlson's FBI conspiracy theory," Jan. 18, 2022
PolitiFact, "The 2021 Lie of the Year: Lies about the Jan. 6 Capitol attack and its significance," Dec. 15, 2021
PolitiFact, "No, the Clintons aren't responsible for more deaths than the coronavirus," March 16, 2020
Browse the Truth-O-Meter
More by Bill McCarthy