Stand up for the facts!
Our only agenda is to publish the truth so you can be an informed participant in democracy.
We need your help.
I would like to contribute
How a rumor about Justice Alito in 'hiding' jumped to primetime TV
If Your Time is short
An unverified rumor that exploded across conservative media claimed that Justice Samuel Alito, the author of the leaked draft opinion that would overturn Roe v. Wade, went into hiding in an "undisclosed location" with his family amid recent protests.

The claim traces back to comments made by conservative attorney Ilya Shapiro. But Shapiro has since said he cannot remember where he heard that rumor.
As protesters gathered outside the homes of conservative-leaning U.S. Supreme Court justices, a rumor took off on social media that Justice Samuel Alito had moved to an "undisclosed location."
Alito authored a leaked draft opinion that would overturn Roe v. Wade and return authority over abortion access to the states. In the days after Politico published the draft on May 2, protesters for abortion rights showed up outside the Maryland homes of Chief Justice John Roberts and Justice Brett Kavanaugh and, on May 9, outside of Alito's Virginia residence.
It isn't proven that Alito was forced to move. But the rumor jumped from right-wing blog sites to anti-abortion activists, Republican lawmakers and the hosts on One America News Network, Newsmax and Fox News, underscoring how quickly unverified information can travel.
"Justice Alito actually had to move his family out of town," Fox News host Laura Ingraham said on her show May 9. "My friends, this is what happens in third-world countries, not in America."
"This was enough to force Justice Alito and his entire family into hiding," Fox News host Jesse Watters said three hours earlier on his own show. "They have moved now to an undisclosed location."
But though it was widely repeated as fact in right-wing media, the rumor that Justice Alito and his family had to be whisked away to an "undisclosed location" ahead of protests outside his house has not been corroborated.
The person who appears to have driven the rumor into the mainstream, attorney Ilya Shapiro, said he cannot remember where he first heard it.
"Like everyone who works in constitutional law, I talked to a lot of people about the leak last week," Shapiro told PolitiFact in an email. "I don't recall who told me about Alito's heightened security protocol, but wouldn't be able to reveal that source without permission regardless."
The Supreme Court and the U.S. Marshals Service, which is providing additional security for the justices, did not respond to requests for comment.
But there was reason to question the veracity of the rumor even before hosts like Watters and Ingraham spread it further.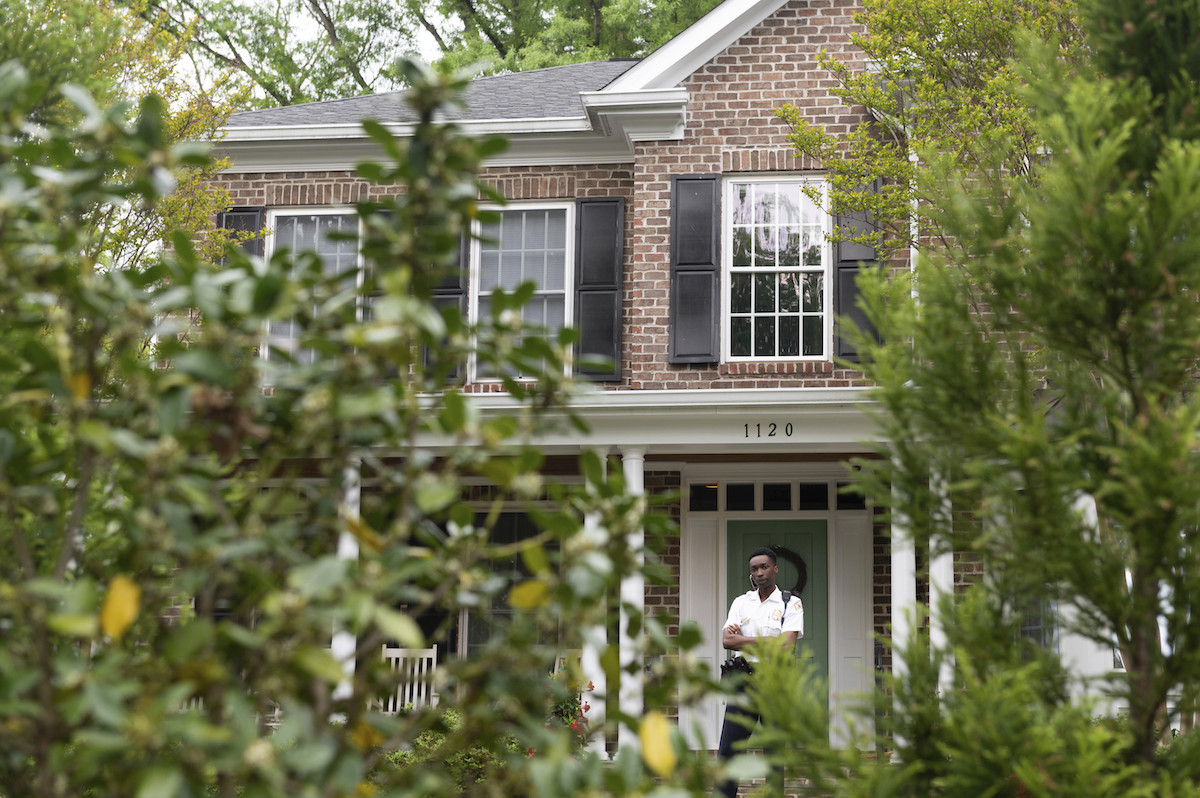 U.S. Supreme Court police stand outside the home of Justice Samuel Alito on May 5, 2022, in Alexandria, Va. (AP)
How the rumor spread
Hours before Watters went on air for "Jesse Watters Primetime," Politico traced the rumor back to Shapiro. Shapiro was the former vice president of the libertarian Cato Institute before moving to Georgetown Law as executive director of the Center for the Constitution and a senior lecturer. He was recently placed on administrative leave from his new role at Georgetown over tweets he sent about the nomination of a Black woman to the Supreme Court.
In a May 5 interview with WMAL radio, Shapiro said he had "heard a rumor that Justice Alito and his family have been taken to an undisclosed location."
Shapiro said the same May 7 on Fox News: "I've heard that Justice Alito has been taken to an undisclosed location with his family."
Several outlets and media personalities, including Watters, repeated Shapiro from there.
Later on May 7, Breitbart News published a story headlined, "Justice Alito moved to undisclosed location," citing "reports around D.C." The conservative website later altered its headline and changed the text of its story to cite "rumors around D.C." and linked directly to Shapiro's two interviews with WMAL and Fox News.
Townhall, another conservative outlet, ran a similar story, as did the Gateway Pundit and the Western Journal. The Post Millennial and Alex Jones' InfoWars posted stories based solely on the Breitbart article.
Republican Sens. Ted Cruz of Texas and Mike Lee of Utah shared the Townhall story, while former Trump aide Sebastian Gorka promoted the Breitbart piece to his nearly 400,000 followers on Instagram. Anti-abortion activist Kristan Hawkins, the president of Students for Life of America, tweeted, "Justice Alito and his family have been moved to an undisclosed location."
On Fox Business Network the morning of May 9, the Heritage Foundation president Kevin Roberts repeated the claim to host Maria Bartiromo. Several hosts on Newsmax did the same, according to TVEyes, a media monitoring service.
One Newsmax video promoting the unproven claim racked up thousands of views on Facebook, where it was flagged as part of Facebook's efforts to combat false news and misinformation on its News Feed. (Read more about our partnership with Facebook.)
But when Politico followed up with Shapiro by mid day on May 9, Shapiro said he couldn't remember the exact source for the information. He told the Washington Examiner the same.
"I forget whether I saw the rumor on Twitter or somebody told me," Shapiro told Politico, which published the quote at 1:10 p.m. EST. "I don't know."
Despite Shapiro's admission, the rumor was floated again hours later, on both Fox News and Fox Business Network and also on One America News.
"I think Alito had to leave his house," Watters said during "The Five," before repeating the claim later on his primetime show. "He's in an undisclosed location."
Fox News did not respond to a request for comment.
Alito did deliver a video message to a recent legal conference in Nashville that he was scheduled to attend in person, according to Politico and the Washington Post.
More protests outside of his and other justices' houses are planned, even as they have drawn backlash, particularly from Republicans. The group Ruth Sent Us, named for the late Justice Ruth Bader Ginsburg, promoted "walk-by Wednesday" demonstrations for May 11 outside the Republican-appointed justices' houses.
White House press secretary Jen Psaki tweeted ahead of the May 9 protests at Alito's house that President Joe Biden "​​strongly believes in the Constitutional right to protest. But that should never include violence, threats, or vandalism. Judges perform an incredibly important function in our society, and they must be able to do their jobs without concern for their personal safety."
Fox News, "Jesse Watters Primetime," May 9, 2022
Fox News, May 9, 2022
Fox Business Network, May 9, 2022
Newsmax, May 9, 2022
One America News Network, May 9, 2022
CrowdTangle, accessed May 10, 2022
The Internet Archive, accessed May 10, 2022
TVEyes, accessed May 10, 2022
BuzzSumo, accessed May 10, 2022
Politico, "Alito's home draws latest abortion-rights demonstration after Roe opinion breach," May 9, 2022
Politico, "There are unconfirmed reports that a Supreme Court justice had to flee his home in light of the draft Roe v. Wade opinion. The source can't remember where he heard it," May 9, 2022
The Washington Post, "How the Alito 'rumor' spread," May 9, 2022
The Washington Examiner, "Alito's whereabouts unclear after 'rumor' he fled following Roe leak," May 9, 2022
Ted Cruz on Twitter, May 9, 2022
Mike Lee on Twitter, May 9, 2022
The Post Millennial, "Justice Alito and family moved to an undisclosed location," May 9, 2022
Infowars, "Justice Alito Moved To Undisclosed Location As Pro-Abortion Mobs Descend on SCOTUS Homes," May 8, 2022
Gateway Pundit, "Reports Indicate Justice Alito and His Family Have Been Moved to a Secure Location," May 8, 2022
The Western Journal, "Justice Alito Cancels Appearance, Reports Indicate He and His Family Have Been Moved to an Undisclosed Location," May 8, 2022
Kristan Hawkins on Twitter, May 8, 2022
Townhall, "Protesters Have Shown Up Outside Homes of Supreme Court Justices, Reports: Alito Moved to Undisclosed Location," May 7, 2022
Breitbart News, "Justice Samuel Alito Moved to Undisclosed Location," May 7, 2022
Fox News, "The Journal Editorial Report," May 7, 2022
Vince Coglianese on Twitter, May 5, 2022
Browse the Truth-O-Meter
More by Bill McCarthy