Did Beto O'Rourke really use campaign funds to help the migrant caravan?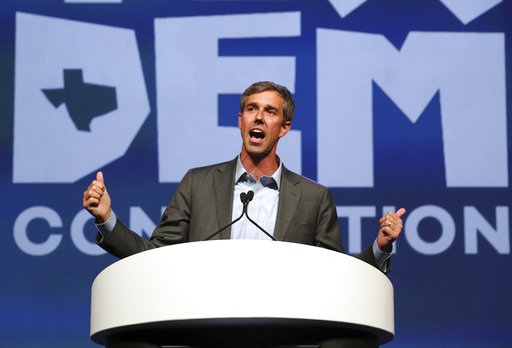 Sen. Ted Cruz is in a closer-than-comfortable race with U.S. Rep Beto O'Rourke, and trying to draw a connection between the El Paso Democrat and the migrant caravan.
He's helped by recent reports that he's caught in a "caravan scandal," as one headline describes allegations that O'Rourke is illegally using campaign resources to help Honduran migrants.
"Mr. Open Borders O'Rourke—who has called for amnesty—has staffers giving aid to the caravan coming for our border," reads a story posted on Patriot Journal on Nov. 2. "Money raised to help O'Rourke get elected is being used to fund migrants. This is clearly breaking campaign finance laws."
This story was flagged as part of Facebook's efforts to combat false news and misinformation on its News Feed. (Read more about our partnership with Facebook.) CrowdTangle data shows it had been shared on Facebook more than 16,000 times as of Election Day.
The Patriot Journal doesn't have contact information on its website, and the publication did not immediately respond to a Facebook message seeking more information about its story.
However, its claim seems to stem from a video posted to YouTube on Nov. 1 by Project Veritas, an organization that creates undercover sting videos of its targets, including media organizations. (Patriot Journal embedded the video in its story.)
The approximately 24-minute video is titled: "Nobody needs to know: Beto campaign appears to illegally spend funds on supplies for caravan aliens," and it shows clips of campaign staffers talking about buying food and giving rides to immigrants.
"For me, I can ignore the rules," a field manager says near the beginning. "I don't mind breaking the rules and I can defend any position."
"Don't ever repeat this and stuff but, like, if we just say that we're buying food for a campaign event, like the Halloween events, cause there's block walks coming up for Halloween," a field organizer is recorded saying a few moments later.
When the undercover Project Veritas staffer says, "I know that we're using some of the campaign resources to help with the migrants and like I just didn't want anybody to get in trouble with that, like I didn't want them to ask me any questions about people using resources," O'Rourke's campaign manager says, "Don't worry."
James O'Keefe, the conservative activist behind Project Veritas, is then shown in El Paso explaining to viewers what he says the videos mean.
"The videos that you're about to see appear to show Beto's campaign workers and his staff all the way up to his campaign manager, Jody Casey, knowingly using campaign resources and funds to help assist, subsidize illegal aliens entering the United States, some of them from the migrant caravan," O'Keefe says.
A later clip of the field manager shows him talking to another staffer about "that migrant caravan."
"A few of them got here already and they're dropping them off like really close to Missouri," he says. (Missouri is the name of a street in El Paso.) The staffer then says the migrants are "the Hondurans."
In response to an email seeking more information about the allegations, O'Rourke's campaign forwarded this statement from Nov. 2: "Ted Cruz shamefully and falsely suggested that the Beto for Texas campaign used campaign dollars to fund a caravan that remains hundreds of miles from the U.S.-Mexico border."
The campaign also pointed PolitiFact to two news stories in the Texas Tribune and the El Paso Times.
The Tribune story, posted online Nov. 2, reports that the campaign said staffers recently "took it upon themselves" to use campaign funds to donate supplies to an El Paso nonprofit. The campaign said the contributions, totaling less than $300, will be "appropriately reported" to the Federal Election Commission, according to the story.
O'Rourke's campaign said the staffers were responding to an unrelated situation in which the federal government dropped off more than 100 migrants seeking asylum at a bus station in downtown El Paso, the Tribune reports.
The El Paso Times reported on Nov. 2 that Chris Evans, a spokesman for the campaign, said staffers used prepaid credit cards to buy "wipes, diapers, water, fruit and granola bars" and donated them to Annunciation House, a nonprofit that provides support to immigrants.
But it's not illegal to donate campaign funds to a nonprofit as long as the parties abide by this rule: The organization can't compensate the candidate—if it's going to at all—before using or spending the entire donation, according to FEC. In other words, the donation can't personally benefit the candidate.
The Tribune also talked to a campaign finance expert, Paul S. Ryan with the government watchdog group Common Cause. He told the publication that unless the donations are improperly reported to the FEC, they don't break any laws.
So here's what we know:
Though in the video a campaign staffer talks about helping Honduran immigrants, describing them as members of the migrant caravan who recently arrived in El Paso, the caravan was still hundreds of miles away as of Nov. 5.
The campaign says that staffers did use funds to help migrants seeking asylum in the United States. The Annunciation House, where the campaign said the goods were donated, has been assisting families released from federal detention centers following background checks and fingerprinting, according to the El Paso Times.
Still, though the "staffers are shown expressing awareness that what they are doing is improper, or at least could be perceived as improper," the Tribune reports, the campaign doesn't appear to be breaking the law unless it fails to properly report its donations to the FEC.
We rate this statement as False.