"Donald Trump to issue an executive order to ban Facebook across U.S."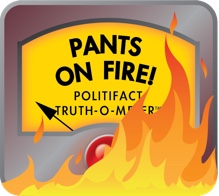 Fake news story about Trump banning Facebook by executive order is an April Fool's Day prank
A fake Internet post said President Donald Trump was going to outlaw Facebook, but a closer look revealed it was a simple April Fool's Day prank.
The headline on an April 2, 2017, post on usanews4u.us declared, "Donald Trump to issue an executive order to ban Facebook across U.S."
Likely concerned by the prospect, Facebook users flagged it as potentially being fabricated as part of the social media site's efforts to stamp out fake news.
The fake post said that Trump was going to take action despite criticism from congressional Republicans, because fake news was still being widely circulated on the site. Facebook users, federal judges and Facebook CEO Mark Zuckerberg were all prepared to fight any executive order, but Trump didn't care.
"Inside, we both know what's been going on. We know the game and we're gonna play it," Trump is quoted in the story.
First and foremost, we know that this is a faker than fake quote, because it's a line from Rick Astley's Never Gonna Give You Up. Internet-savvy users should realize instantly they're being Rick Rolled here. That's apparently still a thing for some people.
But we just gotta tell you how we're feeling, and gotta make you understand.
Even with Trump's penchant for labeling things as fake news, there has been no report about an executive order banning Facebook. We tried to reach usanews4u.us through their Contact Us form, but didn't receive a reply. The site is registered to an address in Veles, Macedonia, a hotbed of fake news websites.
And while the post was dated April 2, the tags on the story clued readers in that it is actually for April Fool's Day.
It appears it was a news outlet's attempt at a joke that was repurposed without clear attribution.
The story originated on April 1 at Firstpost.com, a website filled largely with what look to be legitimate, India-centric news stories. There also is a "Faking News" section full of intentionally bogus content "to attract your attention."
But this post wasn't categorized there, instead getting the label "World News." The post also had an April Fool's Day tag, so the story is a prank.
Readers who made it to the end of the faux story would have noticed something not in the usanews4u.us post: A link marked as Trump's and Zuckerberg's remarks on the issue actually redirects to — you guessed it — Astley's 1987 hit single.
If you ask us how we're feeling about this statement, don't tell us you're too blind to see. Pants On Fire!
Browse the Truth-O-Meter
More by Joshua Gillin
Support independent fact-checking.
Become a member!
In a world of wild talk and fake news, help us stand up for the facts.