Half True: Clinton says she sponsored 400 bills, worked with GOP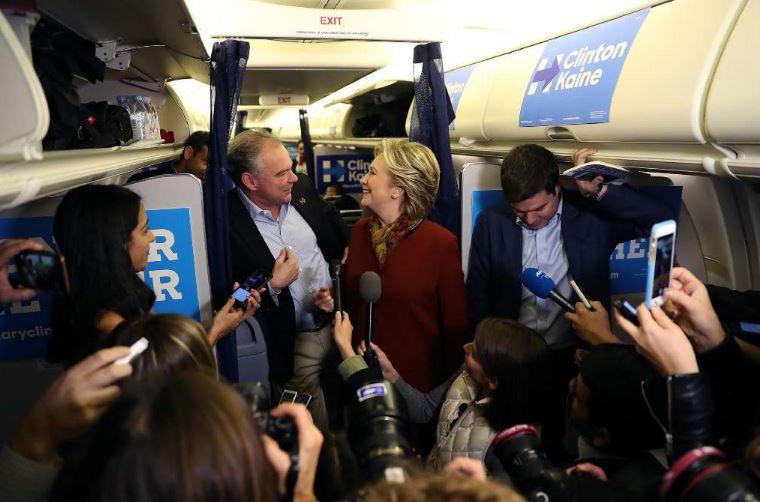 Hillary Clinton insists that her track record as a U.S. senator is proof that she could bring a spirit of bipartisanship to a presidential administration.
Speaking from her campaign jet following a rally in Pittsburgh on Oct. 22, Clinton said her prior political experience shows she's been willing to work with Republicans.
"I think you can go back and look at the record that I compiled by working with practically every Republican I served with," she said. "I think last time we had it counted, 400 bills have my name on them either as a sponsor or a co-sponsor. You don't get that done unless you work with folks on the other side."
We wanted to check whether Clinton sponsored or co-sponsored 400 bills, and whether she was as chummy with her Senate rivals as she claimed.
Tallying bills
Clinton won election to the U.S. Senate in 2000 to represent New York and was re-elected in 2006. Her tenure was from January 2001 to January 2009, when she resigned to become secretary of state.
We first wanted to know to which 400 bills Clinton was referring. She's used that figure before, such as the Oct. 9 presidential debate, but we couldn't find a clear definition of which legislation she meant. We contacted Clinton's campaign, which sent us a list of 400 measures they said had passed Congress and become law.
The list included more than bills, which are written by lawmakers and become laws if they pass Congress and are signed by the president.
Clinton's list included resolutions, which often are used to express lawmaker opinions or affect congressional workings, and amendments, which are parts of bills added on while legislation is being considered. Clinton's 400-bill list also includes House versions of her measures (bills, amendments and resolutions) that passed.
Again, Clinton said "bills" as a senator, not "House bills," not "amendments," and not "resolutions." Those things may eventually have the effect of laws, but that doesn't mean they are bills that "have my name on them."
According to the official website for federal legislative information, Congress.gov, Clinton introduced 713 pieces of legislation over her two terms. Of that count, 363 were Senate bills, while the rest were amendments or resolutions.
Of the bills Clinton sponsored, only three actually became law. One established a historic site in New York, one renamed a post office and one named a highway.
Her Democratic New York counterpart Charles Schumer was the single co-sponsor for all three. (Co-sponsoring is just a way for a lawmaker to show he or she supports a piece of legislation after it has been written.) The laws were uncontroversial and passed by unanimous consent in the Senate and voice vote in the House before being signed by President George W. Bush.
Clinton is listed as a co-sponsor on 74 bills that became law. Of those, 27 bills were sponsored by a Republican.
Working with Republicans
So Clinton is exaggerating a bit when talking about the number of bills she sponsored or co-sponsored. But what about her claim that she worked in a bipartisan fashion?
According to our count, of the 363 bills she introduced in the Senate, 93 were co-sponsored by Republicans, or about 26 percent. A single Republican co-sponsored 48, while two or more members of the GOP signed onto 45 of the bills.
We also checked GovTrack.us for Republican senators who co-sponsored a Clinton bill. Republicans were listed as a co-sponsor 241 times in the 355 bills she sponsored that were referred to a Senate committee. But that could include the same senator listed multiple times in different bills.
Sen. Robert Bennett, R-Utah, for instance, co-sponsored six pieces of Clinton legislation. Four of those measures had 10 or more Republican co-sponsors, so there's plenty of duplication.
Clinton's campaign noted that almost every Republican senator co-sponsored a Clinton bill at one time or another. They provided a list showing that 57 of the 65 GOP senators who served at the same time as Clinton signed onto her bills.
Experts who study Congress have told us that the number of sponsored or co-sponsored bills signed into law isn't a thorough measure of effectiveness or productivity for a member of the Senate. Adding amendments, writing language for bills, holding hearings and helping constituents are all good indicators of performance.
"By any reasonable standard, including the private comments of her colleagues on both sides of the aisle when she was in the Senate, she was very effective," American Enterprise Institute scholar Norman Ornstein told PolitiFact for an earlier fact-check.
Our ruling
Clinton said "400 bills have my name on them either as a sponsor or a co-sponsor" in the Senate, which is proof I worked "with practically every Republican I served with."
Clinton's list includes a lot of things that don't meet the strict definition of a bill as we'd know it from middle school civics.
Clinton passed three of her own bills, plus an additional 74 she co-sponsored.
There is evidence Clinton worked with Republicans while in the Senate. About 26 percent of the bills she sponsored had support from a Republican.
Clinton's claim is partially accurate. We rate her statement Half True.
https://www.sharethefacts.co/share/d7f47a1b-07b0-4bfb-b5c5-90d965e4e554