Wisconsin 'guaranteeing' nearly $3 billion to Foxconn with no job guarantees, governor hopeful says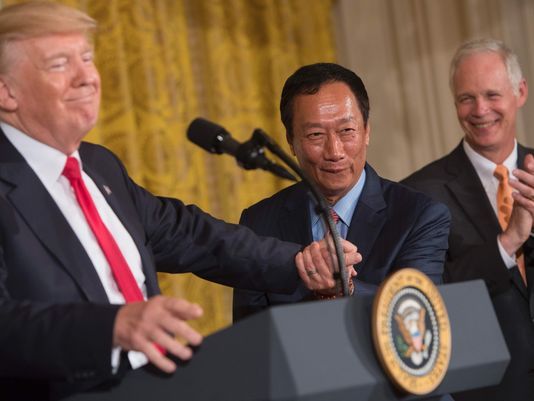 Andy Gronik, one of the leading Democratic candidates for governor in 2018, has bashed Republican Gov. Scott Walker for Walker's deal with Foxconn, which is nearing final approval.
The Milwaukee-area businessman calls the offer to get a manufacturing plant that could employ 13,000 people "nothing but a con to Wisconsin."
"We are guaranteeing Foxconn almost $3 billion, but Foxconn is not contractually guaranteeing how many full-time employees it will hire, for how long and at what pay," he wrote in an op-ed published Sept. 5, 2017, in the MIlwaukee Journal Sentinel.
Gronik's right that the Taiwanese manufacturer hasn't made any jobs guarantees.
But the state is guaranteeing to pay Foxconn nearly $3 billion only if the company meets certain investment and payroll requirements.
The Foxconn announcement
Foxconn drew big headlines -- and a July 26, 2017, announcement at the White House with President Donald Trump -- by saying it plans to invest $10 billion to build a liquid crystal display (LCD) panel manufacturing plant in Wisconsin.
On Sept. 5, 2017, the state Legislature's budget committee approved the $3 billion incentives package, which still needs the approval of the full Legislature.
Walker said Foxconn "is bringing" 13,000 jobs, but we rated that claim Half True. Foxconn has said it plans to initially employ 3,000 people, with the potential for 13,000.
We also rated Half True a claim that Wisconsin's offer could amount to more than $1 million per job. That could occur If Foxconn invests $9 billion in the plant and equipment, but hires only 1,500 workers. But there is no evidence the company would invest that much and only employ 1,500 people.
Now to Gronik's claim.
The incentive offer
The incentive package is worth up to $3 billion, but $150 million of that is sales tax exemptions -- in other words, Foxconn wouldn't have to pay up to $150 million in sales taxes on construction materials for the plant.
That leaves $2.85 billion -- the nearly $3 billion Gronik referred to. It comes in two parts.
1. The state would pay Foxconn based on how much the company invests in the plant and equipment. The maximum payment is $1.35 billion, if Foxconn invests at least $9 billion.
So, the $1.35 billion is not tied directly to jobs at the Foxconn plant, though the investment would clearly employ construction people. It's theoretically possible, if unlikely, that Foxconn could receive the $1.35 billion, or some portion of it, if it builds the plant but then -- say, if market conditions change -- abandons it without employing anyone.
It's also possible the plant could be built to maximize automation, which would require fewer workers.
2. The state would also pay Foxconn based on the size of its payroll at the plant. The maximum would be $1.5 billion, if payroll reaches $8.8 billion within a 15-year period, Wisconsin Budget Project director Jon Peacock told us. For example, the $1.5 billion could be earned if Foxconn employs 13,000 people who make at least $30,000 and have an average salary of about $54,000, he said.
In other words, the more people hired by Foxconn, the more the state would pay to the company.
In sum:
There is no flat guarantee from the state of nearly $3 billion.
Roughly half of the incentives would be based on how much is invested in the manufacturing plant, and roughly half would be paid based on employment. In both cases, the incentives are paid, on a pay-as-you go basis, based on what the company does.
A parting note: Walker's administration is negotiating a final contract with Foxconn. So, it's possible a minimum jobs requirement could be made part of the deal.
Our rating
Gronik says Wisconsin is "guaranteeing Foxconn almost $3 billion, but Foxconn is not contractually guaranteeing how many full-time employees it will hire, for how long and at what pay."
Wisconsin is guaranteeing to pay Foxconn up to $2.85 billion -- but the full amount would be paid only if the company invests at least $9 billion in its plant and, in rough numbers, employs at least 13,000 people earning at least $30,000 per year.
The payments would be less, if Foxconn doesn't meet those targets.
It's true that Foxconn is not guaranteeing how many people it will hire, for how long and at what pay. That means it's theoretically possible the company could earn up to $1.35 billion in investment incentives but not employ anyone, if it built the facility but never operated it. But the other $1.5 billion would be paid, on a graduated basis, only as people are employed at the plant.
For a statement that is partially accurate, our rating is Half True.