Bernie Sanders, stumping for Paul Ryan opponent Randy Bryce, says Koch brothers gave Ryan $500,000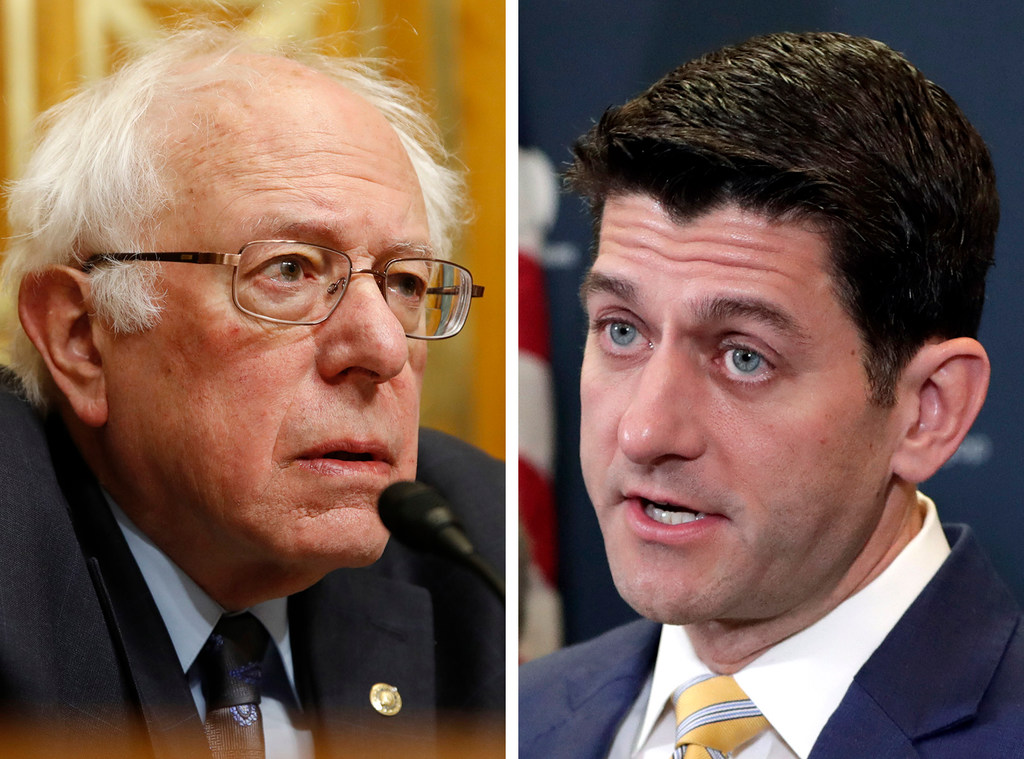 At or near the top of liberals' love-to-hate list are "the Koch brothers" -- billionaire industrialists and funders of conservative causes, Charles and David Koch.
U.S. Sen. Bernie Sanders took a swipe at them with an eye-popping statement about campaign cash during his most recent visit to Wisconsin.
The Vermont independent, who won the Badger State during his 2016 bid for the Democratic nomination for president, was keynoting a Feb. 24, 2018 rally in Racine for Randy Bryce. Bryce is one of two Democrats running for the southern Wisconsin congressional seat held by Republican U.S. House Speaker Paul Ryan.
Ryan, who was first elected to the seat in 1998, has repeatedly said he won't decide until spring whether he'll run for re-election in November 2018.
Sanders said:
And this particular election could not be clearer in terms of the competing visions for America. It is not an accident that Paul Ryan now has, I think, $10 million in his campaign war chest. It is not an accident that the Koch brothers have given him $500,000 in campaign contributions.
It had been reported a month before Sanders' visit that Ryan had $10 million in cash on hand in his campaign account as of the end of 2017.
But did $500,000 of it come from the Koch brothers?
It may not seem like it sometimes, but there are still limits on how much individuals can give to candidates.
We found Sanders' claim is partially accurate, but takes things out of context.
The money
To back Sanders' claim, his campaign directed us to page 364 of a January 2018 Federal Election Commission report filed by something called Team Ryan.
The report shows that in November 2017, Team Ryan received $247,700 each from Charles Koch and his wife, Elizabeth Koch, of Wichita, Kan. That's a total of almost $500,000 ($495,400).
But were those campaign contributions given to Ryan?
Not exactly.
To 'Ryan'
Team Ryan is a joint fundraising committee that raises and transfers money to three groups:
1. Ryan for Congress -- that is, Ryan's own campaign fund.
2. Prosperity Action, a leadership political action committee run by Ryan that gives money to other politicians.
3. National Republican Congressional Committee, the campaign arm for House Republicans.
In disputing Sanders' claim, Ryan's campaign said the vast majority of the Koch money goes to the National Republican Congressional Committee, given that there are federal limits on what an individual can give to Ryan's campaign ($5,400 per election cycle) and to Ryan's leadership PAC ($5,000 per calendar year).
Campaign finance experts from three nonprofits, the Center for Responsive Politics, the Campaign Finance Institute and Common Cause, confirmed to us that those limits apply to the Koch donations.
That means the $495,400 in Koch money to Team Ryan would break down this way:
| | |
| --- | --- |
| Ryan's campaign | $10,800 |
| Ryan's leadership PAC | $10,000 |
| National Republican Congressional Committee | $474,600 |
Two points worth noting as we close:
1. Team Ryan raised $44 million in 2017, a record for a House speaker in a non-election year. In announcing the $44 million in January 2018, Team Ryan said it would be transferring $32 million to the NRCC.
2. The contributions by Charles and Elizabeth Koch were made 13 days after the House passed the Ryan-backed GOP tax reform that was signed into law by President Donald Trump. Both Charles and David Koch were major advocates for the tax plan, which cuts the corporate tax rate and estate taxes.
Our rating
At a campaign rally for one of the candidates running for Ryan's U.S. House seat, Sanders said "the Koch brothers have given" Ryan "$500,000 in campaign contributions."
It wasn't the two Koch brothers but rather one of the brothers, and his wife, who contributed $495,400.
The money was given to a joint fundraising committee controlled by Ryan. But it primarily funds campaigns of other Republicans because, by law, only $10,800 could go to Ryan's own campaign fund.
We rate Sanders' statement Half True.