Stand up for the facts!
Our only agenda is to publish the truth so you can be an informed participant in democracy.
We need your help.
I would like to contribute
The federal government crackdown in Portland: What you need to know
If Your Time is short
Federal agents in military fatigues have swooped into Portland, Ore., in what U.S. officials say is an effort to protect federal property from ongoing protests.

There's legal concern over the scale of the federal government's response and the use of force, secrecy and unmarked vans by federal agents. Experts say they may be violating people's rights to peaceful protest.

The agents are part of "rapid deployment teams" formed in response to President Donald Trump's executive order protecting monuments and federal property. U.S. officials say their legal authority rests in the Homeland Security Act of 2002.
Videos captured at recent protests in Portland, Ore., show protesters swept off the street and whisked away by camouflage-clad federal agents driving unmarked vehicles. They show a man hit in the head with a less-than-lethal munition while holding a loudspeaker.
They show a Navy veteran beaten with a baton and pepper sprayed, a line of local mothers linking arms to shield other demonstrators, and a woman, naked save for a mask on her face and a cap on her head, staring down law enforcement officials from across the street.
The crackdown by federal agents against the wishes of Oregon's elected leaders has sparked concerns about states' rights, individual freedoms, the rule of law, and whether such a heavy-handed response has a place in a democracy.
We surveyed news reports, reviewed the government's statements and spoke to legal experts to answer a few big questions about the situation in Oregon's largest city.
Ken Cuccinelli, acting deputy secretary of Homeland Security, said the department sent the government forces to Portland over the July 4 weekend after weeks of unrest and in response to "intelligence about planned attacks on federal facilities," such as the city's Hatfield Courthouse.
The department cited numerous incidents of violence or vandalism dating back to May, when protests erupted over racism and police brutality after the killing of George Floyd in Minneapolis.
Officials have described episodes where protesters hurled objects at officers, launched fireworks at federal property, and damaged or defaced buildings with graffiti.
"Those are criminals," said Mark Morgan, acting commissioner of U.S. Customs and Border Protection, in a Fox News interview on the protesters. "That's who we're talking about. That's why we're there. We're not going anywhere."
President Donald Trump said the agents are there to "help Portland, not hurt it," and he floated the idea of sending similarly militarized government forces to other cities. But Oregon officials and the state's Democratic representatives have blasted the federal government's response.
Portland Mayor Ted Wheeler said he asked the agents to leave. He said they have generated an uptick in the violence and vandalism they came to stop. The Oregon attorney general sued the federal agencies involved, and three top House Democrats asked for an independent investigation into the use of federal agents "to suppress First Amendment protected activities."
The American Civil Liberties Union Foundation of Oregon also filed a lawsuit over the indiscriminate use of tear gas — which a judge previously restricted for the city's police.
What are federal agents doing in Portland?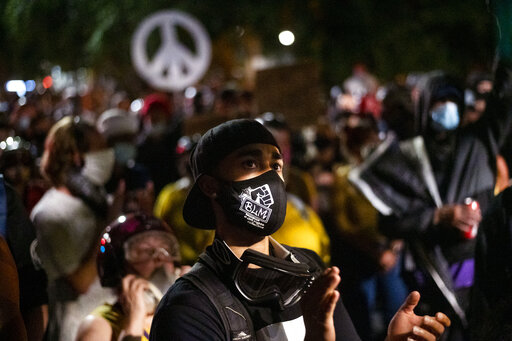 A Black Lives Matter protester rallies with others outside the Mark O. Hatfield United States Courthouse on July 19, 2020, in Portland, Ore. (AP)
The federal government's presence in the city amounts to "dozens, if not hundreds of federal troops," Wheeler, Portland's Democratic mayor, told CNN.
The agents are part of new "rapid deployment teams" that the Department of Homeland Security formed in response to Trump's June 26 executive order instructing federal agencies to provide "personnel to assist with the protection of Federal monuments, memorials, statues, or property."
The Homeland Security department listed multiple federal buildings and courthouses in the city as targets of recent violence and vandalism, with most of the damage focused on the Hatfield Courthouse, which is used by the U.S. District Court for the District of Oregon.
The new federal teams are made up of personnel from Immigration and Customs Enforcement, the Transportation Security Administration, the Coast Guard, and Customs and Border Protection, including the CBP's equivalent of a SWAT team, according to the New York Times.
They are backing up the Federal Protective Service, which is tasked with guarding federal property. The U.S. Marshals Service also has officials in the city, who were responsible for the protester hit in the head with an impact weapon and the Navy veteran battered by batons.
The New York Times reported that an internal Homeland Security Department memo said the agents sent into the city were not specifically trained in riot control or mass demonstrations.
Administration officials leading the effort from Washington have repeatedly labeled Portland's demonstrators as "violent anarchists." While some protesters have thrown rocks, shot fireworks and lit fires, many others have remained peaceful, according to reports.
Is it legal?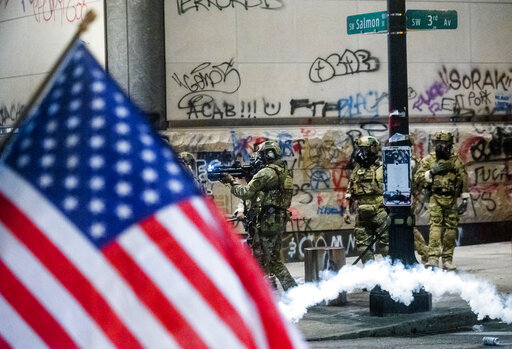 Federal officers use crowd control munitions to disperse protesters outside the Mark O. Hatfield United States Courthouse early on July 21, 2020, in Portland, Ore. (AP)
The descent of federal agents on Portland has raised a range of legal questions, some of which could be answered through future litigation. Legal experts we consulted said constitutional rights are at risk, even if the administration can justify putting officers in the city.
Customs and Border Protection cited Trump's executive order and the Homeland Security Act of 2002 as its legal basis. A provision in the 2002 law authorizes the Homeland Security secretary to enlist other federal agencies to help protect federal property.
The provision allows deputized federal agents to enforce federal laws, carry firearms, make warrantless arrests of those seen committing federal crimes, and lead investigations "on and off the property in question" into offenses against federal property.
"The federal government's authority to protect federal property and investigate offenses against it is well established — and for good reason," wrote Steve Vladeck, professor of law at the University of Texas School of law, on Twitter. "What the Trump administration is capitalizing upon in Portland is the gray area over how far the power to 'investigate' can be stretched."
Trump also has limited authority to invoke the Insurrection Act of 1807 and send military forces to deal with civil unrest in states, experts said. That's a power the administration could cite in litigation, although Trump has not issued the necessary proclamation to invoke it.
"When you really peel the onion here, what you're getting is the Insurrection Act," said Michael Greenberger, professor of law at the University of Maryland.
The Insurrection Act summons military personnel, rather than the types of federal agents currently in Portland. It has historically been used to "restore an unmistakable breakdown of law and order," Greenberger said, such as during riots in Los Angeles following the beating of Rodney King.
But the 2002 law the federal government is citing to place agents in Portland doesn't give those agents free rein over the city. The Constitution requires probable cause for arrests and places limits on the use of force, said Kimberly Wehle, professor of law at the University of Baltimore.
"Even if there's probable cause to arrest (e.g., standing on the wrong part of the street), the use of force is not justified unless the suspect is about to inflict imminent harm, and harm to another person would be more serious than harm to property in that analysis," Wehle said.
RELATED: Despite Trump talk, antifa has not been designated as a terrorist organization
It's not clear that the federal agents in Portland are operating within those bounds. Acting Homeland Security Secretary Chad Wolf told Fox News that the department's forces have had to "proactively arrest individuals" to protect federal facilities.
Addressing a viral incident in which a protester was hauled off in an unmarked van, Kris Cline, deputy director of the Federal Protective Service, said the person was sought for being "in a crowd and in an area where an individual was aiming a laser at the eyes of officers."
What about probable cause? Cline said the agents weren't making a "custodial arrest," although video footage shows the demonstrator led to the van by two military-clad officials. Cline said the person was released after questioning because the officers "did not have what they needed."
What are the concerns about the federal government acting this way?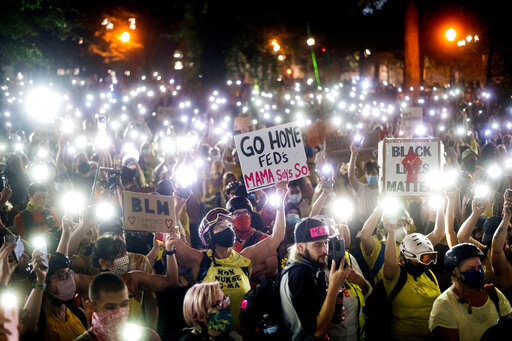 Hundreds of Black Lives Matter protesters hold their phones aloft on July 20, 2020, in Portland, Ore. (AP)
Legal experts also have concerns about the scale of the federal government's response relative to the threat to federal property, the reliance on agents who aren't typically tasked with handling demonstrations, and the use of force, secrecy and unmarked vans by those agents.
Those we spoke to said the crackdown against the wishes and authority of the state represents, in Wehle's words, a "nod to authoritarianism."
"There is worry about federal monuments in Portland, but the law enforcement operation that the federal government is using does not seem to correlate to the monuments," Greenberger said. "They're just picking people off the street willy-nilly."
Tom Ridge, the former Republican governor of Pennsylvania and the nation's first secretary of Homeland Security under President George W. Bush, told radio host Michael Smerconish that the department "was not established to be the president's personal militia."
Despite the backlash, federal officials have not bowed to calls to pull out of the city. They say the forces they stationed in Portland are quelling violence that state leaders failed to confront.
"DHS is not going to back down from our responsibilities," Wolf said. "We are not escalating. We are protecting, again, federal facilities."
Are the agents identifiable?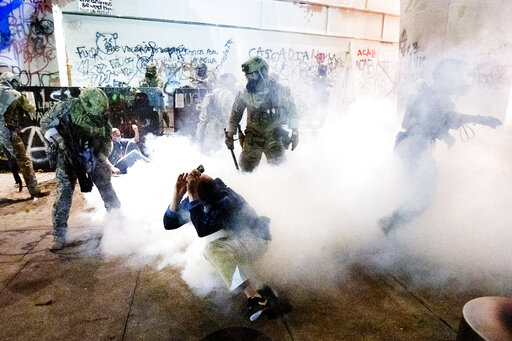 Federal officers use chemical irritants and crowd control munitions to disperse protesters outside the Mark O. Hatfield United States Courthouse on July 22, 2020, in Portland, Ore. (AP)
U.S. officials have also dismissed reports that the agents in Portland are not easily identifiable.
Cuccinelli told CNN that the agents reporting to the Homeland Security Department are "marked" and wearing "the very same uniforms every day." Morgan said in a series of tweets that the CBP agents are marked but have their names concealed for safety reasons.
But Mark Pettibone, a 29-year-old demonstrator, told news outlets that he did not know if the men in military garb, who he said jumped from an unmarked vehicle and detained him while he was walking home, were law enforcement or far-right extremists donning similar outfits.
There's currently no federal law that requires federal law enforcement officers to identify themselves, Wehle said. House Democrats plan to introduce a bill creating such a requirement.
The Washington Post, "Violent protest clashes turned Portland into a 'right-wing boogeyman.' Here's how it happened," July 21, 2020
Mediaite, "Acting DHS Sec. Says Due to Lack of Local Law Enforcement in Portland, Feds Must 'Proactively Arrest Individuals,'" July 21, 2020
U.S. Customs and Border Protection on YouTube, "DHS/CBP Press Conference July 21, 2020," July 21, 2020
The Atlantic, "Nothing Can Justify the Attack on Portland," July 21, 2020
The Michael Smerconish Program, "Gov. Tom Ridge on the 30th Anniversary of the ADA and Homeland Security in 2020," July 21, 2020
Andrew Crespo on Twitter, July 21, 2020
U.S. Marshals on Twitter, July 21, 2020
The New York Times, "What Are Federal Agents Doing in Portland?" July 20, 2020
New Day on Twitter, July 20, 2020
America's Newsroom on Twitter, July 20, 2020
The Washington Post, "A Navy vet asked federal officers in Portland to remember their oaths. Then they broke his hand," July 20, 2020
NBC News, "'Wall of Moms' stand between Portland Black Lives Matter protesters and federal police," July 20, 2020
The Hill on Twitter, July 20, 2020
The Associated Press, "Legal experts call Portland force deployment a constitutional 'red flag,' while Trump eyes federal actions on Chicago streets," July 20, 2020
Fox News, "DHS on Portland violence: We are not escalating, we are protecting federal facilities," July 20, 2020
Prof. Beery's Lounge on YouTube, "Portland: What does it mean for the rule of law?" July 20, 2020
The Nation, "A House Bill Would Require Feds to Identify Themselves," July 20, 2020
Cornell Law School, "40 U.S. Code § 1315.Law enforcement authority of Secretary of Homeland Security for protection of public property," accessed July 20, 2020
Portland Police on Twitter, July 19, 2020
Oregon Public Broadcasting, "50 Days Of Protest In Portland. A Violent Police Response. This Is How We Got Here," July 19, 2020
NBCDFW, "Oregon Sues Feds Over Portland Protests as Unrest Continues," July 19, 2020
U.S. Department of Homeland Security, "BACKGROUNDER: Day 50 of Continued Violence in Portland," July 19, 2020
U.S. House of Representatives, Letter from Reps. Jerrold Nadler, Carolyn Maloney and Bennie Thompson to Michael Horowitz and Joseph Cuffari, July 19, 2020
The New York Times, "From Antifa to Mothers in Helmets, Diverse Elements Fuel Portland Protests," July 19, 2020
Zolan Kanno-Youngs on Twitter, July 19, 2020
CNN, "State of the Union," July 19, 2020
Donald J. Trump on Twitter, July 19, 2020
Steve Vladeck on Twitter, July 19, 2020
NPR, "Oregon Gov. Kate Brown: Federal Officers Are 'Adding Gasoline To A Fire,'" July 19, 2020
The New York Times, "Federal Officers Deployed in Portland Didn't Have Proper Training, D.H.S. Memo Said," July 18, 2020
Mediaite, "WATCH: 'Naked Athena' Faces Down Federal Cops at Portland Protest — and They Back Down," July 18, 2020
Nancy Pelosi, Speaker of the House, "Pelosi, Blumenauer Issue Joint Statement on Trump Administration Actions in Portland," July 18, 2020
The Washington Post, "'It was like being preyed upon': Portland protesters say federal officers in unmarked vans are detaining them," July 17, 2020
The New York Times, "Were the Actions of Federal Agents in Portland Legal?" July 17, 2020
Lawfare, "What the Heck Are Federal Law Enforcement Officers Doing in Portland?" July 17, 2020
Oregon Department of Justice, "Attorney General Rosenblum Files Lawsuit Against U. S. Homeland Security; Announces Criminal Investigation," July 17, 2020
U.S. Customs and Border Protection, "Statement on CBP Response in Portland, Oregon," July 17, 2020
Ron Wyden on Twitter, July 17, 2020
CBP Mark Morgan on Twitter, July 17, 2020
Senator Jeff Merkley on Twitter, July 17, 2020
U.S. Department of Homeland Security, "Acting Secretary Wolf Condemns The Rampant Long-Lasting Violence In Portland," July 16, 2020
Oregon Public Broadcasting, "Federal Law Enforcement Use Unmarked Vehicles To Grab Protesters Off Portland Streets," July 16, 2020
The Washington Post, "Federal officers severely wounded a Portland protester. Local leaders blame Trump," July 13, 2020
U.S. Department of Justice, "U.S. Marshals Service Investigation Referred to Department of Justice Office of the Inspector General," July 13, 2020
Mayor Ted Wheeler on Twitter, July 12, 2020
U.S. Department of Justice, "Seven Arrested, Facing Federal Charges After Weekend Riots at Hatfield Federal Courthouse (Photo)," July 7, 2020
U.S. Department of Homeland Security, "DHS Announces New Task Force to Protect American Monuments, Memorials, and Statues," July 1, 2020
The White House, "Executive Order on Protecting American Monuments, Memorials, and Statues and Combating Recent Criminal Violence," June 26, 2020
The Hill, "Anonymous police threaten people's freedom to assemble," June 12, 2020
PolitiFact, "Can Donald Trump really invoke the Insurrection Act to send troops into states?" June 2, 2020
Email exchange with Matthew Dyman, spokesperson for U.S. Customs and Border Protection, July 20, 2020
Email interview with Kimberly Wehle, professor of law at the University of Baltimore, July 20, 2020
Phone interview with Michael Greenberger, professor of law and director of the center for health and homeland security at the University of Maryland Francis King Carey School of Law, July 21, 2020
Browse the Truth-O-Meter
More by Bill McCarthy