Stop likening Melania Trump's quote on family separation to Eva Braun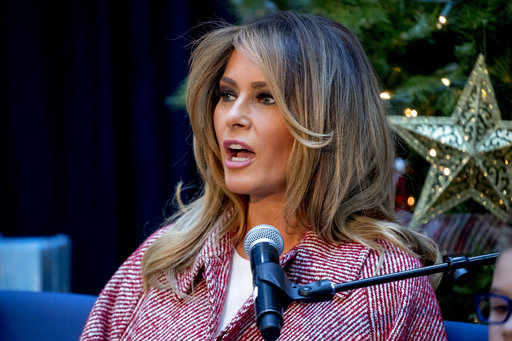 Critics of President Donald Trump have disparaged the family separation policy that's split up parents and children at the U.S.-Mexico border, and some have likened the administration's actions to Nazism. But bloggers have taken it a step further and claimed First Lady Melania Trump echoed Adolf Hitler's mistress-turned-wife on the subject.
"I hate to see children separated from their parents like this, but we can hardly blame Adolf," reads a quote attributed to Eva Braun in a Facebook post that appeared online on Jan. 2. Next to it is another quote attributed to Melania Trump: "I hate to see children separated from their parents like this . . . but we can hardly blame Donald."
This story was flagged as part of Facebook's efforts to combat false news and misinformation on its News Feed. (Read more about our partnership with Facebook.)
Though the meme is getting fresh attention in the new year, it originated as early as June when a spokeswoman for Melania Trump made a statement about family separations. Stephanie Grisham, the first lady's press secretary, told CNN on June 17 that "Mrs. Trump hates to see children separated from their families and hopes both sides of the aisle can finally come together to achieve successful immigration reform," the news outlet reported. "She believes we need to be a country that follows all laws, but also a country that governs with heart."
The June 18 story about the statement does not mention the first lady saying: "We can hardly blame Donald." Stories in The New York Times and Vox also did not mention Melania Trump saying that.
We further couldn't find any legitimate evidence that Braun said she hates seeing children separated from their parents. A search for the statement in an e-edition of what The New York Times called the "first full-scale biography of Eva Braun"—"Eva Braun: Life with Hitler" by Heike B. Gortemaker—revealed no results.
Back in June, Snopes fact-checked a similar social media post about Braun. The Daily Edge Twitter account tweeted a picture of Braun with the quote on June 17, the same day Melania Trump's statement about family separations churned through the news cycle. But The Daily Edge's Twitter bio describes itself as "political news, commentary & liberal humor to support #TheResistance.
"This Eva Braun quote appears to fall into the category of 'satire,'" Snopes said. "We found no record of Eva Braun uttering these words in 1939 or at any other time; it appears that this fake Braun quote was invented in response to Melania Trump's statement."
We agree. While Melania Trump's spokeswoman said something similar to what appeared on Facebook, the quote attributed to her in that viral post is not completely accurate. She never said, "but we can hardly blame Donald." Also, the post is drawing a parallel between the First Lady and the Führer's wife by wrongly suggesting the women said the same thing. There is no evidence Braun ever said anything like that.
We rate this claim Pants on Fire!