Stand up for the facts!
Our only agenda is to publish the truth so you can be an informed participant in democracy.
We need your help.
I would like to contribute
What Donald Trump's impeachment response leaves out
If Your Time is short
In a 14-page legal brief, former President Donald Trump's defense lawyers for the upcoming Senate impeachment trial denied that he incited the U.S. Capitol riot.

Trump's lawyers argued that it would be unconstitutional for the Senate to convict a private citizen. That's not a settled question, but many legal scholars have said there is historical precedent and a credible legal argument for a late trial like Trump's.

The brief brushed over Trump's months-long campaign to overturn the election, at points lending credence to his false election claims that were widely rejected in courts.
Lawyers for former President Donald Trump deny that he incited the Jan. 6 U.S. Capitol riot and argue that the Senate lacks jurisdiction to hold an impeachment trial because Trump is no longer in office, in a defense brief filed ahead of next week's trial.
Lawyers Bruce L. Castor, Jr., and David Schoen also say there is "insufficient evidence" to disprove Trump's claims of rampant election fraud despite dozens of cases where judges determined that the arguments made by Trump and his allies were without merit.
Trump's lawyers argue that Trump exercised his First Amendment right "to express his belief that the election results were suspect."
House impeachment managers laid out their case against Trump in an 80-page memo the same day, recapping Trump's refusal to accept the election results and his calls for supporters to "fight like hell" and come to the "Save America" rally in Washington.
"President Trump created a powder keg on Jan. 6," the House memo said. "Hundreds were prepared for violence at his direction. ... All they needed was for President Trump to strike a match."
Several points offered in Trump's defense needed more context or didn't stand up to scrutiny.
It's unconstitutional for the Senate to convict Trump "because he holds no public office from which he can be removed."
Experts told PolitiFact that there's historical precedent and a credible legal argument to be made for a late Senate trial, although the permissibility of it isn't a slam dunk.
The nonpartisan Congressional Research Service wrote in a Jan. 15 report that while the Constitution leaves the subject open to debate, "most scholars who have closely examined the question have concluded that Congress has authority to extend the impeachment process to officials who are no longer in office." (Trump was still president when he was impeached.)
Based in part on the CRS report, PolitiFact Wisconsin rated former Gov. Scott Walker's claim that the "Senate cannot convict a former president" Mostly False.
The clearest historical precedent for convicting a former official is a case from 1876, when Secretary of War William W. Belknap resigned just hours before the House impeached him on bribery charges. The Senate went ahead with the trial and acquitted him.
House Democrats said the framers did not intend to leave Congress "virtually defenseless against a president's treachery in his final days … simply because he is a lame duck."
The House deprived Trump of "due process."
The Trump defense team argued that the House impeachment process was unfair for its speed and its lack of witnesses, evidence or testimony from Trump or his counsel. But due process rights are not necessarily guaranteed to a president during an impeachment inquiry.
Constitutional law experts likened the House impeachment inquiry to a criminal investigation by the police, prosecutor or grand jury. If anything, Trump would be granted those rights during the Senate trial phase, experts told PolitiFact ahead of Trump's first impeachment trial.
During Trump's first impeachment, the House called witnesses and presented evidence through a series of hearings. That didn't happen this time; the House voted on the impeachment article two days after it was introduced and a week before Trump left office.
House Democrats said a swift process was possible because the events at the heart of it "occurred in plain view."
"Trump did not incite the Jan. 6 crowd "to engage in destructive behavior," and his call to "fight like hell" was related to the "need to fight for election security."
This lacks the full context of Trump's remarks during the Jan. 6 rally. Trump said:
"I think one of our great achievements will be election security because nobody until I came along, had any idea how corrupt our elections were. And again, most people would stand there at 9 o'clock in the evening and say, 'I want to thank you very much,' and they go off to some other life, but I said, 'Something's wrong here. Something's really wrong. Can't have happened.' And we fight. We fight like hell and if you don't fight like hell, you're not going to have a country anymore."
Throughout the speech, Trump invited his supporters to march to the Capitol and repeatedly made calls to "fight" — although he once used the word "peacefully."
"You'll never take back our country with weakness," Trump said. "You have to show strength, and you have to be strong."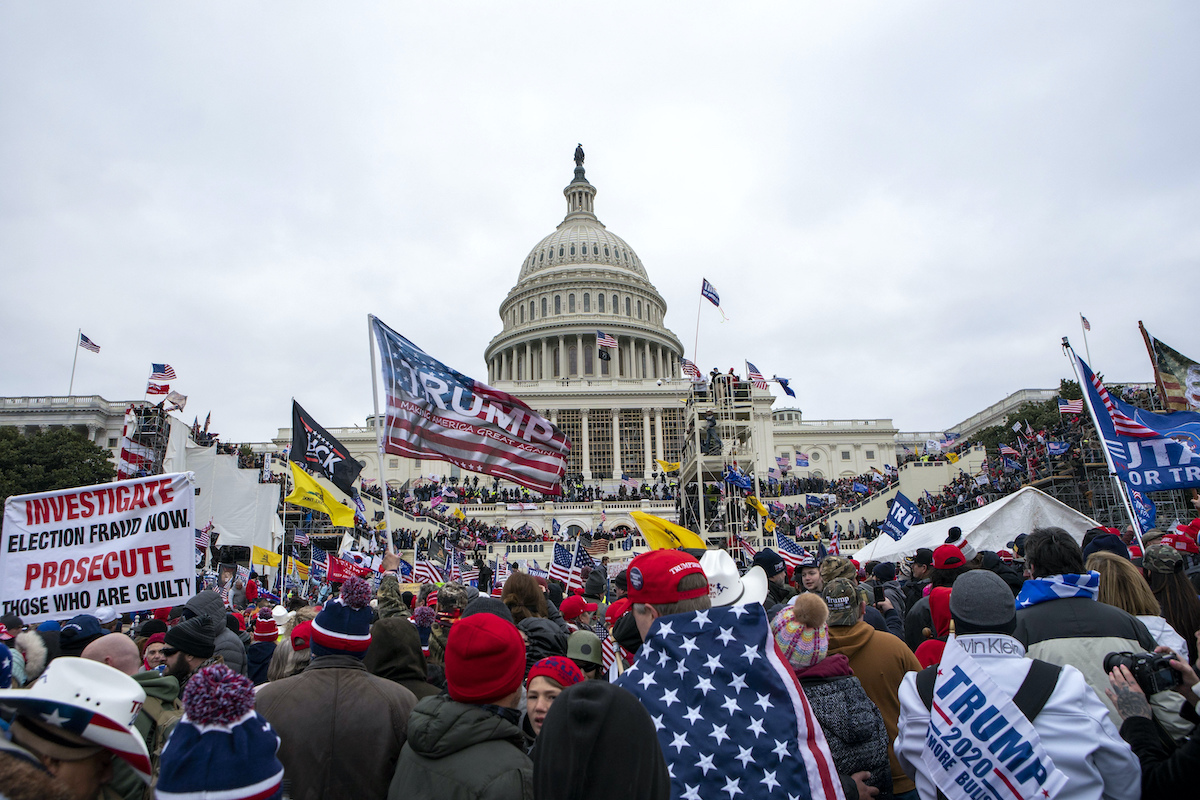 Supporters of President Donald Trump rally at the U.S. Capitol on Jan. 6, 2021, in Washington. (AP)
Trump did not intend "to interfere with the counting of electoral votes."
We can't fact-check Trump's intentions, but his defense team's claim ignores the pressure Trump put on Vice President Mike Pence to flip the election during the counting of Electoral College votes Jan. 6.
Trump publicly called on Pence to take action — even as Pence lacked the authority to do so — including in tweets and during his Jan. 6 rally before the Capitol siege.
Trump also went to court in several states. He sought to overturn certification of Pennsylvania's election results, for example, and he signaled support for a longshot lawsuit from Texas' attorney general asking the Supreme Court to invalidate the results in four states he lost.
Trump did not make "any effort to subvert the certification of the results of the 2020 presidential election," or in Georgia in particular.
This claim ignores the months-long effort through which Trump pushed false claims of election fraud and urged local officials to help overturn the result, in addition to filing lawsuits.
The efforts culminated in Trump's pressure campaign urging Pence to flout the Constitution and change the election result during Congress' formal counting of Electoral College votes.
Trump's Jan. 2 call with Georgia Secretary of State Brad Raffensperger showed him reciting the same false claims about Georgia's election that the state's Republican officials had repeatedly debunked. The state found no evidence of widespread fraud. It counted its votes three times, including once by hand.
"Under the convenient guise of COVID-19 pandemic 'safeguards' states' election laws and procedures were changed by local politicians or judges without the necessary approvals from state legislatures."
The laws that were in place for the general election to minimize crowds at precincts were in place for months before the election.
In states where lawsuits were brought against expanded mail-in voting — Arizona, Georgia, Michigan, Pennsylvania, and Wisconsin — the changes were made by legislatures dominated by Republicans. In some cases, rules shifted as a result of litigation before the election.
Secretaries of state are responsible for providing guidance and direction to local election officials, so it's natural for them to provide guidance, especially in emergency situations, said Amber McReynolds, chief executive officer of the National Vote at Home Institute.
Bruce L. Castor, Jr., and David Schoen, lawyers for former President Donald Trump, Answer to Article 1: Incitement of Insurrection, Feb. 2, 2021
House of Representatives, Trial memo, Feb. 2, 2021
Fox News, "Hannity," Feb. 1, 2021
The Washington Post, "Senate impeachment whip count: Where Democrats and Republicans stand," Feb. 1, 2021
Rev.com, Transcripts of Trump, accessed Feb. 2, 2021
Factba.se, Trump tweets, accessed Feb. 2, 2021
Roll Call, "Trump conviction unlikely after most GOP senators vote to dismiss impeachment trial," Jan. 26, 2021
Congressional Research Service, "The Impeachment and Trial of a Former President," Jan. 15, 2021
PolitiFact, "Walker overreaches claiming Senate can't convict Trump after departure," Jan. 28, 2021
PolitiFact, "Can Congress impeach and remove a president who's left office? A look at the history," Jan. 26, 2021
PolitiFact, "READ: House article of impeachment against Donald Trump," Jan. 13, 2021
PolitiFact, "Jacobs overstates election issues," Jan. 13, 2021
PolitiFact, "The second Trump impeachment: Questions and answers," Jan. 11, 2021
PolitiFact, A timeline of what Trump said before Jan. 6 Capitol riot, Jan. 11, 2021
PolitiFact, "Quotes by 4 Democrats twisted to make it look like they endorsed riots," Jan. 7, 2021
PolitiFact, "Constitution does not allow Mike Pence to reject electoral votes," Jan. 5, 2021
PolitiFact, "Here's why Georgia's Republican officials are confident in their presidential election results," Jan. 5, 2021
PolitiFact, "Counting the electoral votes on Jan. 6: What you need to know," Jan. 4, 2021
PolitiFact, "Fact-checking Joe Biden's speech after Electoral College vote," Dec. 15, 2020
PolitiFact, "Donald Trump has lost dozens of election lawsuits. Here's why," Dec. 10, 2020
PolitiFact, "Graham wrong that House impeachment inquiry denies Trump 'due process,'" Oct. 28, 2019
Browse the Truth-O-Meter
More by Bill McCarthy